This year, I turned my kids' annual Halloween party into a Halloween dinner party playdate complete with a gross out meal: worms and eyeballs (aka spaghetti and meatballs), carrot witch fingers, and a graveyard cake for dessert.
This dinner is perfect for a Halloween party -- who's in this weekend? -- or a pre-trick-or-treating dinner. Either way, you can make this meal completely ahead of time.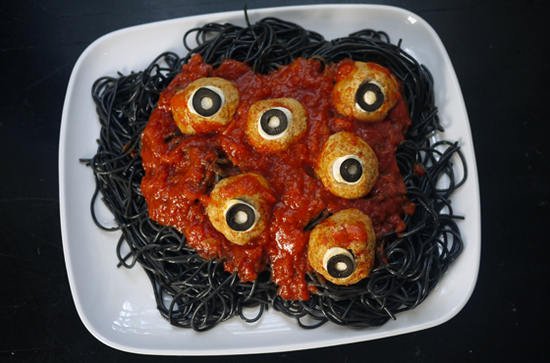 To get in on the fun, you'll need a few things. For one, black spaghetti, which is colored with squid ink, is essential. You cook black pasta just as you would regular pasta. Check out my tutorial on how to cook pasta perfectly. There are also directions on how to perfectly pre-cook pasta, which you'll need if you plan on hosting a party. Because who wants to cook pasta to-order during a shindig? Not you.
You'll also need bocconcini, mini balls of fresh mozzarella cheese, canned black olives (the one and only time I'll encourage them), tomato sauce, and a batch of meatballs. Make your favorite recipe or use one of mine: classic meatballs made with beef and pork or turkey meatballs.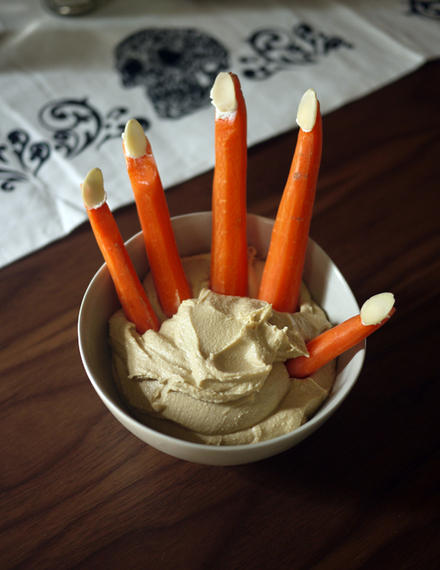 Serving carrot sticks with dinner is veggie-lite, I know, but this is a Halloween meal after all. It'll do. To make carrot sticks festive, turn them into witch fingers using a bit of cream cheese and almond slivers.
Then, dessert. Bake up your favorite chocolate sheet cake and whip up your best chocolate frosting. Top the two with ground up chocolate cookie dirt (confession: I used chocolate Teddy Grahams!) and tea biscuit tombstones (I wrote the sayings on them using food coloring pens).
Teddy Grahams?!
Food coloring pens?!
Eyeballs on worms?!
Yes, to all of it. Because anything goes every once and a while. And for this mama, that's especially true on Halloween.
So make your shopping list and watch to learn how to make your very own spooky Halloween dinner.