Regarded for her beauty, joyous spirit and inspiring sense of style, Shiva Rose is the embodiment of healthy and bohemian living. Her website, The Local Rose was created out of a desire to celebrate a holistic, healthy, authentic life style without sacrificing taste and glamour.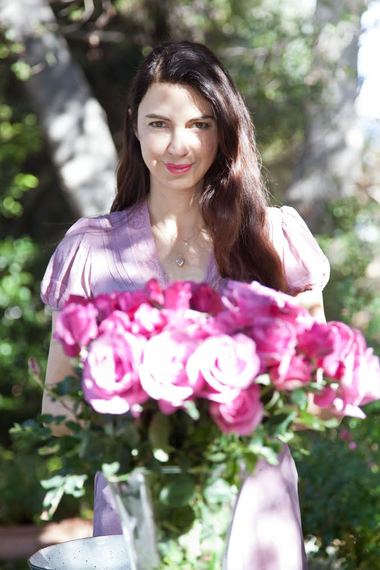 Shiva is an activist, actress, writer and above all, mother. She lives in the Santa Monica Mountains with her two daughters; they raise most of their own produce, nestled by a creek with their cat, rabbits, and chickens. She also has an extensive vintage clothing and accessories collection that is coveted by every style maven in Los Angeles and beyond. She took a moment to share some of her favorite moments of motherhood with me.
Something no one tells you about motherhood:
No one tells you how painful breastfeeding can be.
Most embarrassing public mommy moment:
My most embarrassing mommy moment was when my eldest daughter was being potty trained and decided to practice her skills on a demo toilet at Waterworks, which is a very upscale home fixtures store in Los Angeles. Her dad and I were doing a home remodel, we left her alone for one second and next thing we knew she was going potty in a beautiful expensive porcelain floor sample! The salespeople were not too thrilled.
Parenting habit you swore you would never do but totally do now:
I swore I would never put a movie on for my kids when I needed a break -- now that is my go to at times! Also, I swore I would never again bargain and now that is a mainstay.
Describe your parenting style:
Part improvisation, part instinct.
Last time you asked for help:
The other day, my car had a flat tire and my neighbor loaned me his car to take my daughter to school.
Your last big parenting fail:
I went to go see a spiritual guru who was in town, I brought both my daughters with me, I thought a hug from her would be really good for them, and three hours later, let's just say, it was not all that I had imagined.
Tell me about your new product collection:
After reviewing so many products for my website, this was really a natural transition. A message came to me during meditation to bring beauty to women in a way that would be nourishing and nurturing, and my line was born. The Rose Face Oil is handmade, toxin-free, all natural, skin oil that nourishes and replenishes the skin. The rose oils help reduce inflammation and open the heart chakra. We'll have a new product, Shiva Rose Body Oil just in time for holiday.
Favorite local spots to shop eat, drink:
The Cookbook in Los Feliz, Moon Juice in Venice, Axe and Heist on Abbott Kinney, Farmer and the Cook in Ojai, and Lost + Found Kids
Instagrammer you love right now:
@Daughterofthesun
Most cherished item in your home:
My dog and cat, photographs, some of my vintage clothes and the roses I grow.
Your personal recharge:
My self-care practices are warm baths, hikes in the mountains near our home, chocolate and tea breaks.
What is on your night table?
Special crystals that I use for night meditation, shay butter to massage my feet, a journal, and a book on beekeeping.
What's in your bag?
Lip balm tin, energy clearing mist, my cell phone
If you can only grab one magazine before a flight:
Vogue
Shiva's blog is thelocalrose.com and you can find her oils online at shivarose.com.