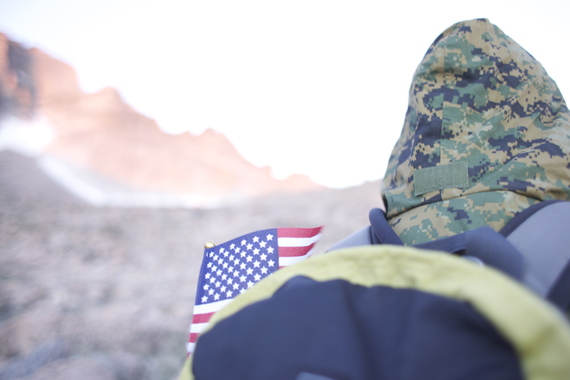 Since 2010, when Veterans Expeditions launched what I think was the first 9/11 Commemoration Climb to help America see the day as an opportunity to lead us to new heights vs. remembering only the despair and destruction, several other organizations have used 9/11 as a day of celebration. As a small sample: Paradox Sports will be taking 20 veterans out to Yosemite and the Sierra Club is running two trips for 30 veterans, one through the Gates of Ladore on the Green River in Utah out of Dinosaur National Monument in partnership with Southwest Airlines, The North Face, IAVA, and the University of Utah, and one through the North Cascades.
There is another organization, R4, which has already done a soft launch of a similar project called the Patriots Parade that, rather than just focusing on 9/11, is hoping to engage the entire country to commemorate our fallen by pushing themselves to their own personal summit.
I had the chance to catch up with their Board President and Vietnam Veteran, Chuck Potter, to talk about what R4 is, what the Patriots Parade project is all about and what they hope to accomplish.
Potter, what is R4 and why do we need another veteran non-profit?
There is so much confusion in the country on this subject it is mind bending. The R4 endeavors to collaborate with those 501 c3 organizations that are focusing on using Recreational Therapy as healing modality. While we do encourage other Veteran Service Organizations (NGO'S) not specializing in Recreational Therapy to join we have grown from 8 founding organizations last March to 35 last week. In collaboration with our membership we can do a few things that that individually members cannot: We can conduct a an evidence based research project proving the efficacy of Recreational Therapy for the treatment of TBI, PTS, MST; we can be a vetting service for the those wishing to contribute to veteran assistance causes; we can provide a continuum of care platform that can be shared among alliance members so that an afflicted veteran seeking a different form of therapy does not that to start all over again in responding to questionnaires; we can speak with one LOUD voice when that voice is needed in Washington;
What's your background with the military and why did you want to get involved with R4?
I am a Vietnam vet who was drafted and was commissioned from Ft. Belvoir's Officer Candidate School. I not only lost friends in that theatre but years later saw them succumb to cancers associated with their contact with Agent Orange. I lived how the DOD and VA managed that debacle and saw the same mind set starting to creep into national policies and activities when it came to the treatment of the above afflictions. It looks as if the politicians are getting the message on what not to do but in reality the government (VA and the DoD) is ill equipped to deal with the healing challenges before them, especially when exploring the fields of alternative therapies. They will have to rely on the private sector to assist. R4 can help in that process because of our mission, uniqueness, quality membership and our commitment to excellence.

Tell me about the Patriots Parade. What is it and why should America care?
The Patriots Parade is an initiative that will not only help raise monies to complete the research project underway and to help fund the "boots on ground" programs but it will create some connective tissues that are missing in today's America. The military is there to protect us from those that would like to do us harm and in reality want to destroy the western culture. Members of the military pay a heavy price. Less that 1% of the population have taken the military oath. Of those that have served there is small percentage of afflictions. Getting the word out across America that these wounded volunteers need help is an arduous task that needs a much louder voice. The Patriots Parade has the grass roots potential of being that voice. The Personal Summit investment of $250.00 is a small amount to pay. Especially when you can divide it up among friends, family and associates. Here is how it works: Visit our web sites either R4alliance.org where you can review the Why's, What's and How's of the Alliance. On the home page there is a link to the PatriotsParade.org that will introduce the visitor to our Virtual Wall of all the killed in action (KIA) from the war on terror. The Wall includes names, bios and photos we have gathered to date. The site will also walk you through the steps to register for a "personal summit". This personal summit investment will net you a US made 3'x5' "Stars and Stripes" for you to keep or give to an appropriate party. It also will stimulate you to strive to new personal heights, whether it be something physically challenging or mentally creative. When complete memorialize your accomplishment by taking a high resolution photo with the flag, write a descriptive passage of your experience how you may tie it into honoring the fallen and upload both back to us where we will post it on the site to memorialize and honor one, some or all of the fallen.
We all should care. Vietnam vets are leading the charge. When America needs the military we want it to be ready, willing and able to do its mission. If we treat our veterans correctly future generations will be ready willing and able to serve when the clarion call comes.
Who can participate?
America can participate. America needs more physical exercise and we can always get more creative. If $250 is a budget stretch gather 25 of your family and friends to contribute $10.00 to be part of the "personal summit". Most folks spend that at a coffee house in a week.
Where do the funds raised go?
First and foremost our policy demands that our fundraising and administration costs remain between 12-15 percent. As monies come in they will go out, first to complete the research project that is underway and residuals will go to support those Alliance members who again are the "boots on the ground" providers.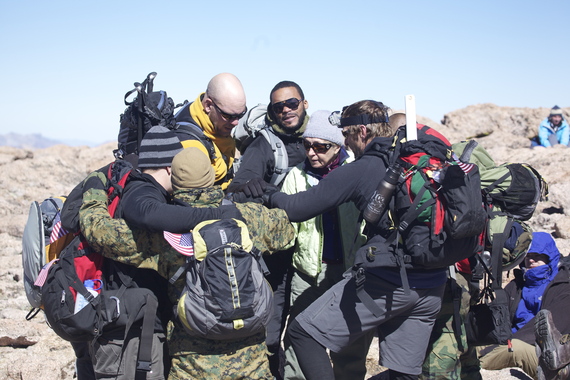 In five years, what is your vision for R4? For Veterans in America?
I envision that in 5 years the R4 Alliance will have a membership of well over 500 organizations not only in the Recreational Therapy but in other Veterans services organizations (NGO's); I envision that the R4 will be a go to organization for individuals and industries looking for alternative therapies to treat chronic health problems; I envision that the Patriots Parade will have and enormous following, I envision a reconnection of America to the military; I envision that the more progressive insurance companies that are looking for alternative therapies for their private sector clients will be supporting those organizations in the Recreational Therapy space eg. our members. The military has brought us emergency care facilities that heretofore were not available
As for the Veteran community aka Military Family I envision that there will be fewer psychotropic being consumed, I see a healthier veteran community, I see the DoD and VA farming out to the private sector those therapies that they are not equipped to provide in a timely or effective manner. All of this will be beneficial not only to the vet but to the tax payer that is supporting therapies that are not totally working. 22 suicides a day from our Military Family is enough proof.
Who will you be summiting for in the Patriots Parade?
I have purchased 4 summits already for all of the fallen as I did not know any of them nor their families. First, I believe in the uniqueness of what we are doing and I believe in putting your money where your mouth is. I want to set an example. Second there are so many moving parts to the Patriots Parade systems that I had to make sure they were all functioning. They are. What is up now is a soft launch so we need to tweak some things operationally and we need to improve the audio/visual components. All are in the works.