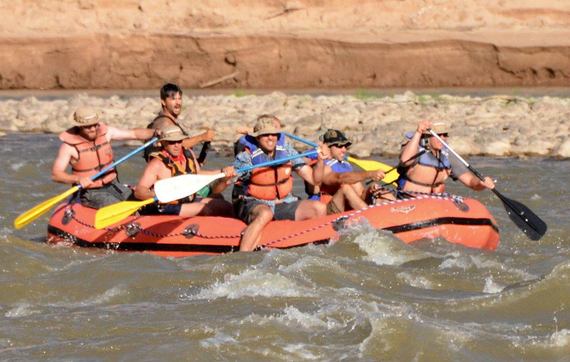 special thanks to USMC Mike Ramsey for the above photo
People always ask me the best way to say thank you to a veteran or service member and their families in what can often be an awkward exchange that muddles the heartfelt gratitude of the non-veteran. My answer is always the same: get outdoors.
This last weekend, VetEx Outdoor Veterans Parades, and Paradox Sports adaptive climbing clinic as profiled on CNN, showed why: the outdoors connects service members, veterans, their families and allies with something usually far bigger than their day to day lives that can compete with the incredibly good things of military service: the power of spirit, camaraderie, and adventure, as well as the feeling of discomfort that accompanies the accomplishment of a great goal.
The land is what we fought for, the very embodiment of our Republic and democratic process played out from city parks to state parks, Yosemite to Yellowstone, and all the wonderful Bureau of Land Management, Game Fish and Wildlife Refuges, and Army Corps of Engineer land in between and around. You can get outside from staring at the sunset over a tree studded boulevard, to watching the sun rise on a mountain peak, there's a million or more ways to access the benefit of nature.
It is a historic movement. The examples are centuries, millennia old. But in the last 120 years examples include George Mallory coming home from WW1 and attempting to summit Everest, David Brower, Jim Whittaker and the men of the 10th Mountain Division following WW2; Doug Peacock, and Colonel Rheault as examples from Vietnam and the dozens of organizations today, in America and around the world working to connect warriors to the outdoors for resiliency, healing, purpose, camaraderie, and exploration.
Not all are specifically veteran organizations either, like the Sierra Club's historic commitment to service members, veterans, and families since its founding in 1893 highlighted by John Muir's trip to what would become Yosemite National Park with veteran and President Theodore Roosevelt. The men of the 10th Mountain Division in WW2 like Sierra Club's first Executive Director David Brower. Even today, the Sierra Club Military Outdoors Program, started by veteran ally Martin LeBlanc and now run by Citadel Graduate and Silver Star recipient, Josh Brandon.
Others include Veterans Expeditions who started the 9/11 Climbing series in 2010, Paradox Sports co-founder DJ Skelton and their adaptive climbing adventures, my fellow Ole Miss alumnus' Warrior Hike program, Soldiers to Summits, Outward Bound for Veterans, Wounded Warrior Project's Odyssey Program and dozens of other therapeutic and community based outdoor recreation programs nationwide, you can connect outside through a few hours, or a life time of genuine gratitude.
Each climber, each organization, has a unique and powerful story to tell in overcoming trauma, or simply reconnecting to the country they fought for and pushing themselves physically and mentally to achieve new heights.
One of the most powerful I've heard in a while comes from the Seattle Union Gospel Mission (UGM), who each year in August take a group of men and women battling to overcome homelessness and addiction, many veterans up to the top of Mt. Rainier led by ex-Army Ranger Mike Johnson. You can catch a sense of what it is to climb with this specific group of veterans here as well as by clicking on the numerous links throughout this blog to see how and why we climb.
So don't be surprised if when you say thank you, I hand you a trail map (or more appropriate for today, a trail app).