The majority of the 400 colleges and university endowments that have received official requests by their students to divest from fossil fuels have so far pushed back. The explanations offered generally lack the kind of thoughtful analysis that students are expected to demonstrate in their own coursework, leaving many wondering if academic endowments may just be woefully out of touch with the tumultuous state of our world's climate. Others surmise that they are simply reluctant to change course, believing that the comfortable returns that fossil fuels stocks have delivered to investors will continue.


College and University Divestment Campaigns
Image Courtesy of GoFossilFree.org
But current news of prominent business leaders acknowledging that fossil fuel stocks are over-valued and that climate change impacts are negatively affecting corporate supply chains worldwide, may just sway the views of these academic institutions in 2014.
If these and other stories of investor reticence regarding the value of fossil fuels do not convince the majority of college and university endowments to divest, then perhaps the prospect of earning even higher returns from the world's booming clean energy sector will.
Investing in Clean Technology is Good Business
In 2013, renewable energy accounted for over 37 percent of all new electrical power generation in the U,S. Pegasus Capital Advisors partner, Marco Krapels, believes that this trend presents compelling opportunities for investors everywhere. "Renewable energy will soon become the leading source of new electrical power generation, accelerating our inevitable transition to a clean energy economy."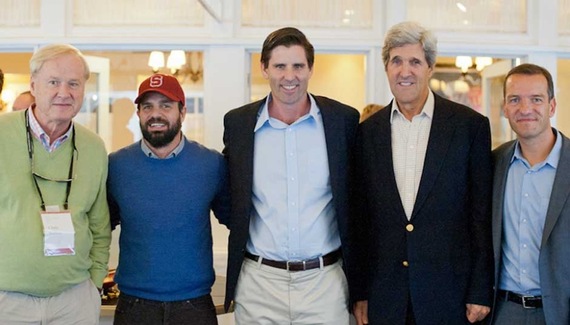 Marco Krapels (far right) at the Nantucket Project Ideas Festival
Image: Courtesy The Solutions Project
Goldman Sachs is on board with Krapels, having recently announced a $40 billion investment in solar and wind energy infrastructure. Stuart Bernstein, Goldman's head of Clean Technology and Renewables, sees his company taking a "decades-long view" on energy because it estimates that the clean energy market is "incredibly compelling."
Profit. Profit. Profit.
In 2013, third-party solar leasing companies, electrical automobile production, and solar panel manufacturing made huge gains in the market. Here's a snapshot of a few: Between January and November, 2013, California-based Solar City (SCTY), a third-party residential solar panel provider, moved from its low of $14.15 to its high of $62.77 -- what amounts to a 343 percent gain for investors.
During the same period, electric car manufacturer Tesla Motors (TSLA) moved from its low of $33.80 to $170.50, a 404 percent gain.
And solar panel manufacturers Sun Power (SPWR) and Canadian Solar (CSIQ) moved from their respective lows of $7.48 and $3.12 to $34.39 and $31.88 -- gains of 359 percent and 921 percent.
By comparison, three of the top seven global fossil fuel companies, Exxon Mobil Corp. (XOM), British Petroleum (BP), and Conoco Phillips (COP) grew between 19 percent and 30 percent.
Even exchange-traded funds in clean energy saw returns reaching up to 140 percent, according to the World Bank.
These market comparisons should prove reassuring for the nine colleges and universities and 22 cities that are already committing to divest from fossil fuels.
And having launched their Divest-Invest Campaign in late January, 17 philanthropic organizations, led by Ellen Dorsey of the Wallace Global Fund, are now positioned to benefit from the stellar performance of America's renewable energy sector. Richard Woo, Chief Executive Officer of The Russell Family Foundation, one of the 17 endowments to divest, explains their rationale. "We are divesting and reinvesting to align our portfolio with our values, accelerate the growth in renewable energy, and protect the long term value of our investments."
Imagine if in January 2013, Harvard University had decided to transition just 10 percent of the $34 million they hold in fossil fuel interests to a $3.4 million stake in Solar City? They could have made over $11.5 million. Bump that number up to 30 percent and they would have doubled their $34 million. Now you do the math assuming that they had invested the same amount of money in Canadian Solar!
A Roadmap to Clean Energy Deployment
The Schmidt Family Foundation is one of the largest private endowments to add their name to the Divest-Invest campaign, and with assets over $300 million, the move drives further interest in the implications of divestment for traditional energy investors. The Fund's President, Wendy Schmidt, is a prominent advocate of many energy smart initiatives, including The Solutions Project, where global leaders in science, business, and culture are accelerating America's transition to clean energy. Their just-released 50 State interactive map elegantly and succinctly identifies the customized mix of energy sources required to power all 50 states with renewable energy. Stanford University Professor and The Solution Project's lead scientist, Mark Z. Jacobson, explained the plan on The Late Show with David Letterman late last year. "We're talking about transitioning to 100 percent wind, water, and solar (WWS) for all purposes by 2050." "All purposes" includes a state's electricity, transportation, heating, cooling, and industrial power demands.
The team's virtual roadmap provides endowment officers considering divestment the tools they need to keep up with America's burgeoning 21st century clean energy economy and the myriad projects that will sustain it.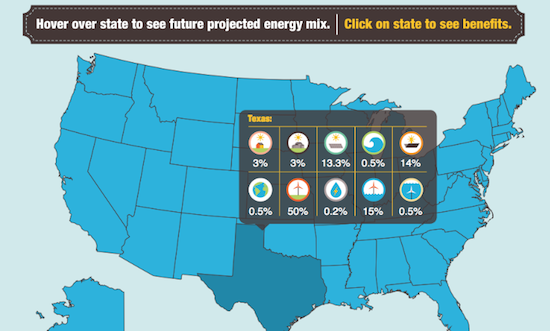 Breakdown of Renewable Energy Mix Required for Texas
Image: Courtesy The Solutions Project
The image above demonstrates how hovering over a state reveals a quick view of the clean energy sources required to deploy a 100 percent renewable energy plan. By clicking on a state, an abundance of colorful project highlights are delivered. Investors can review the number of 40-year jobs created, the project payback period, the resulting reduction in air pollution deaths, and the savings consumers will enjoy as early as 2020. Below is a snapshot from Texas, showing that electricity costs will drop from 14.0 cents per kilowatt hour to 5.7 cents per kilowatt hour over the course of the next six to 16 years.

Image: Courtesy The Solutions Project
Who will Divest Next?
With the impacts of climate change directly impacting global commerce, with private equity investors distancing themselves from unsustainable investments, with clean energy delivering winning returns, and with more endowments turning toward the sun and the wind and away from business as usual, colleges and university endowments now have a rational and pragmatic incentive for divestment.
Whether the next school to divest is Harvard University, where 72 percent of the student body voted to demand divestment, or a rural, southern school like Clemson University, both now have plenty of market data to consider.
And long-time climate activist, Bill McKibben, whose work with 350.org originally inspired students to launch the divestment movement in 2011, believes that academic institutions are still society's greatest hope for change. "But universities, in the end, are one of the few places in our civilization where reason still stands a good chance of prevailing over power."