Failure has a way of opening doors to wildly unexpected and remarkable opportunities and success stories, Navy SEAL Commander Rorke Denver told the 2014 graduating class of St. Mark's School of Texas on May 23rd.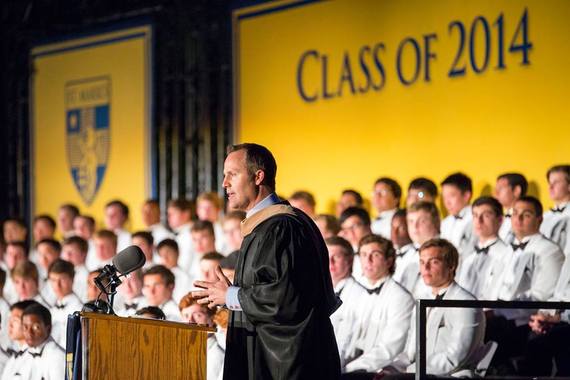 Navy SEAL Commander Rorke Denver Addressing St. Mark's School of Texas in Dallas
Denver's words resonated with me as I watched this class of young men, all so accomplished, talented, and hardworking, look out across the grass quadrangle that they once played on as boys to see the smiling faces of families, friends and faculty looking at them with great expectations. I thought to myself, what will be the future for these graduates and how many failures will they have the luxury of making?
When it comes to combatting global climate disruption -- an apt term endorsed by White House Senior Science Advisor John Holdren -- a lack of critical reasoning and personal accountability on behalf of my generation has already compromised the future of these men and their descendants.
You've read the headlines. Whether it's the exponential melt of glaciers, declining crop yields, loss of biodiversity, super-storms powered by warming oceans, or the increasing vulnerability of drinking water supplies to contamination, we are living well beyond our means.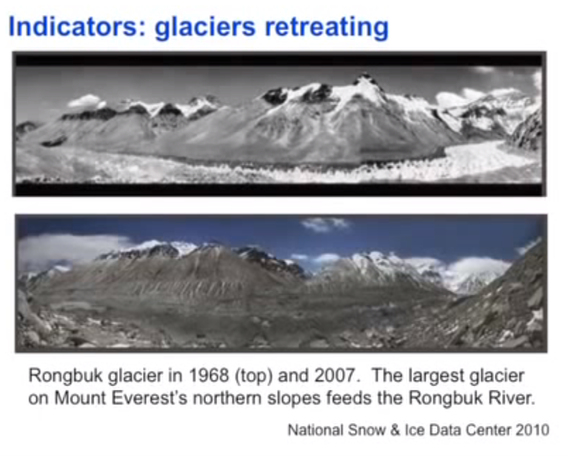 We are handing off to our children a planet in cardiac arrest from heat exposure and dehydration and we rarely give it a moment's thought.
The clean energy economy, capable of moving us beyond the centralized carbon-intensive energy that pushes the planet's mercury higher, has been stymied by many events.
There was the failed 2009 Copenhagen Climate Summit, where leaders argued over who should act first, when no one country was actually even motivated to propose greenhouse gas emission limits. Then, there was the 11th hour dismantling of the 2010 Climate Bill, the result of a lack of political fortitude and the corporate manipulation that so easily takes over in the place of legislative conviction. Perhaps, though, most importantly, there was the fallout of the 2010 Citizen's United victory, enabling many hundreds of millions of dollars in corporate profits to stealthily fuel the American anti-science, climate denial circus. Certainly one of the most successful campaigns in human history, it has distracted and disoriented the climate conversation long enough that our national leaders are not promoted by the people, per se, but rather by the people's perception that science is somehow immaterial to policy.
The obstructionists maneuvering their way through the corridors of Washington are the compliant servants of the insatiable corporate giant that is the oil, coal and natural gas oligarchy. The fossil fuel industry has steadily, unapologetically, and at times seemingly gleefully, pushed the limits of our planet to and past its tipping point. For an insightful review of our planet's decline, check out Bill McKibben's latest work in Rolling Stone Magazine.
Remarkably, what has emerged in response to the vast intellectual void that is Washington today, are the determined, can-do voices of college and university students across the country, who, through their own coordinated actions, are broadcasting the clear and present danger posed by our carbon-intensive economy. They are also directing the responsibility for action to their academic institutions' endowment managers. Their goal is to persuade them that global climate disruption is a matter of ethical and moral urgency and that investments in fossil fuel-based businesses must end in order to make space for the large-scale, rapidly deployed, clean energy infrastructure that we must promote to avoid the most egregious consequences of planetary disruption.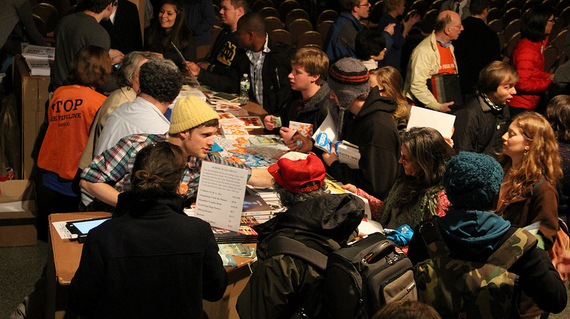 Students Campaigning for Institutional Divestment from Fossil Fuels (Courtesy 350.org)
In a word, their movement is called Divestment and it has reoriented the climate conversation so dramatically that in Massachusetts, State Senator Benjamin B. Downing was motivated to present his proposal to divest the Commonwealth's $54 billion pension fund from fossil fuel-based interests.
Speaking with me from his Pittsfield, MA office, Senator Downing described how Massachusetts Senate Bill 1225 would benefit his state:
Going through different proposals for the start of this legislative session and talking to my staff and looking at the broader things going on around climate -- what we had done at the state level -- what other states were doing -- what was going on at college campuses and unfortunately wasn't going on in Washington -- our aim was to figure out where we could continue to make progress. We agreed that aligning our state's energy and transportation policies with our investment strategies would be a win-win for stakeholders throughout the state.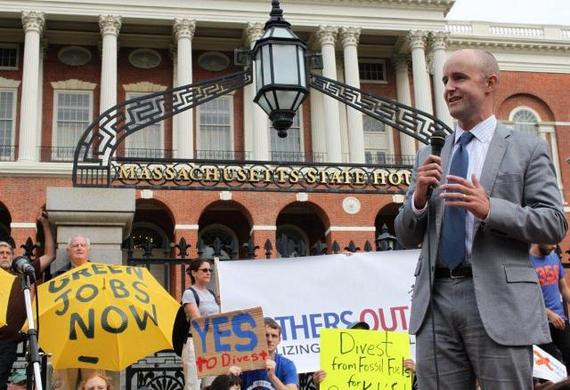 MA Senator Ben Downing Explains Why Divestment from Fossil Fuels is Good for Massachusetts
Downing's logic forms the core tenets of his sponsorship of MA S. 1225 -- An Act relative to the investment of fossil fuels, which proposes that the State's Pension Reserves Investment Management (PRIM) Board "cease new investments in fossil fuel-based companies and to divest the public Fund of all fossil fuel holdings within five years.
If adopted, Massachusetts will be the first state in the nation to divest from fossil fuels -- further piquing the public's interest in and support for the kind bold environmental measures that states can deliver.
I asked Senator Downing how divestment would accelerate growth in his state:
I think that when you look at extreme weather events, when you look at the consensus of the scientific community, and when you look at the realities of climate, the long-term investment risks of fossil fuels become clear. At that moment, you quickly realize that it's harder not to take action. Our Governor [MA Gov. Deval Patrick] is very eloquent in saying that inaction is not only 'not a choice,' but that its costs are only getting higher every minute of every day. So, the sooner the investments we need to make in clean energy, energy efficiency, and energy conservation are in place, the sooner our state will benefit.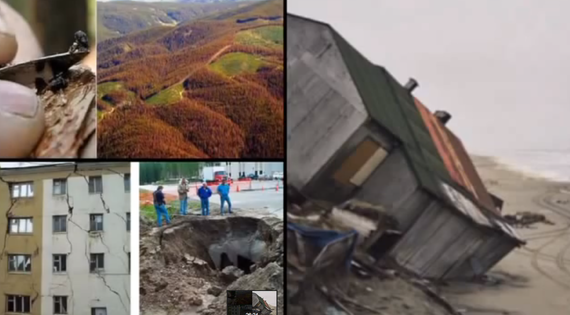 Photo Credit: W. H. Senior Science Advisor John Holdren (The Annual Grantham Lecture, 2012)
While Exxon Mobil and others are incredibly profitable, experience shows us that they have not been as good of an investment over the last few years as other parts of the market have been. By divesting, we provide an opportunity for our pensioners and retirees to benefit from new innovative businesses that reflect our state's ongoing commitment to promoting long-term, forward-thinking, energy-efficient initiatives.
As most of the state's pension plan's domestic equity investments are indexed to the market, the fund's energy exposure includes significant holdings in Exxon Mobil and Chevron, according to Trillium Asset Management CEO Matt Patsky, who was one of several experts that the MA Treasurer's Office invited to review Downing's proposal. In a recent phone interview, Patsky outlined Trillium's well-honed approach to successfully investing outside of the major fossil fuel players: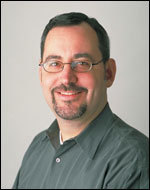 Trillium Asset Management CEO Matt Patsky
We favor playing suppliers into the renewable energy markets to avoid taking any significant technology risk. For example, we would rather own the provider of carbon fiber going into the manufacture of wind turbine blades over the wind turbine maker. Likewise, we have been investing in companies that are building the transmission lines to connect wind and solar farms to the existing energy grid over owning the solar power panel manufacturers. In this way we are able to tap into the supply chain of these fast growing industries for our investors without the risk profile or volatility of a pure alternative energy fund.
Downing and Patsky's investment perspectives are not unlike those of many individuals, schools, faith groups, towns, and cities that are already aligning their environmental vision with their investments. For some, it involves adjusting their stock and mutual fund holdings. For others, it may be switching their electricity provider, the car they drive, the businesses, products, and/or policies that they support -- or an all of the above strategy.
Pushing such a pioneering proposal past the goal line requires consensus and Senator Downing believes that it is growing:
I think the significance of the work that folks have done on a grassroots level across the state is that we currently have at least five democratic candidates for Governor in MA and all of them have endorsed divestment -- every last one. The fifth one got on board actually on Earth Day. One of them is the Treasurer right now -- Steve Grossman - and he actually sits on the pension board in our state, so he does have a significant voice and a role to play. And I have to give him credit. When we brought this issue to him, it wasn't something that was on the pension fund's radar.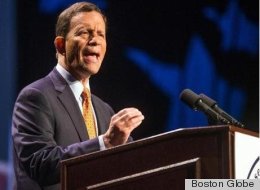 MA Treasurer & Gubernatorial Candidate Steve Grossman (Credit: Boston Globe)
One of the points that helps to put this issue into perspective for everyone is that you can take fossil fuels out of the discussion and put in tobacco, you could put in Sudan, and you could put in South Africa, and the arguments are exactly the same. And yet we've been able to divest either from those industries or from those nations and we haven't impacted our investments negatively.
Downing's open-minded nature and pragmatic approach to aligning Massachusetts's multi-faceted fiscal agenda is a reminder that meaningful social progress often begins with a single voice and is successful because the enthusiasm it engenders is contagious:
It's been a really fun process to tell you the truth. One of the most gratifying aspects of this effort has been the grassroots support that's emerged through the state chapter of 350Mass, which has taken it on as a focal point of their efforts to build local support and support from state officials. Just recently, we put together a letter for the MA Public Service Committee, where the bill is right now, asking them to move it out. They have scheduled their vote for June 30 and we are optimistic. In the meantime, I am ready to talk to anyone who's willing to listen!
Just before Senator Downing was called away to a press conference, he mentioned that when his team started work to promote the bill, the original handful of supportive legislators rapidly grew to 40, which is about twenty percent of the MA legislature. Since then, he's aware of many more who have heard from their constituents and want to weigh in and get involved.
As our high school graduates take on the world, let's remind them that it takes just one State House, one community, one campus, one team, or one voice to start a conversation, raise awareness, present solutions, and commit to a goal that serves the public good. With any luck, they'll remind us! In a recent essay, my son, Dylan Clark -- one of the graduates on the stage above -- wrote the following closing statement for his summer essay to determine his English placement at college:
Individuality leads to individual expression. But that expression leads not only to betterment of the self, but also betterment of the community. And the advancing community pulls each member of it forward. There lies the secret. A community of involved individuals is the community that will move us forward.
--
Senator Downing can be reached at Benjamin.Downing@masenate.gov or 617-772-1625.