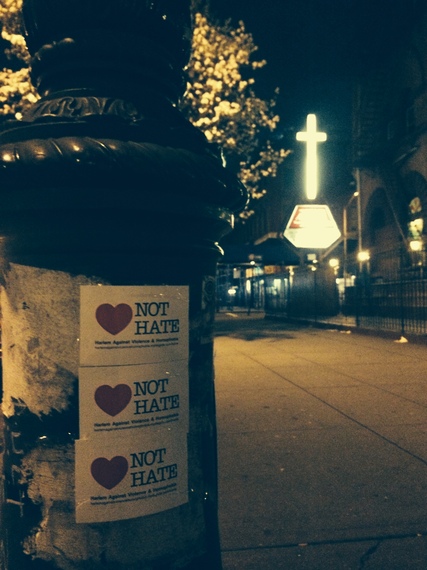 I am a Harlem parent. For the last seven years, I've lived near ATLAH Ministry, a church that has made itself notorious for posting hateful screeds against candidate-then President Obama, ones that often questioned his birthplace. The signs became so bad that the church next door was forced to post their own sign stating that they have no affiliation with ATLAH and that they support our president.
Over the years, my neighbors and I would pass the church sign and react with anger, frustration, laughter, quiet resignation. For a while, one could laugh at the fact that we had our own "Black Birther" church in Harlem. Most of us knew their congregation was small. We also knew they were hungry for attention. Local consensus seemed to be: Ignore them.
But when they posted a sign that said "Jesus Would Stone Homos," we knew we couldn't ignore ATLAH's hate speech any longer.
I am a member of a local parents' group called Harlem4Kids. We have a list serve that is often host to robust debates. We started talking about this sign: what should we do? We knew, and were warned by law enforcement and local activists alike, that doing anything to deliver ATLAH attention was giving them what they wanted.
One of our group members suggested: Instead of simply protesting, why don't we donate to a local group helping LGBTQ youth? Another group member suggested the Harlem-based Ali Forney Center, which serves homeless LGBTQ youth all over the city. So that's what we did. We started an online fundraising drive for the Ali Forney Center, named after a young gay man of color who, as he was trying to make better lives for his peers, was murdered in the streets. This incredible group is led by Carl Siciliano and helps place homeless youth in emergency and transitional beds, provides meals, and offers a whole host of medical and counseling help.
Our initial goal was modest: $1,000. We are now past $4,000 with 89 contributors.
As a capstone activity, we are staging a benefit night on Tuesday, May 20, at Maysles Cinema in Harlem. Tickets start at $25. All ticket buyers will be acknowledged in our program. Our new goal is $7,000. And we sure hope to surpass it.
The benefit night will feature a short film focused on the work of the Ali Forney Center followed by panel discussions with activists, clergy, and community members discussing the challenges faced by LGBTQ youth -- including religious rejection -- and what the community can do to help. The evening will also feature the world premiere of the video for "Where You're Sleeping Tonight" by Northeast Corridor & Real Stories Gallery Foundation, song written by Nick Hampson, music video created by Smash Street & friends. "Where you're sleeping tonight" was inspired by Harlem community actions to respond to ATLAH Ministry's hateful messaging. All sales of the song will go to support the Ali Forney Center.
Reception refreshments will be provided by Harlem restaurants Settepani and Barawine. All proceeds go to the Ali Forney Center.
Panel participants include:
Rev. Vanessa Brown, Rivers@Rehoboth
Brooke Cerda, The TWOC Collective
Rev. Yunus Coldman, Rivers@Rehoboth
Prof. Tanya Domi, GetEQUAL
Fr. John Duffell, Blessed Sacrament
Derek Hartley, Derek & Romaine Show, SiriusXM
Joey Lopez, Outreach Coordinator, Ali Forney Cener
Carmen Neely, Harlem Pride
Romaine Patterson, Derek & Romaine Show, Sirius XM
Carl Siciliano, Executive Director, Ali Forney Center
Prof. A.J. Stachelek, Frontrunners

Moderator: Lisa Jones Brown, Co-founder of Harlem4Kids
Stacy Parker Le Melle, Event Coordinator
According to the Ali Forney Center, every night in New York City, 3,800 young people are homeless, and 40 percent of those youth are LGBTQ. Many homeless kids have been pushed out of their homes due to religious-based rejection. Signs like ATLAH's are no joke to young, persecuted kids who've been told they're evil or less-than because of how they were born.
But to end on one beautiful note: The Harlem4Kids group is over 2,000 strong. We're a diverse lot. Often times our debates can break down along "Old Harlem" vs "New Harlem" lines. But as one of the parents wrote me and said, this was the one issue that united everyone. There can be no home for this kind of hate speech in Harlem. This is our home. And we must do what we can to make it safe for ourselves and for all or our neighbors.
#NoTimeForHate
For more information, visit our site at: http://harlemagainstviolencehomophobia.mydagsite.com/home