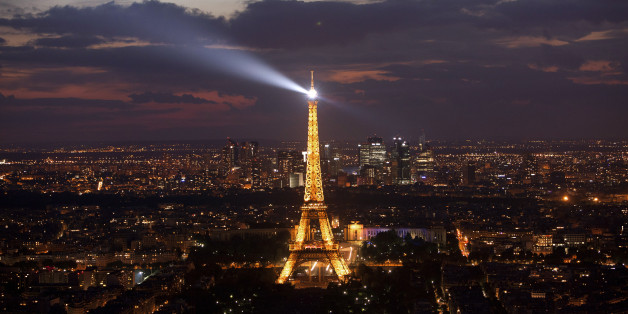 In June of last year I treated myself to a tour that began with crossing the Atlantic from New York on the Queen Mary 2. Seven nights of being spoiled on the waves. Not opposed to renewed pleasure, I signed up and did another, similar tour, just now. Though I've written about traveling alone, and I did register as a single, I couldn't claim to be much by myself, since the ship stretches out and up over 13 decks and accommodates more than 3,000 souls (plus some dogs who seem to enjoy the ride, too). Here, at least, if you request a single, you get a single.
This year's tour centered around the life and work of Julia Child, our group numbering a comfortable 12. While my idea was to sleep in on the ship (isn't that what you do on a vacation?) the others awoke in time for early-morning lectures about Julia. They joined in cooking lessons (using Julia's not simple recipes) while I strolled the deck or settled into a seat in the ship's library. They eventually realized that I could be counted on to show up for special dinners.
It sounds, correctly, as if my enrollment on this tour was something of a fraud; I was the only one who isn't a serious cook, hardly even one at all. Happily, the sponsors didn't make that a prerequisite. Seven nights on the water followed by six in Paris was enough reason to sign up.
The ship arrived in Southampton and we were whisked by motor coach to London and steered on to the Euro Star train that ducks under the English channel and comes out in France, arriving in Paris 2-l/4 hours later. (Just like Amtrak, did you say?) There was both inarguable logic and some irony in scheduling the second part of the tour in Paris: Julia lived and mastered her cooking skills there -- and today she is virtually unknown in France.
My participation in the second part of the tour showed no improvement over the first. Though I hadn't been in Paris for six or seven years, I have been there at least a dozen times, including a few for summer classes, and there were three good friends I was eager to see. While the group shadowed Julia's life, I scooted off for time with Vincent and Roland and Gerard, all successful gay Frenchmen. We ate, of course (though not following Julia's suggestions), and meandered around the Marais and Saint Germain, my old hunting ground.
Pummeled by the decades between the age when I first set foot on the Champs Elysees and today, this visit was weighed down with some sadness. The city remains luminous, but the fooling around part of my earlier trips are regretfully, sensibly packed away in memory boxes. You may go home again... but it won't be the same. This year, for the first time, a cane and walker were part of my baggage.
The others on the tour improved their cooking skills and saw more of each other than I saw of them, but they were gracious in excusing my absences. Brigitte, our leader, likewise.
Would I sign up for another Atlantic crossing? That's tempting. Will I have another time in Paris, or was this the last one? If so, I've had my share and I keep many fond memories of trips where I didn't need the organization of a tour to bring me there. For a guy whose habit is often to travel alone, Paris is a four-star magnet. Maybe I'll pack up my cane and revisit singly.
Stanley Ely includes two chapters on Paris in the "At Home and Abroad" section of his new book, Life Up Close, in paperback and ebook.