I live in Seattle, Washington, stimulant headquarters of the Americas. Coffee is king. There is a coffee shop on almost every corner. And in between there's anything from soda to energy shots to chocolate to keep you alert.
But, every day at 3 p.m. PST in our Tether studio in Seattle, the gong rings out three times. It's that point in the day when many others turn to a cup of coffee to marshal through the afternoon. But with designers deep into their headphones, writers pondering story lines, and project managers trimming their inboxes with emails to clients around the globe, the gong goes off and we all drop to our knees and crank out 25, 30, 35 push-ups, or sometimes whatever you can muster. Some folks choose to plank or do crunches or wall sits.
It's a ritual that we have been joined together in doing for some months now, one that calls for participation through the sheer volume of people engaged. There's a sense of healthy peer pressure that comes along with the gong reminder to get up from whatever you're doing and join together for some communal exercise. Afterwards, your blood is pumping, your senses are alert and you're more awake and talkative. If the studio was quiet a few minutes before, it is now alive with chatter and laughing. It only takes about three minutes, but the pause from work makes you approach the remaining workday with a renewed vigor.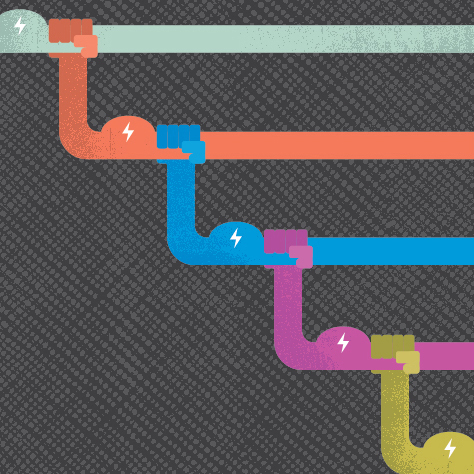 Everyone knows the power of exercise, and I'm no stranger to its effects. I am a runner
who wakes at 5 a.m. every morning for my run and exercise -- and if it don't get it in, my day never feels quite right. I look forward to that early morning time for myself, a healthy selfish moment where I'm devoted not to my work or family, but to the simple action of putting one foot in front of another. It is a natural release of energy that is its own reward.
Sometimes the key to keeping good habits is a friendly reminder -- a partner to help you in your endeavor for good health. It's a small thing to take a three-minute push-up break and when your workmates become your partners in better health and improved attitude, the experience makes everyone a little closer.
(Thanks to Jeff Wilkson from Tether for the content idea and the illustration, and to my team at Tether for the daily push-ups to keep me young.)
For more by Stanley Hainsworth, click here.
For more on healthy living health news, click here.