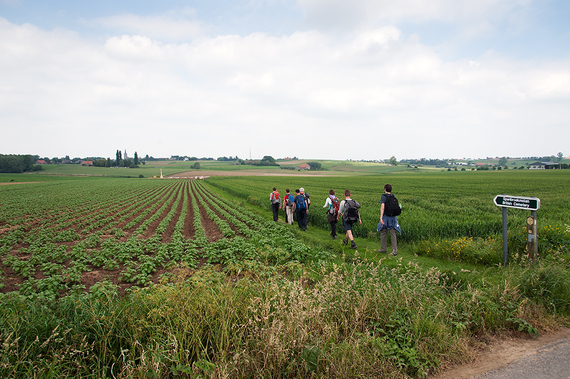 In Plugstreet Wood we are alone. Beneath a circular opening in the thick canopy one can hear nothing but silence. Our backpacks rest aside. We walk past lines of graves. Most stand a feet or two apart. Where death occurred on the same day, in the same battle, they stand shoulder to shoulder. Bright sunlight spreads over the lawn, lighting up the white headstones. Winston Churchill commanded a battalion of Royal Scots Fusiliers here. He survived to fight another war.
We walk along the Western Front of the Great War. Our journey is 100 kilometers long: one for each year that has passed since all of Europe's grand powers fought one another, killing 17 million people in four years. Our trip is four days and our group is an odd and uneven mix of great and small nations on each side: Belgian, German, British. I'm half Hungarian. And if you count my Dutch half five of us are from the Netherlands, one of only 25 nations that remained neutral. Historian Geert Mak compares the Dutch experience during the Great War with that of children who happened to be on a holiday when an enormous disaster engulfed the rest of their family. Spectators then, tourists now.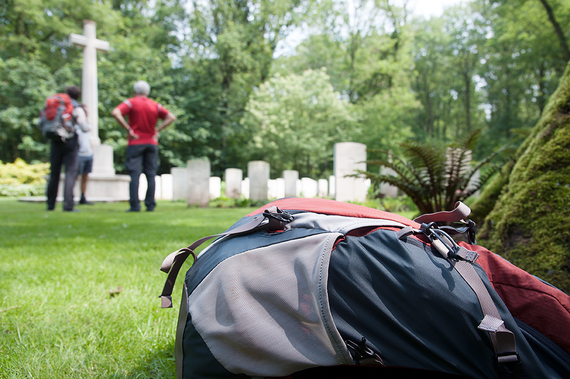 This year, we are among half a million visitors to the frontlines of Ypres alone. Nearly all of them trace history by the stale comfort of car or tour bus, descending onto cemeteries, museums and monuments. Staggering one on top of the other without much breath in between. In four days, we come across no one else who makes the journey of foot. There is no marked trail connecting the Western Front across France and Belgium. And so for us, no beaten track to get on to or off. We zigzag our way through fields saturated with history, through no-man's land and over imagined and real trench lines, happily confused by which is which. In Flanders Fields there are six cemeteries for each square kilometer.
We pass so many burial grounds that after the first half day of walking we leave any guilt for not pausing for each one by the roadside. We pass bunkers that a hundred years have not eaten away and stumble upon lone monuments for New Zealanders, Indians, Portuguese, Irish, Australians. Poppy wreaths lie at their feet. "Football not war: Extra time not penalties" says the card on one. It is signed by Pete and Udo. Who said a unified Europe taking its battles from the mud in Ypres to Brussels meeting rooms makes no sense? At Passchendaele we see Belgian scouts in re-made Great War uniforms, a parade holding the middle somewhere between commemoration and carnival.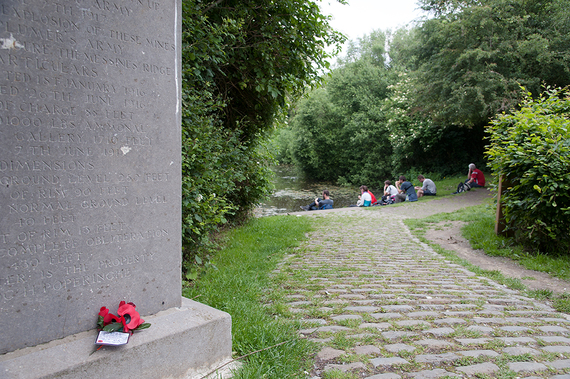 The Indian memorial in Neuve Chapelle is grand as only imperial monuments can be. GOD IS ONE. HIS IS THE VICTORY it says in English, Arabic, Hindi and Gurmukhi. All around the names of 4742 Indian soldiers who have no known grave. Underneath the names of battles, many named after the villages we walk to next: Neuve Chapelle, Aubers, Armentieres, Messines, Ypres. It is an hour of small rural roads before we arrive at Pheasant Wood. The Battle of Fromelles took place here with thousands of Australians fighting to capture Aubers Ridge.
We now walk "over" the ridge, an elevation barely 40 meters above the surrounding area. It is difficult to imagine such quiet unassuming land to be of any military relevance. Within 24 hours, Australia suffered 5,533 casualties. They failed at the offensive, a refrain that kept on going for four years on both sides. Captain Blackadder famously sums up a day of Great War battlefield strategy: "Another gargantuan effort to move his [the general's] drinks cabinet six inches closer to Berlin."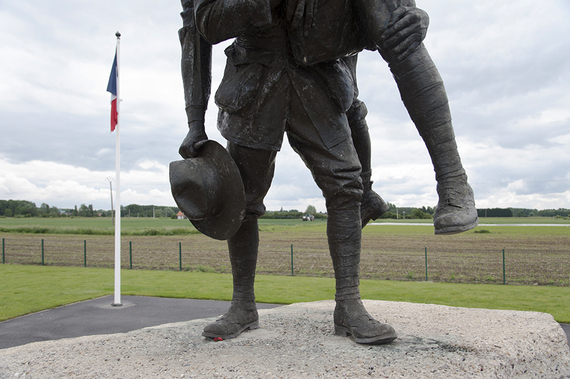 We continue over quiet country lanes, through poor cities in northern France and Flemish villages too tiny to carry all that history. The land is flat. The sky dominates the horizon with larks roaring freely. Of all the walking I have done, these trails cross the most uneventful of landscapes. Nothing is left to happen here. We pass cemetery after cemetery, walking over facts and figures, talking of what we know from books and films. Of repeated military failures, hunger and disease, the discovery of shell-shock, the invention of gas warfare and mine warfare, the executions of soldiers for cowardice, and of men being more expendable than ammunition.
Compared to the density of these stories it is easier to keep up with the pacing of our long walk. And there's always the extravagances of a century of front-line tourism to distract us, such as the jamboree of artifacts, war mannequins and gruesome photographs at the Sanctuary Wood museum. "War porn", it is correctly labelled by one of our guidebooks.
We walk into and out of tiny stretches of forest, past endless plowed fields. I carry Michelin's Guide to the Batllefields 1914-1918 which contains copies of pages from their original Guides illustrés de Champs de bataille. The year of publication is 1917. Frontline tourism was born when millions were still to perish. Occasionally, we spot a grenade, or obus as it is called in Belgium and France. They are still spit out by the land, put to the side of country roads by farmers, and then routinely collected by a special unit of the Belgian army. History spilling its guts, a century after.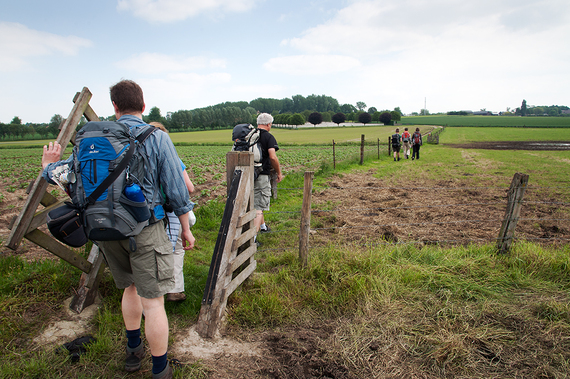 We walk on and joke about much. Except for who started it all. That and the greater "why" of the Great War are not resolved on a walk. "The consequences were so great, but we still don't understand how it started," says historian Margaret MacMillan, author of The War That Ended Peace: the Road to 1914. There is the school of systemic failures in our world order at the time: grand alliances of great powers that would inevitably clash, an arms race towards mutual destruction, and nationalism and imperialism making war our destiny. And then there's plenty of argument as to why individual leaders were largely at fault, with incompetency a far more important ingredient than evil intent. "We muddled into war" were the famous words of David Lloyd George, Britain's prime minister.
Technically the war ended in 1918. It was only the end to the beginning with a peace treaty that humiliated and bankrupted the defeated and sowed the seeds of today's disasters by drawing arbitrary borders across Europe, the Middle East and around the world. The war that was supposed to "end all wars" got us to the peace that ended all peace.
To the wandering visitor on foot, the countless monuments and cemeteries impress that today this is a grand historical tragedy to be remembered. "Lest we forget": An era we look back to rather than forward from. In 1914, Belgium, a small independent democracy, was being overrun by its imperial neighbor. People from 50 nations fought one another along the trenches in Belgium alone. In 2014, Europe looks at Ukraine and the Middle East and quarrels over how much of this is different; how much is deja vu. Over what is wisdom and what is incompetence. "Your grandchildren will be grappling with the fallout from this calamity", writes Paul Salopek this week as he passes refugee camps in southern Turkey on his epic walk across the world. Trying to make sense of 2014; and still struggling with 1914.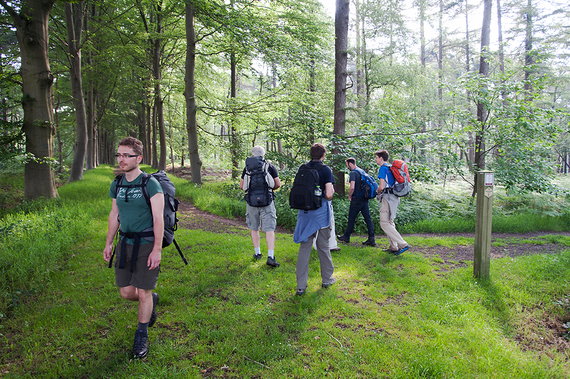 Photography by Victor Wollaert