On the third and fourth day of our journey on the Abraham Path, we venture into the Tektek Mountains, a curious title for a desert landscape of nomads, desolate temples and ruins of empires long past. But no mountains. Apparently tektek means "particular," perhaps to signify particularly rocky and hot. We are in the midst of a seven day walk-and-talk journey with seven friends exploring the Abraham Path in southeastern Turkey.

After the gentle cultivated hills earlier on, this landscape provides for a different walking experience all together. Our group is the first exploring this two-day route, aided by Kurdish guide Fatih and his Arab colleague Hussayn. It is rough and solitary terrain, a moonlike landscape that must be unforgiving in summer for the lack of shade. Today it is sunny and 25 degrees Celsius, pretty warm for the start of winter; we hike in T-shirts and make frequent water stops.
A few hours later, in the midst of nothingness, the small village of Sogmatar appears, surrounded by pagan temples, mystic wells, caves and the ruins of grand towers. This is the center of Marelahe, the Chief God of the Pagans. It is surrounded by the ruins of seven temples built in worship of the Sun, Moon, Saturn, Jupiter, Mars, Venus and Mercury.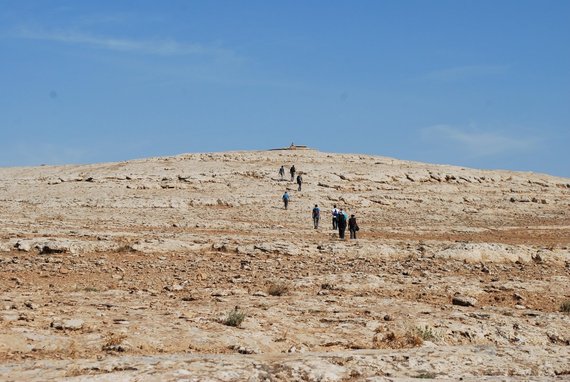 After millennia of Christianity, Judaism and Islam, the remnants of these older religions are still visible here.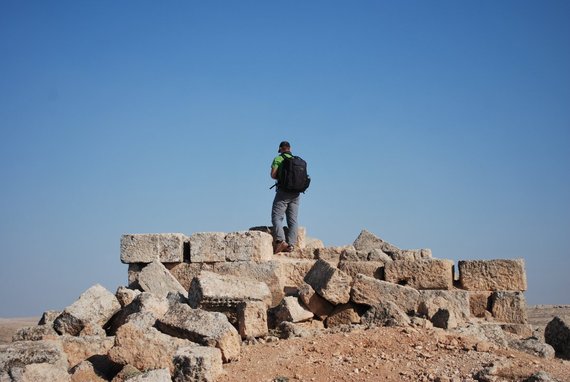 There is a beautiful story about Abraham inviting a stranger into his tent for a meal. Ordering the best food to be prepared for his guest Abraham asks the man to pray with him to the One God. The man refuses to do so and then tells Abraham he is a fire worshipper and he does not believe in Abraham's God. After Abraham sends him away, God speaks to him angrily and says "I have fed this man for his entire life and you refuse to provide him with just one meal?" Abraham then hastily leaves his tent to find his guest and bring him back. Enjoying the meal, the man asks why he changed his mind and Abraham tells him about God's intervention. The man then answers: "Now that is a God I can believe in."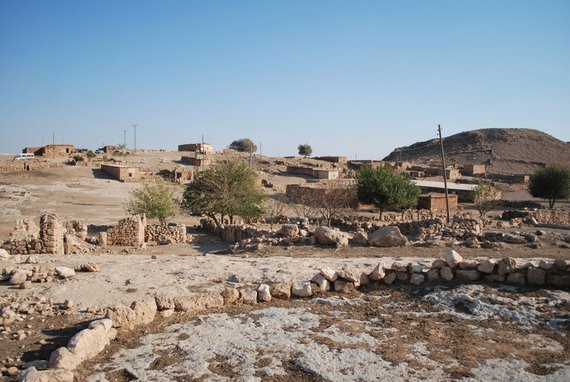 We stroll through a village that is nearly empty. For years, archeological protection has stopped any new construction inside the community; whilst preserving the heritage of Sogmatar it is also gradually depopulating the town: the old buildings are often unfit as living quarters. Climbing on top of the "Holy Hill" that rises above Sogmatar we find Syriac inscriptions of an amazing clarity. I wonder how on this hilltop it has survived centuries of sun, rain and wind.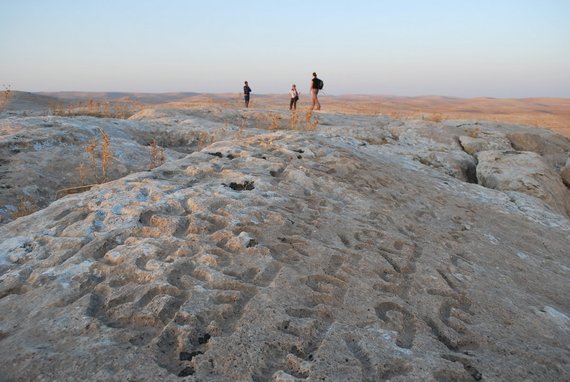 We see two rock carvings: one devoted to the moon, the other to the sun. We then ramble around for long enough to see it set in the west.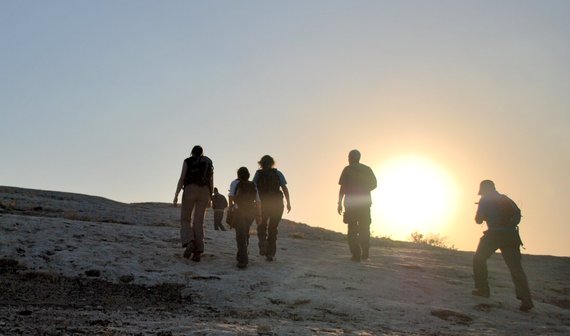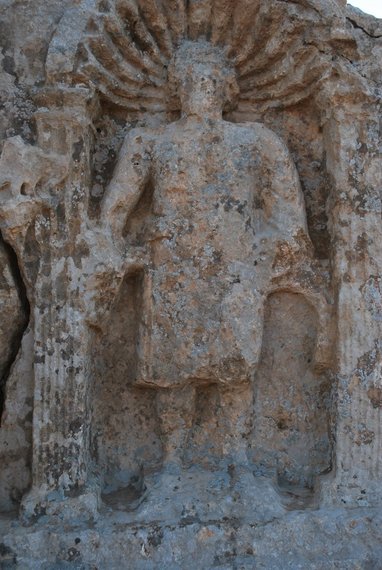 That night, we settle down for our first Arab homestay. It is run by the father of our guide Hussayn, Halil Ibrahim. Yet another namesake of Abraham on our path this week. Our large rectangular guest room is modern, fitted with large carpets and a flat screen TV on the wall. Halil Ibrahim puts on a channel with a Turkish movie; none of us speaks the language but we understand courageous policemen to be hunting down evil terrorists. The Turkish version of Homeland. We know that story and decide to play an impromptu quiz about Abraham; two teams of four compete around questions such as "what was the name of Abraham's father" and "which US President walked the Abraham Path?". As expected the team with our guide Fatih wins, not entirely fairly given his advantage of touring various groups around this region.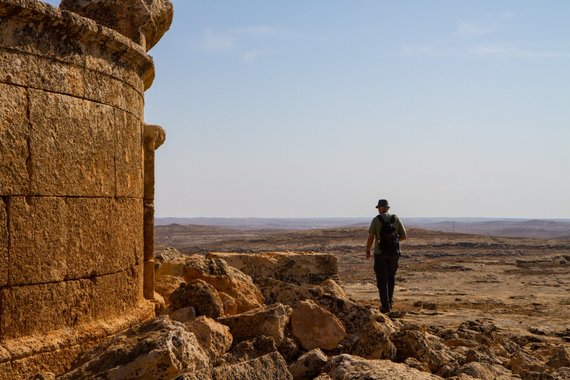 The following morning we explore a new route connecting Sogmatar to another ancient enclave in the desert, Shuayb City, and then move southwards by car, 15 km from the Syrian border, to walk around the ruins of mythical Harran, just in time for another sunset.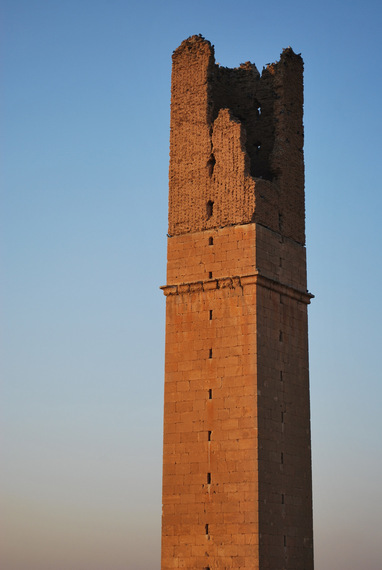 Here the world of pagan worship that Abraham rebelled against fuses with the order of monotheism. For centuries, the two existed side by side; a place of religious tolerance where one of the world's first universities was founded. The remains of the minaret of Ulu Cami, the Great Mosque from the early days of Islam, tower above Harran's ruins. T.E. Lawrence was here in 1909, calling it "the City of Abraham" and mistaking the minaret for a church belfry.
It is from Harran that Abraham starts his long quest, a walk that spans across the entire region to places such as Damascus, Jerusalem, Nablus, Beersheva, Egypt and Mecca. Abraham as the first pilgrim, the first backpacker, the first long-distance walker.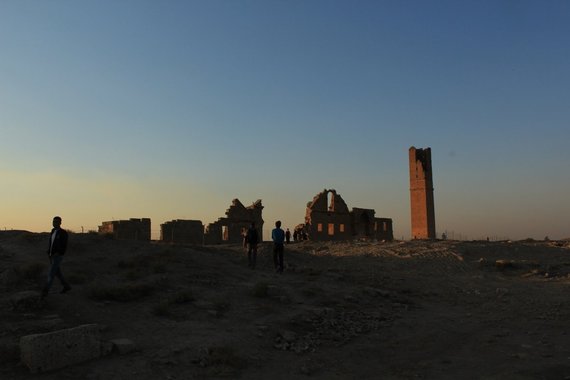 Photography by Stefan Szepesi, David Landis and Lubna Ghneim