After a morning run through the cobblestone streets of Zagreb, I met our group of five in the hotel lobby of the Esplanade Zagreb Hotel, a deco-chic hotel built in 1925 to host passengers from the then new-fangled Orient Express. It was our second day of a weeklong trip exploring Croatia outdoor activities and nature wonders. We set off for an afternoon canoe trip with 4 Rivers Adventure through the dramatic canyons of the Mreznica River. En route, we stopped briefly in the tired town of Karlovac, home to the Museum of Croatian Independence War.
While there are future plans to enclose the museum in a building, right now it's a project in the works. Battle-worn vehicles -- a rusted-out Howitzer, fighter planes, tanks and tractors refitted as a makeshift tanks -- were scattered around a field. They were all used during the Croatian war of Independence from 1990 to 1995. Unnerving and eye-opening, my visit was harsh reminder that while I was watching Seinfeld, The Wonder Years and Doogie Howser M.D., kids my age in Croatia were hiding from exploding bombs.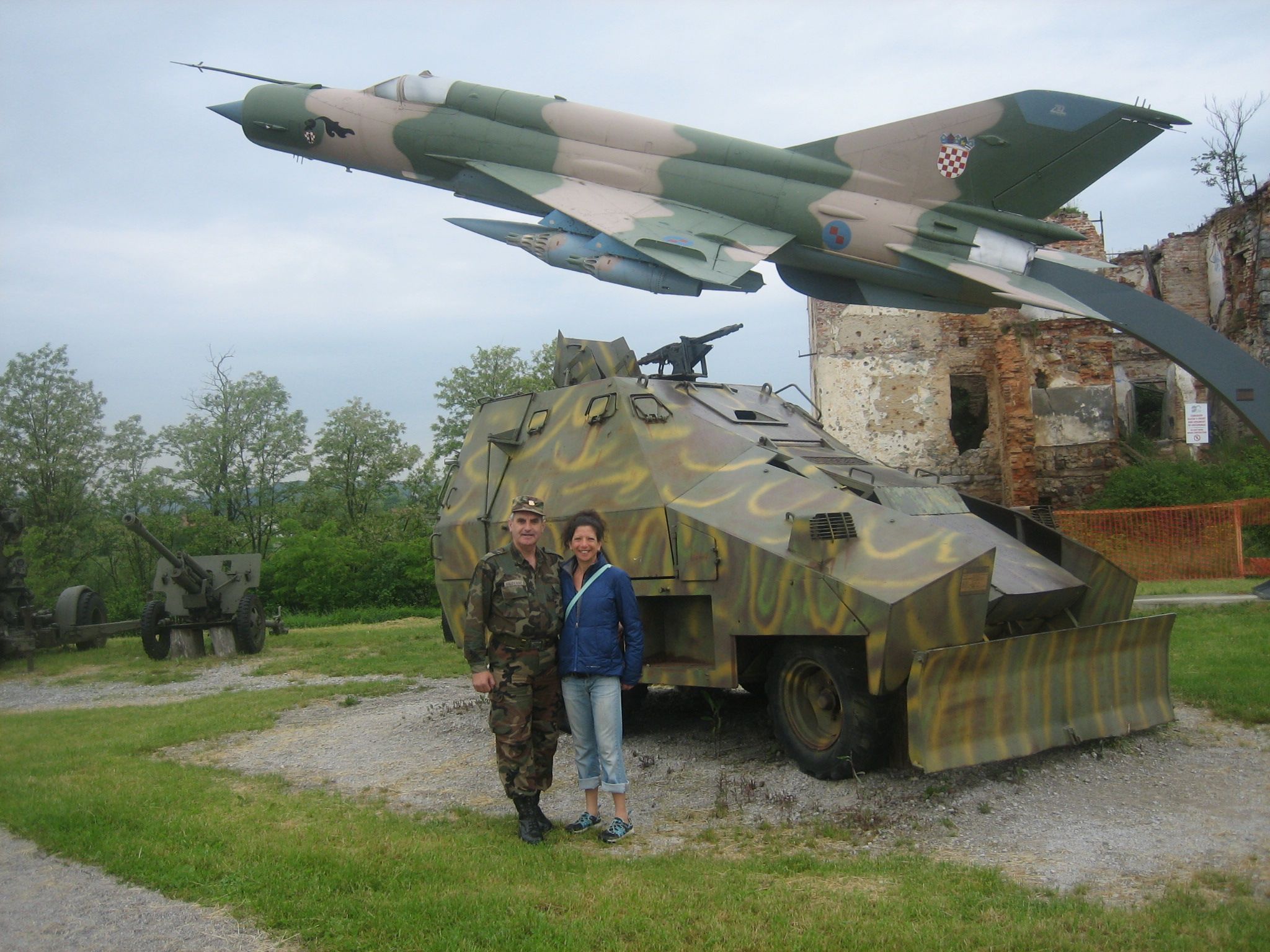 It was nearly 1:00 p.m. when we reached the Mreznica River. The swirling skies threatened rain. While late May in Croatia is usually balmy, an average of 80 degrees, during our visit a cold cyclone covered most of Europe. Alas, my tank tops and shorts stayed packed and by the end of the week, my well-worn jeans and ExOfficio jacket could walk by themselves.
As raindrops danced on the van's roof, we wiggled into thick neoprene farmer-john wetsuits and water booties. I cringed thinking about leaving the warm van to launch into the chilly river. Donning helmets and red PFDs, we carried sturdy double canoes down the gravel road to the put-in. The river hummed and the whitewater revved my endorphins. James, a fellow New Yorker, was my paddling partner. He steered in the back, while I motored upfront. Our posse of five canoes took off down the flowing category II & III river like little ducks in a row.
A typical 'Karst' river, the Mreznica has bountiful travertine waterfalls interspersed with turquoise calm water. Upon reaching our first small waterfall, we disembarked, stepping into the knee-high water and tossing the boats to the still pool below. The current was strong and pushy as I picked my way across the mossy slippery rocks, leaning on a boulder so as to not be washed away. The payoff was outstanding. Before finding our boats, I stood atop a rocky plateau, inhaling a breathtaking view of the water below wending through emerald wilderness and jagged limestone cliffs.
James and I clapped our hands like school children embarking on a super fun adventure, but the rest of the group was not enthused or amused. Just 10 minutes into our paddle, three of our travel mates abandoned canoes and headed upstream to wait out the storm in a farmhouse. That left me, James and Mia, who is originally from Croatia but now works in NYC -- and our hearty guide Mario Mihajlik and his assistant. They both wore thin white tee shirts. I wore two anoraks for extra warmth.
James and I got in a good rhythm on the flowing river, swooshing through gentle rapids, past verdant forests, jagged limestone walls and hidden caves. It felt good to be on the water and a welcome change from paddling on the turbulent Hudson River in NYC.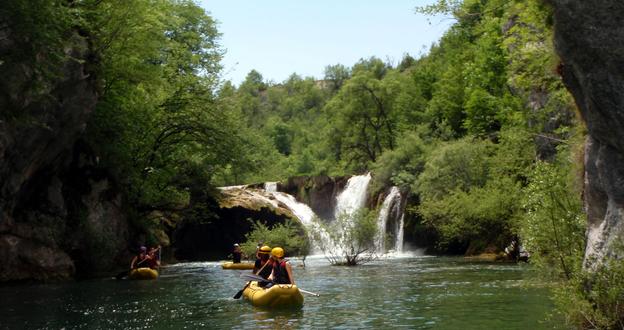 I was rain-soaked and didn't mind wading through the chilly water at the half-dozen mini-waterfalls -- except once. "We have to jump." Said Mario, a strong, burly man with a boisterous personality. On hot, sunny days this five-foot plunge is a highlight of the trip, but I shivered thinking about being pulled under the cool water. Mario, who started leading paddle trips on the Mreznica River just after the war ended, around 1995, grabbed my hand and towed me through the current until we stood on the big rock with water gushing along our shins. "Hi-Yo!" He sprang with the agility of a cat, landing into the pool of water below with a big splash. I quickly followed. Plunk! Cold water smacked my face and streamed down my neck and back. I got an instant ice cream headache. Brr! Popping to the surface, I found Mario's outstretched big, callused hand waiting to pull me from the dynamic water. With his other hand, he passed me a worn silver flask. It was cold to touch but filled my belly with warming honey grappa. Oh! How I love Croatia. Mia and James got the same grappa welcome.
Two-and-a-half hours after launching, we reached the take-out. The rain ceased and sun fought to shine. Refreshed and fiercely hungry, we met the others in a nearby hut. A crew of 20-something hipsters, living (and cooking) off the land, had prepared a grilled whole trout luncheon, al fresco. It was one of the most memorable - and flavorful - meals of the trip. The warm, crusty homemade bread (they even had gluten-free, for me) was the perfect vehicle for the smoky trout pate and addictive wild leek pesto. Mario, bless his sturdy soul, brought local wine. We toasted to our wet, wild adventure while savoring juicy trout, crunchy roast potatoes, cabbage slaw and zesty zucchini salad.
The next day, we walked up the grassy hill of Cave Park Grabova toward Samograd Cave with our young, enthusiastic guide. There was a cool mid-afternoon breeze, and clouds filled the grey sky. Croatia has restored many of their over 7000 caves and pits for public educational exploring.
Of the three caves we visited - including Veternica and Lokvarka cave - Samograd was my favorite. With a clink, the heavy metal entrance gate swung open and my eyes blinked, madly adjusting from daylight. Holding the cool metal rails, I cautiously stepped down the metal stairs - clunk, clunk, clunk! - leading to the cave's cool, calm belly. I was immediately engulfed in instant Zen, as if I just walked out of an exceptional yoga class. The chilly moist air was clean and crisp like that from a humidifier.
Prior to the trip, I was concerned about feeling claustrophobic in this land down under, as some caves reach more than 3,000 feet deep. But I felt quite the opposite. The four halls of Somograd were big and spacious with high ceilings. Sections of muted, multi-tone brown and grey rock walls were a patchwork of textures, calcifications and trickling fissures of water.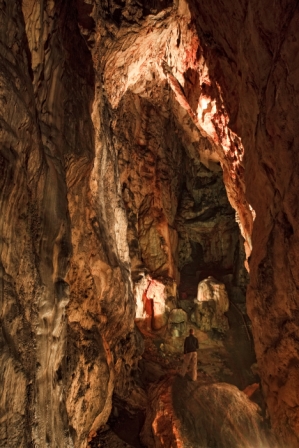 Although it officially opened to the public in 2009, work started in 1989, when over 50 spotlights and handrails where installed by a local community of Perušić. But the Croatian War of Independence halted restoration until 2000, when the Mountaineering society of Samograd kick-started new efforts. Interestingly, live classical music concerts are held in some of Croatia's caves, which must be amazing given the incredible acoustics. When I screamed (I was given permission) the sound echoed for several seconds.
Another morning, we joined cycling guide Alez for a 30 km bike ride through the picturesque Istrian countryside, known for its wine and truffles. As we drove up into the stone walled diminutive medieval enclave of Roc, in North Istria, I half expected to see Dino and Fred Flinstone playing fetch in the tiny ancient village. Once home to a sprawling stone castle and the epicenter of Croatian publishing (based on the Glagolitic alphabet between the 12-20th centuries) Roc has become a tourist and school trip destination.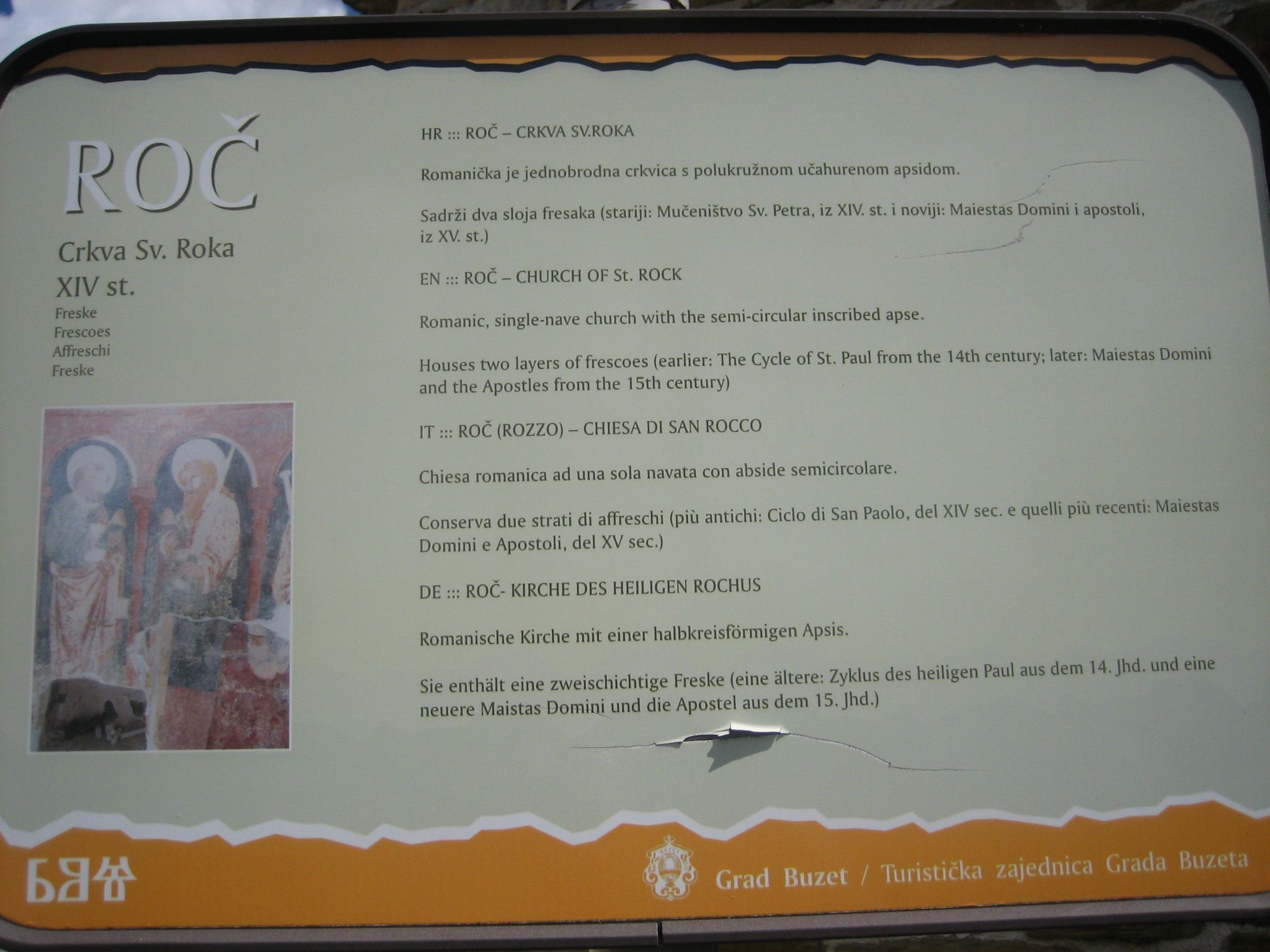 After a brief tour of the grey stone church dedicated to Saint Anthony of the Desert, the worn stone archway and the tarnished antiquated cannon, we mounted our bikes. The mid-morning, 70-degree sunshine was a welcome treat as we peddled the rolling country roads, which reminded me of Tuscany, Italy. We zipped through Kotli, an abandoned riverside mill town with cozy cottages. The final climb was out-of-the saddle steep, and my belly growled as we approached our lunch destination in the village of Hum.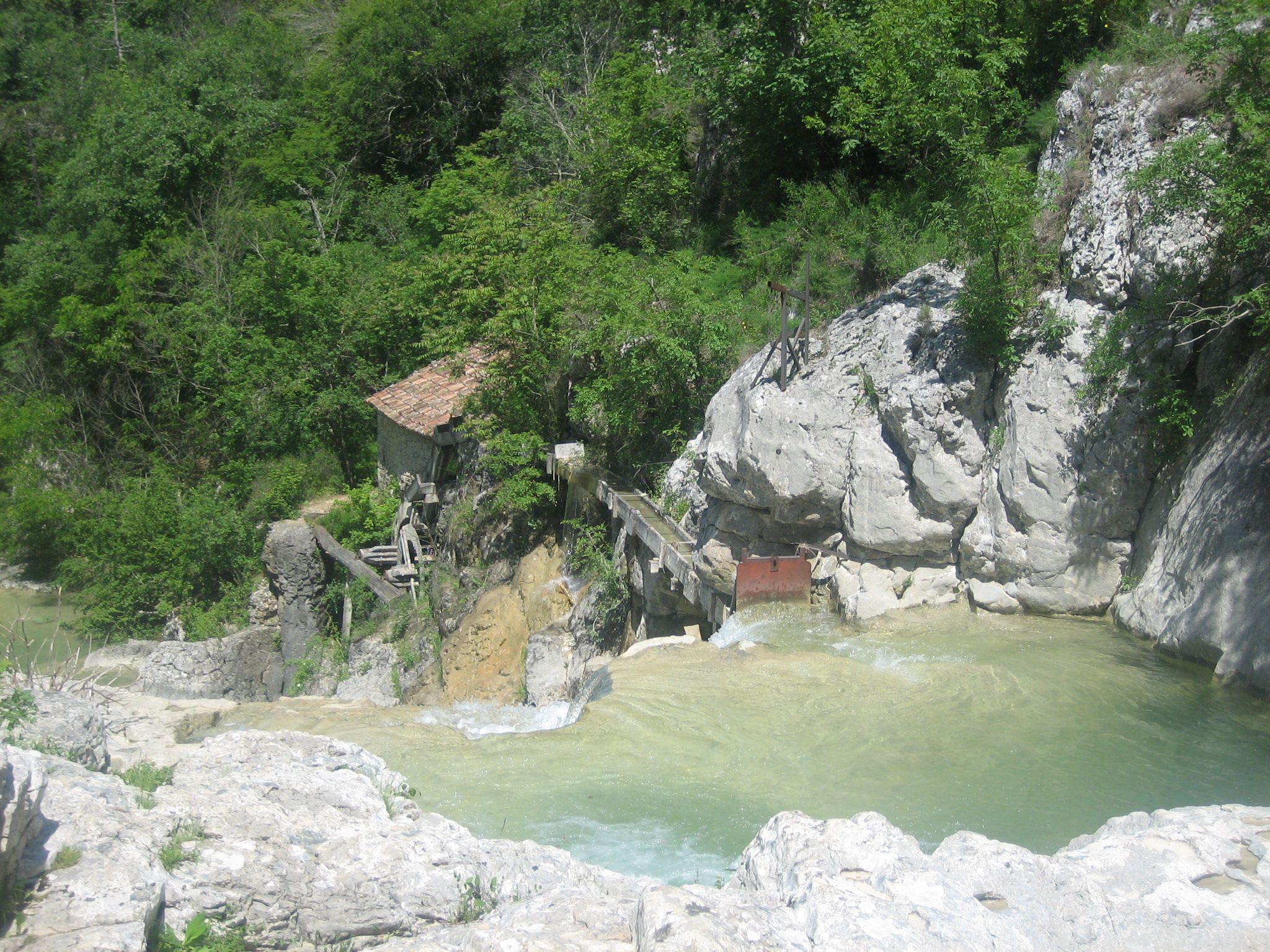 With less than 20 residents, it's the world's smallest town. We sat at a long wooden table on the breezy terrace of Humska Konoba, a traditional restaurant overlooking the bucolic landscape. The creamy corn soup had sweet kernels of local corn and my egg white omelet overflowed with tiny, tiny, wild asparagus. They packed the flavor intensity of a scrappy small dog that thinks he's a Great Dane. It was delicious.
Afterwards, we toured the quaint town, sampling local and grappa - a pleasant theme of the trip - and then continued peddling 15 km toward Rocko Poje, en route back to Roc. To celebrate a fun day, we kicked up our weary legs atop the nearby stonewall town of Motovun, and sipped a bright, lively Istrian Malvasia and admired the stunning panoramic view of the farmland and vineyards in the Mirna Valley below.