I felt like a stinky alien. My butt ached from sitting on the hard plastic red seat outside Ambuleta 1 in the bustling Zagreb Emergency Room. The cavernous, stark waiting area swelled with Croatian conversation and a steady stream of incoming patients. My gashed knee throbbed and I longed to hear my name. Maybe this was a bad idea. Maybe I should bag the stitches and bolt.
I pulled off my soiled baseball cap and checked my watch for the nineteenth time that morning. 7:23 am. It'd be a crapshoot if I made my 1:00 PM flight home to New York City. My taxi was picking me up at the hotel at 11:00 AM.
At least I was entertainment for the locals. They stared at my hot pink Newton running shoes. A woman with neatly quaffed hair and a plaster cast on her left arm leaned against her husband's shoulder, gawking at my orange NYC Marathon shirt and purple Pearlizumi vest. When we met eyes, she quickly looked away.
This was not how I expected to spend my last morning in Croatia. Damn that morning run! I had arrived in Zagreb a week earlier to meet five fellow seasoned travelers to explore some of Croatia's natural wonders and culinary delights.
I was eager to taste wines from the country's twelve fledging sub-regions. They produce 70% white wine, such as the celebrated Istrian Malvasia. I got my chance at the Zinfandel Restaurant in the famous Esplanade Zagreb Hotel, where we spent our first night. The deco-chic hotel was built in 1925 to host passengers from the then new-fangled Orient Express. Its ambiance is a step -back -in time to when men wore top hats and women donned long gloves and glamorous dresses as they descended the marble spiral staircase.
The Zinfandel kitchen, led by talented young chef Ana Grgic, uses local ingredients to craft flavor-packed traditional and contemporary dishes, all paired with an impressive wine list. At the bar before dinner, I quaffed a bright, briny Malvasia - a lovely way to kick off the evening. Next, in the regal dining room, a tux-clad waiter poured us a frothy Prosecco from Tomac Winery, near Zagreb.
We "oohed" and "ahhed" as the waiter set down a hearty platter of Stuckli, a local pasty specialty. Think strudel. Each dense slice oozed with cottage cheese and cream. Our next course was a velvety pea-green nettle soup that surprised me (in a good way) with its overtones of spinach, garlic and kale. By the time my seared sea bass arrived, swimming in a broth of mushrooms and Asian herbs, we were drinking a 2008 Kiridzija Dingac, made from Plavac Mali - Croatia's champion red varietal, known for its plush, earthy and herbal overtones.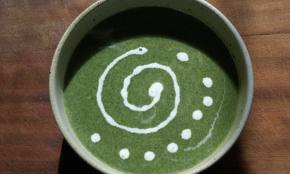 The next morning, still full and a bit fuzzy from the late night and liberal libations, I woke early for a 6:00 run. I trotted through Ban Josip Jelacic Square - the main square, typically overflowing with shoppers and people lounging in outdoor cafes - and the Dolac open air market, where vendors were setting up stands selling fresh flowers and fruit, including insanely sweet wild strawberries. With my arms pumping and knees lifting, I hoofed it up a cobblestone street that passed through the shadowy candlelit shrine in Stone Gate to the Market Square. It was part of the route we took the previous morning on our tour of the capital city with Segway City Tour Zagreb.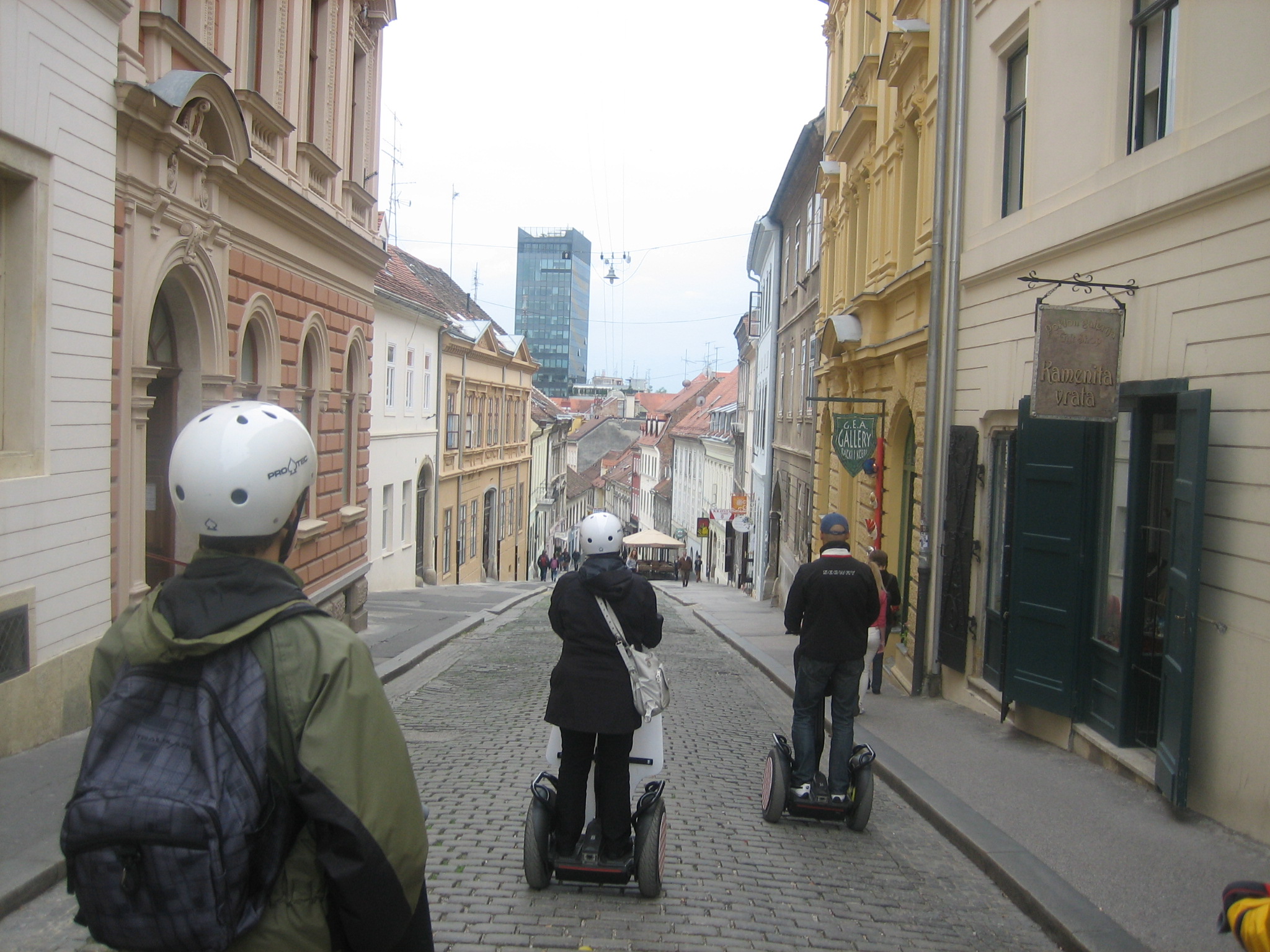 As I continued my morning run to the top of the once war-torn city, I was delighted to find a dirt trail that led me off to a small neighborhood and its web of trails that the locals walk to work and school. A week later I'd regret this find. Right here I'd clip my toe on a rock and fall, splitting open my knee and landing in the Zagreb Emergency Room. But today I was back in time to meet my group in the lobby of the Esplande for our day's adventure.
One of the highlights of the trip was walking the paths and slatted wood planks in Plitvice Lakes National Park, the oldest national park in Southeast Europe. Established in 1949, it's Croatia's largest (115 square miles) and first national park, and became a UNESCO world heritage site in 1979.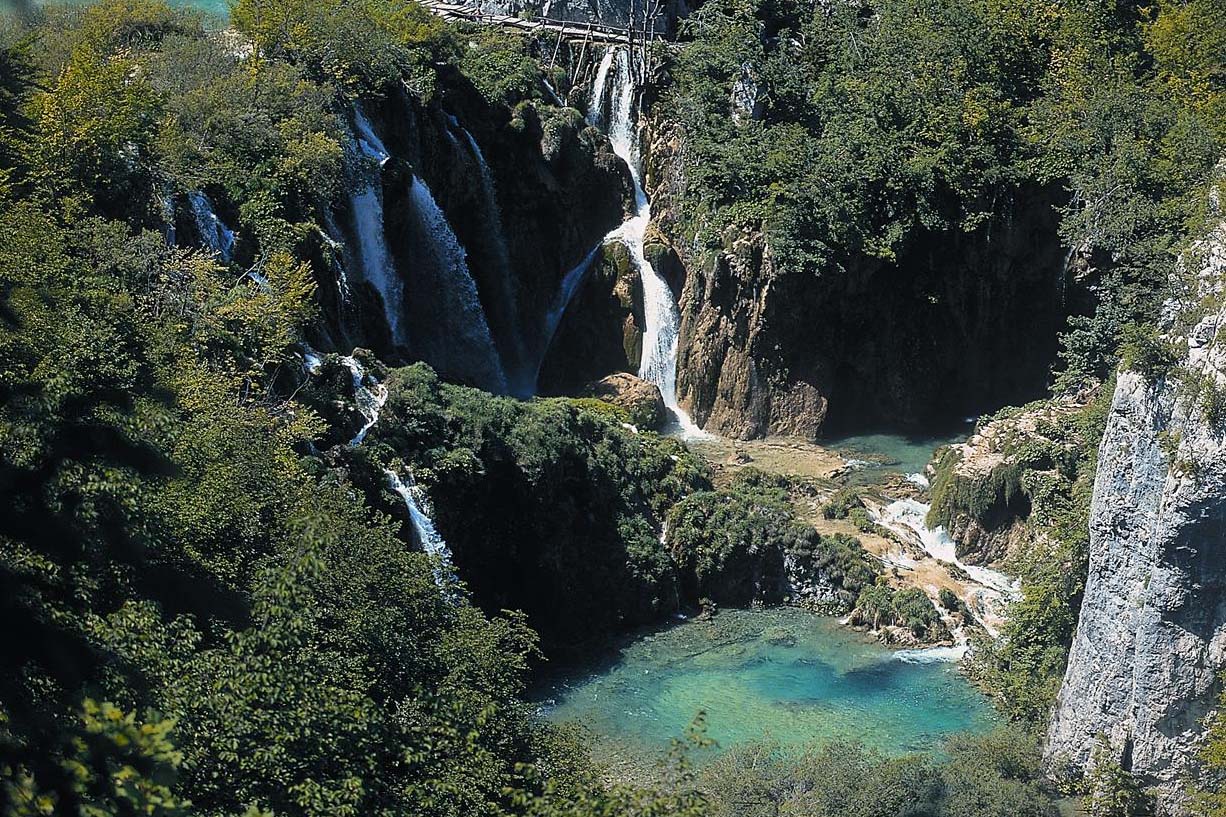 The stunning 16 interlinked turquoise lakes, separated into upper and lower lakes and surrounded by over 90 cascading waterfalls and limestone caves, formed by natural dams of travertine. During our three-hour walking tour, I wished aloud that I had my SUP to paddle across the pristine water. It did not please our very knowledgeable and seasoned guide Ms. Helena, who shot me a "don't even think about it!" look. She has worked at the Park for over two decades and takes preservation seriously.
Throughout our travels, we passed scores of shops and roadside stands selling locally made grappa. I was thrilled to visit with grappa-maker Vid Arbanas, who owns Kotac Nature House (Tel: +385 51831 211) in Lokve, a town known for frogs and frog legs. Vid crafts herbal and fruit brandies from herbs and wild berries he and his wife forage in surrounding woods. Dressed in white togs - think cult leader meets medicine man - he led us through a tasting of five of his potions. My favorite was the Papra Hortus Diabolicus (the Devil's Garden), a digestivo made from Istrian Muscato, thirteen herbs and four roots, said to rejuvenate circulation. The "how to drink" instructions suggests: swishing in mouth for 2-3 minutes before swallowing. It's the craziest thing. At first it's sweet, then turns fireball hot for about 20 seconds and finishes with refreshing, potent peppermint goodness. I took home a bottle.
Our final day was spent in style, truffle hunting with the Karlić Tartufi, truffle hunters for over four decades. Mrs. Karlić welcomed us, clutching a wooden bowl overflowing with fragrant black truffles. The enticing aroma and bevy of magical mushrooms made me giddy.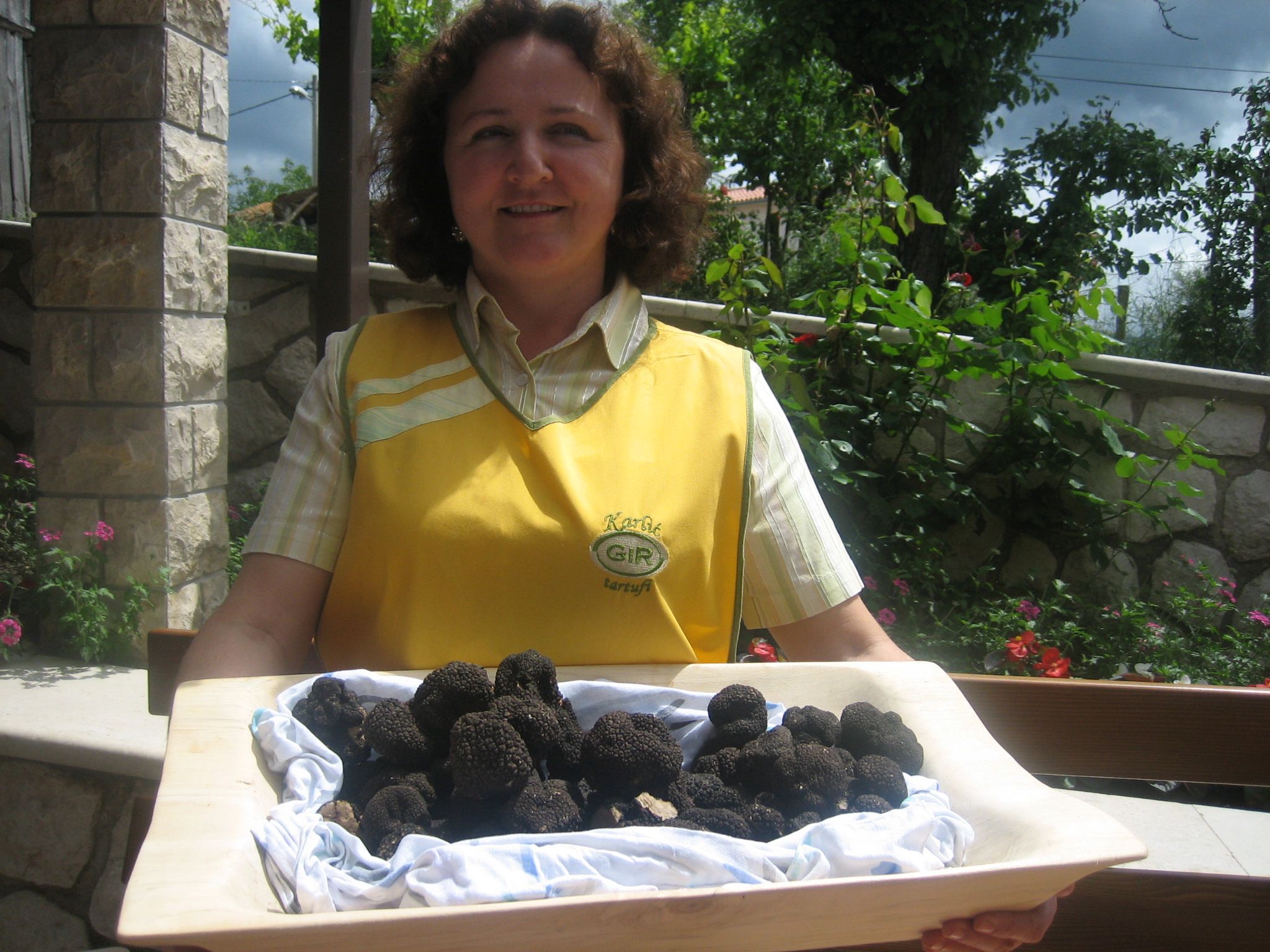 We drove down the hill to where the Karlić's planted truffle-producing oak trees, which need 10 years before they harvest world's noblest mushroom. While pigs once dominated truffle hunting, these days dogs - specifically trained female mutts like our pooch Crnko (Blacky) - are preferred, as they are obedient and less likely to eat the truffles.
We followed Blacky like kids chasing the ice cream truck. "Shoo-shoo," 20-year old, Ivan Karlić commanded Blacky. She bolted through the dense woods, madly sniffing the grayish clay soil. Then she pounced and starting digging like a pirate mining for treasure. Ivan sprung toward the excited mutt, pushing her snout away and taking over excavation with the precision of an archeologist. Yahoo! There it was. Resting in the dirt womb, a delicate, muddy, puckery black truffle the size of a golf ball. When Blacky found another truffle, I took over - gently digging with my fingers and plucking the truffle away from the scores of tiny attached roots.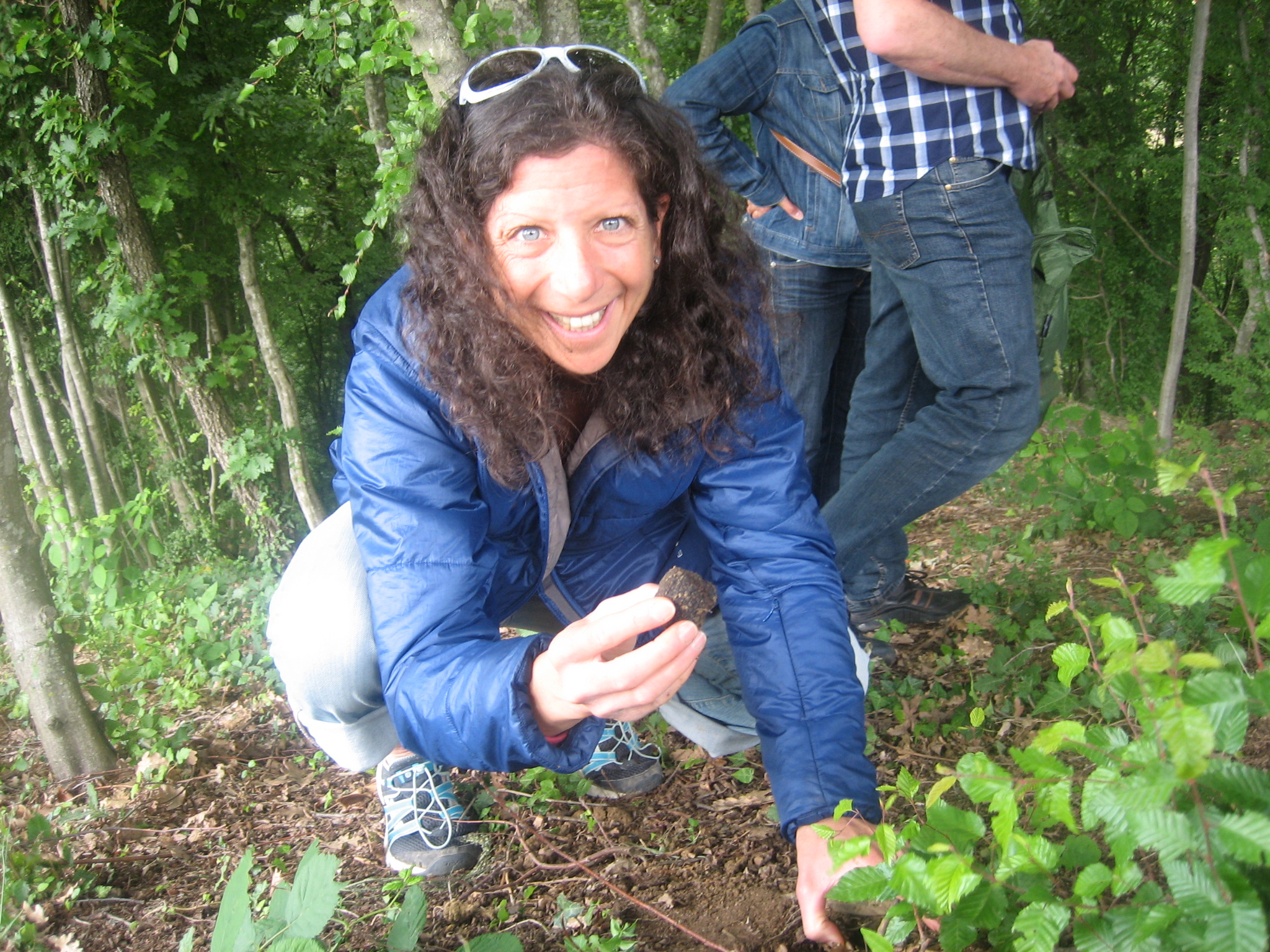 With our booty of four truffles in tow - No, we didn't get to keep them - we returned to the main house where Mrs. Karlić prepared a decadent feast with truffle-infused scrambled eggs, local truffle cheese, sausages and bottomless glasses of local wine. It was the perfect end to a fun, flavorful Croatian exploration.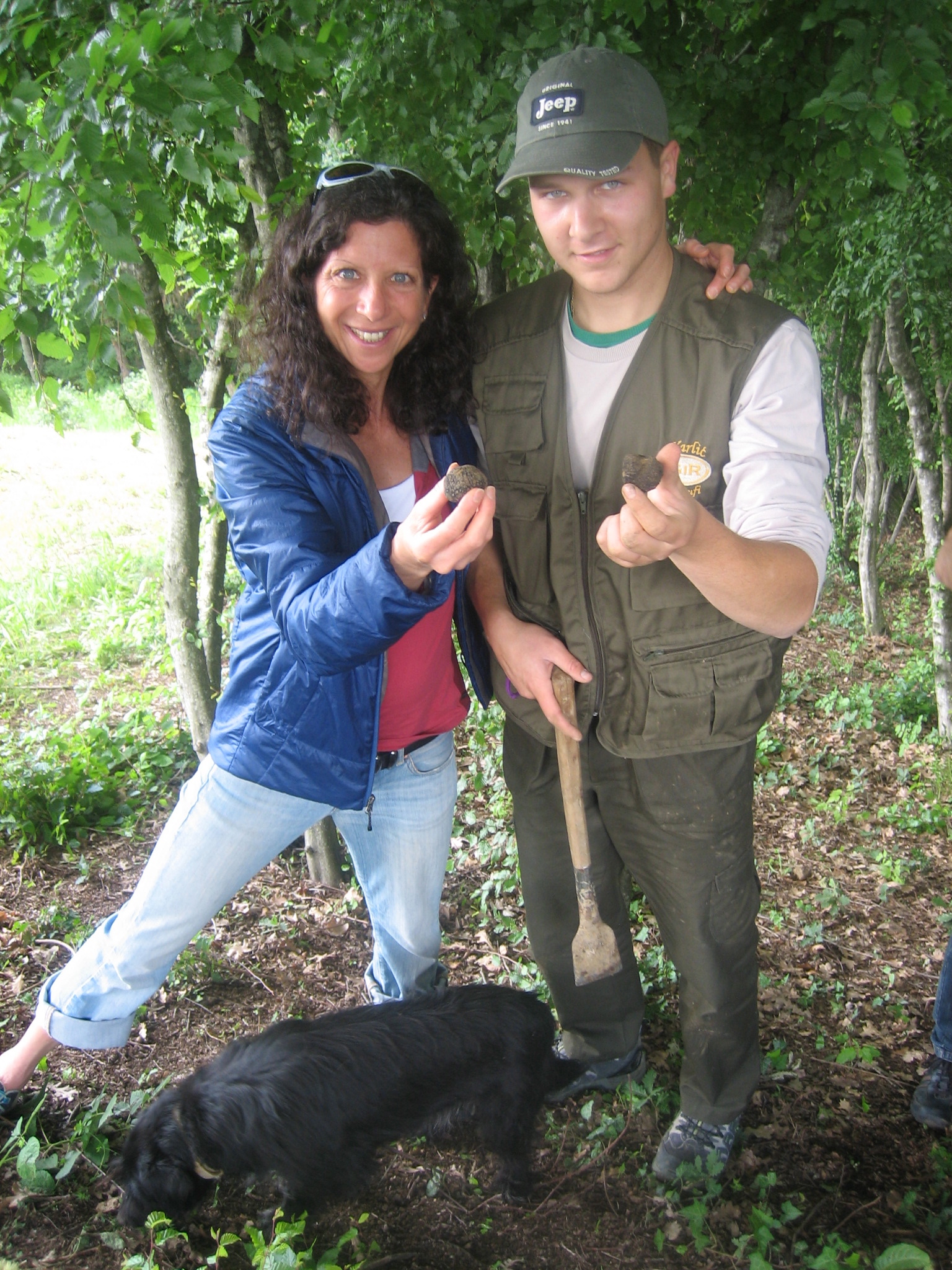 But the Croats' generosity and graciousness was sealed the next morning during my unexpected hospital visit.
Back at the Zagreb Emergency Room: Homeward Bound?
At 9:17 am - finally! A short, stern nurse in flower scrubs navigated the packed waiting room and motioned me to follow her. As I trailed closely, I got glares from the locals for cutting the line. With a swipe of the nurse's keycard we passed through a mysterious frosted glass door to a barren, dim lit hallway. She pointed to a lonely black chair, commanding me to "sit." When I obeyed, she covered my muddy running shoes with plastic shower caps. Then she led me to a small examining room. A few minutes later, a young, good-looking resident appeared. "So, I hear you have to make a flight to New York," he said. His English was excellent. While he knitted my knee, he told me how he loved New York, where he's attended medical conferences.
By 9:49, I was stitched. I paid 370 krona (appx $67), retrieved my passport from the receptionist - who held it so I didn't stitch and dash - and hobbled out of the hospital with six stitches. I arrived back at my hotel in time to finish packing, have a coffee and meet my taxi driver at 11:00 am. Thank you Dr. Tomislav! Oddly, when the stitches were removed 10 days later, oddly they left a "C" shaped scar just under my left kneecap.