My feet felt as light as helium balloons and my adrenaline thumped like boiling oil as we sprinted off the starting line. It had been nearly four years since my last ultrarunning race and despite the callous wind knocking me around like a paper doll, I felt dangerously blissful -- as if I sipped one too many espressos.
I chased the lead group of runners up the steep asphalt hill leading out of Larrybane Head Quarry for the 50K Lost Worlds Trail Series Causeway Crossing http://www.lostworldsracing.com along the Antrim Coast in North Ireland. The early afternoon May sun on that chilly Saturday played hide and seek behind a band of puffy clouds. We turned onto a windswept field and a gust of wind knocked me back like a boxer hit with a solid right jab. Tall emerald wild grass danced high above the mighty white-capped sea swathed by black volcanic rocks peppering the shoreline below.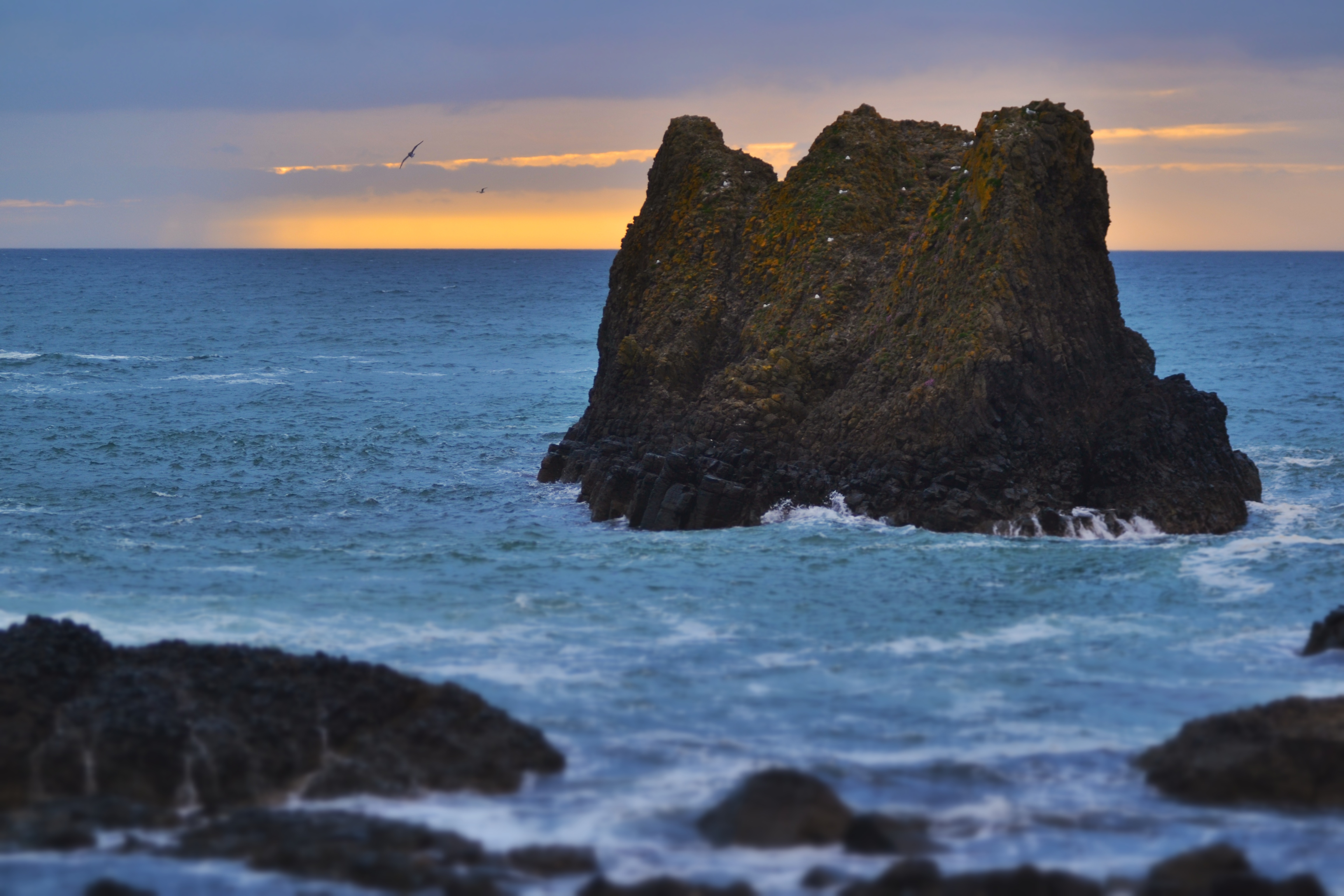 I was the lead woman and took a quick glimpse over my shoulder as I unhooked the latch on the first of countless sheep retaining wooden fences. Not another woman in site. I slipped through the opening, picked up my pace and settled into a relaxed, brisk trot. It was a long way to the turn-around at the stone ruins of Dunluce Castle, the headquarters of the MacDonnell Clan in 1513 and target of several takeovers.
My fitness was a crapshoot, considering my "long" training run was three hours in Central Park, NYC, where I live just a few blocks away. I was counting on experience and adrenaline to get me to the finish line of this 31-mile out and back race.
A brief stint back on the asphalt led us down a twisty switchback road that ultimately dumped us onto the rocky kelp beach of Ballintoy Harbour. The pure sea air was delightful as I gently picked my way over colossal piles of slimy kelp - squish, squish, squish - that looked liked seaweed salad on steroids. Cautiously, I crossed slippery taupe and ashen boulders, which were unnerving to navigate for this urban chic.
I was relieved to reach the flat sandy beach and run along the foamy water ebbing out and flowing in. The ocean spray on my face felt refreshing. The booming crashing waves were hushed by viscous headwind that made it feel like I was running through molasses. In the distance, grassy jagged mountains sprouted out of the turbulent ocean.
My wishes were granted when a tall, broad guy clad in a blue-shirt lumbered past me. In a snap, I jumped on his heels for protection from the raging wind, mimicking his stride. An admitted heel sucking pig, I stayed tightly tucked behind him - drafting like a bike racer - until we hit the end of the beach and began climbing to higher ground. Beneath us, cobalt foamy water split shaggy jade sea cliffs.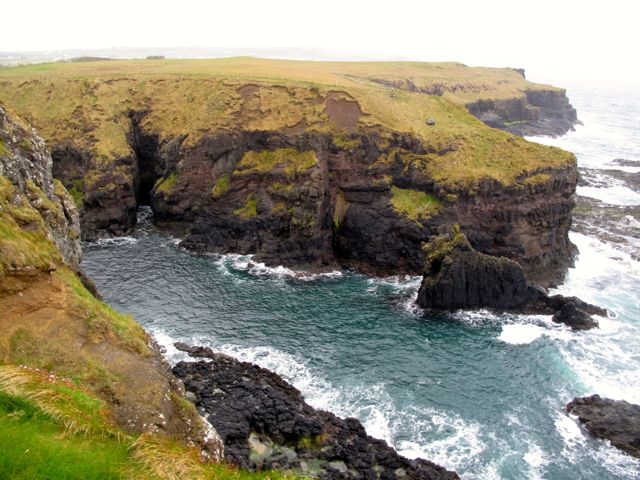 Approaching the first aide station, a quarter way into the race, Jolene Mellon, a local Ironman triathlete - turned ultrarunner - caught me. A tinge of disappointment lit through me like a lightening bolt. But, after an hour trotting mostly solo, it was nice to have company. I sipped water from my Gregory backpack while we swapped stories about NYC and North Ireland. Jolene lives about 90 minutes away and while she doesn't train in the area, she ran part of the course during the 2009 Causeway Coast half trail marathon, from Ballintoy Harbour to Portballintrae. "It was my very first off-road race and I thought that anyone crazy enough to do a full marathon or heaven forbid an ultra on this course should be institutionalized." she said with a smirk.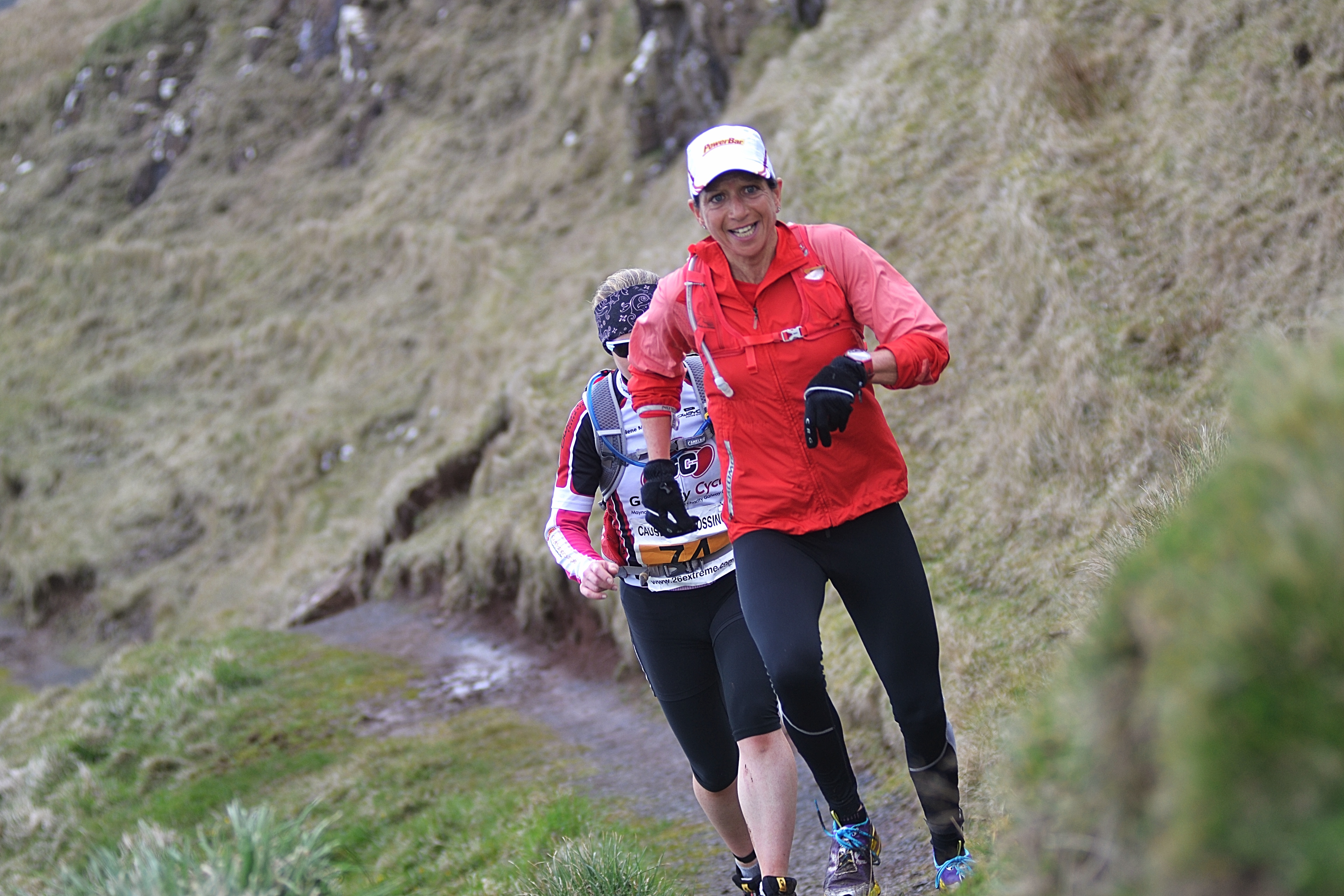 As if plucked from a scene of the Hobbit, the sprawling fertile farmland melded with craggy wooly mammoth cliffs that sharply dropped into the ocean. We trotted up slatted staircases, over hilly grassy knolls and past herds of fluffy sheep with black faces. Oddly, the sheep were spray painted with neon blue numbers - apparently, a sort of accounting system.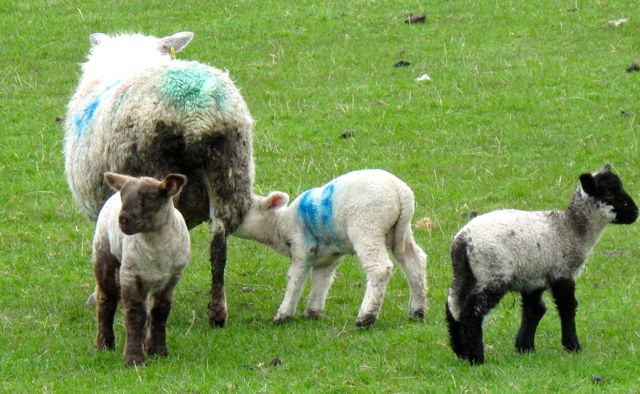 Monster crosswinds roared as Jolene and I stomped to the upper cliffs. My adrenaline buzz was gone and my legs had turned to anvils. I backed off pace and sucked a chocolate PowerGel, hoping to re-ignite the fire with a shot of sugar and caffeine. Jolene did the same. We upped pace. But my wheels were wobbly and I was unable to keep with her powerful stride. She cut through the violent wind like a chef's knife through paper. While, I felt more like a dull butter knife spreading lard.
I watched Jolene's red and white jersey disappear around the corner of the first set of stairs leading down to the epic Giant's Causeway, inscribed as Ireland's first U.N.E.S.C.O World Heritage Site in 1986. Its some 40,000 interlocking black basalt columns - many hexagonal - sprouting out of the sea, were formed by volcanic eruptions nearly 60 million years ago.
I've raced and run around the globe - Borneo, Ecuador, South Africa, Costa Rica, India, Croatia, Uganda, Tibet - and this was amongst the most beautiful and magical. It was a typical Tim Holmstrom production - visually stunning and equally physically brutal. Once a renowned adventure photographer, Holmstrom turned his eye to creating astounding adventure runs in some of the planet's most magnificent locales. "I believe in the magic and allure of certain places and their profound ability to transport - you if you let them." said Holmstrom, founder of Lost Worlds Racing. "My hope is to offer challenging races in extraordinary locations and create indelible experiences for our runners and their guests."
In 2005, I participated in Holstrom's first international race-directing endeavor, The Coastal Challenge, a six-day, 250K running stage-race in Costa Rica. Each day was a new arduous mountain run along pristine beaches, through mountainous rain and cloud forests. Race staff moved gear to the finish line, where racers camped overnight swapping the day's adventures of Howler Monkey's screeching overhead in canopied jungles, quad-burning downhills and hoofing steep, muddy trails. Next February is the 10th edition, which I'm hoping to run.
"You went off the line pretty quick this morning." said a yellow shirt-clad local runner from Belfast, who appeared beside me. "I never thought I'd catch you." I cringed, thinking, "don't remind me." I tapped his local knowledge for my overnight stay in Belfast after the race. "Go to The Spaniard for a Dark & Stormy!" he insisted. "It's a cozy, funky place with great jazz and drinks." Who was I to argue?
We trotted along a jumble of gravel paths, dodging and weaving through scores of camera-clutching tourists who were admiring the Causeway's feral surroundings. The frenetic energy was jarring after running in remoteness for much of the route.
We crossed paths with local legend Hannah Shields who was competing in the 100K-race, which started earlier that morning. Shields, who is an orthodontist by trade, is the first Irish woman to complete a 350-mile ski race to the Magnetic North Pole, while pulling 100-pound sled and the first North Irish woman to summit Mt. Everest.
This was the second race in the three-part Lost Words Trail Series, offering 100K, 50K or 25K options. The Tuscany Crossing, in Tuscany, Italy took place the prior week and the Ladonia Crossing, starting in Kullabeg - a nature reserve situated on a peninsula, in southwest Sweden - was set for the following. Kristi Battalini, a Chicago police detective, who ran the 50K with us in Ireland, planned to race the 50K in Sweden, after exploring Europe for the week with her Mom.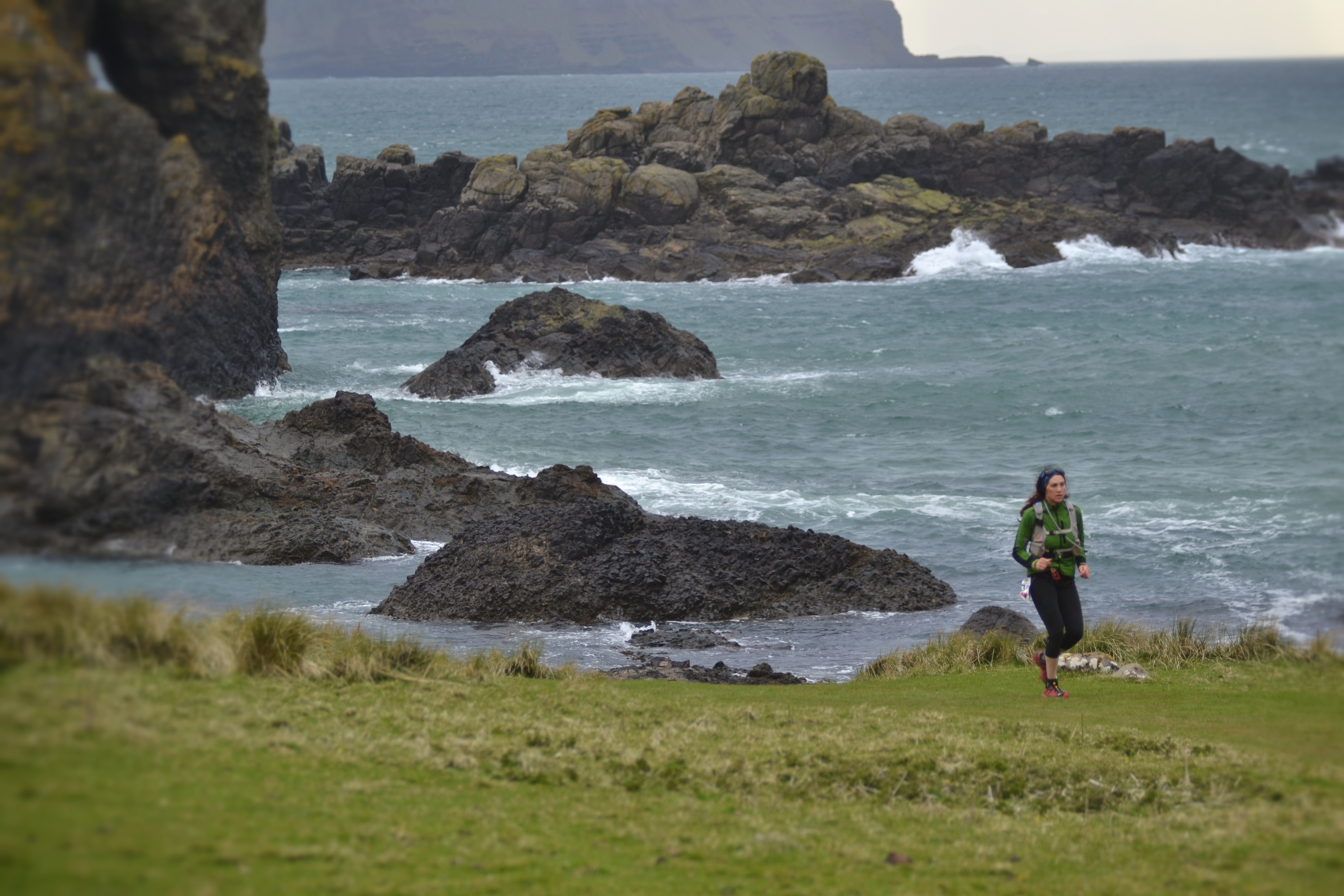 The Lost Worlds Trail Series Championships are set for summer 2014 in Greece, starting near Meteora, renowned for its 60 million year old grouping of 24 monasteries - a U.N.E.S.C.O World Heritage site - built on 1312 feet sandstone peaks, overlooking Peneas Valley.
My Belfast friend took off and again, I was alone - but not for long. About two miles from the turn-around, a local woman Col Conway caught me. She was gung-ho to hammer. We traded places into the turn-around at Dunluce Castle, an archaic crumbled stone structure that castle was destroyed in an epic storm in 1639. I was relieved to have the first 15.5 miles done and happier about the tailwind home. Admittedly, I thought about the opulent 20-year old Bushmills Whiskey that I sipped at Clenaghans Pub http://www.clenaghans.com in Moira on my first night in Ireland - as we were just a couple a miles from the Bushmills Distillery.
The tailwind felt divine and infused me with renewed bounding energy. I passed Col on a sloping downhill section, only to be passed back by her upon hitting a rocky section with a pushy side-wind. At the three-and-half hour mark the wheels came off my bus. My legs were as heavy a whiskey casks and I caught my toe on rock. Splat! Superman crashed onto the spongy green meadow. It knocked the wind out of me, like a boxer to the matt. Other than a scraped knee and sore ribs - I was OK.

Buena vistas rewarded me as I pushed down on the top of my aching quads helping to propel my weary legs up the long, steep rock staircase winding up and out of the Giant's Causeway. Despite fatigue, I couldn't stop saying "This is f**king amazing!"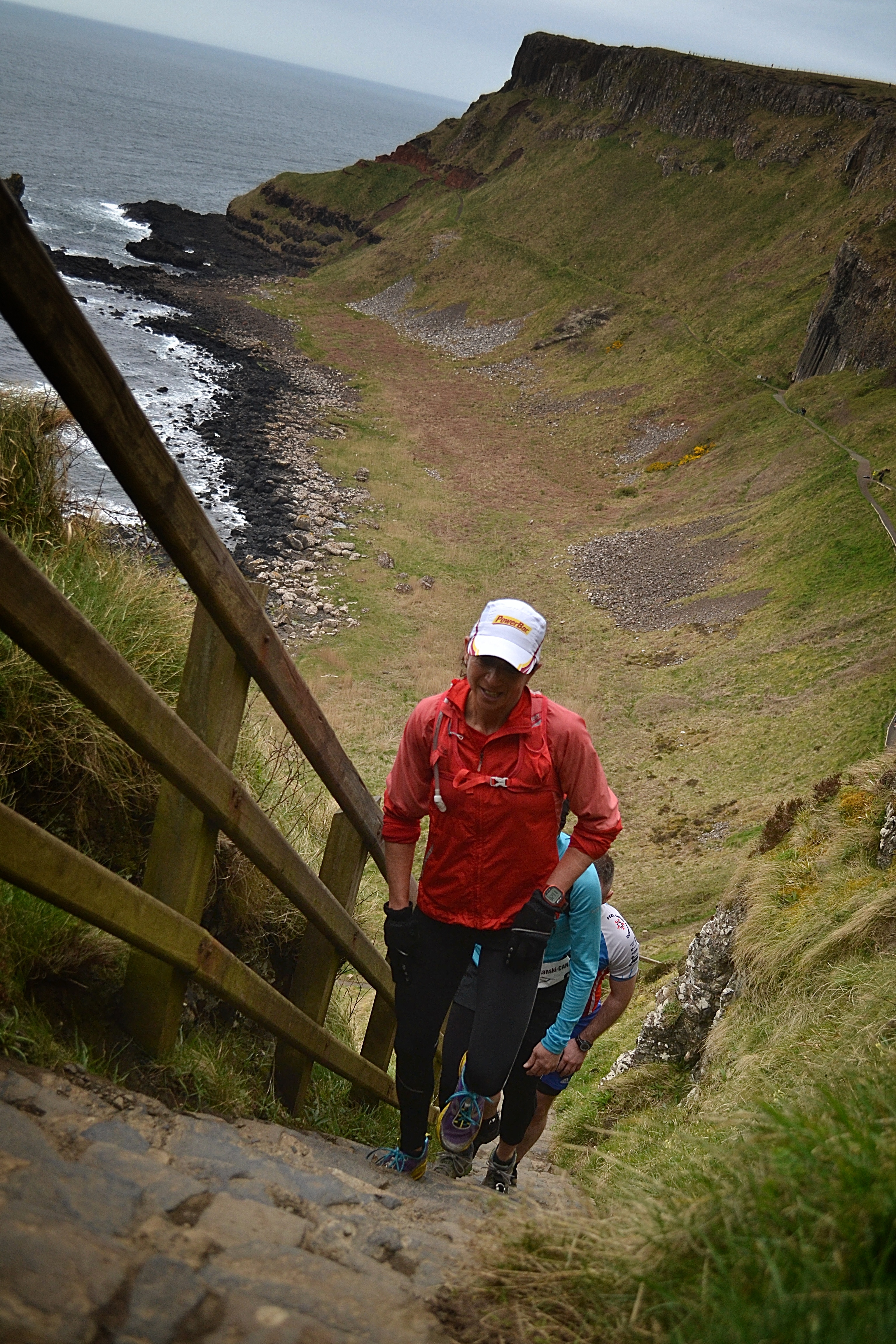 At the top, I ran into Michael and Jordan Napoli, a father and 22-year old daughter from Orlando, Florida. The Napoli's, who do marathons and adventure races for family fun, made the 25K the start of their Ireland family vacation. "We saw the race video on Facebook and decided we HAD to do it!" said Michael, a software applications developer, whose wife Mary-Jo, a subcontract administrator for a defense contractor, had started the 25K with them, but turned back due to a foot injury. "After doing this we are going to do the Tuscany race in 2014."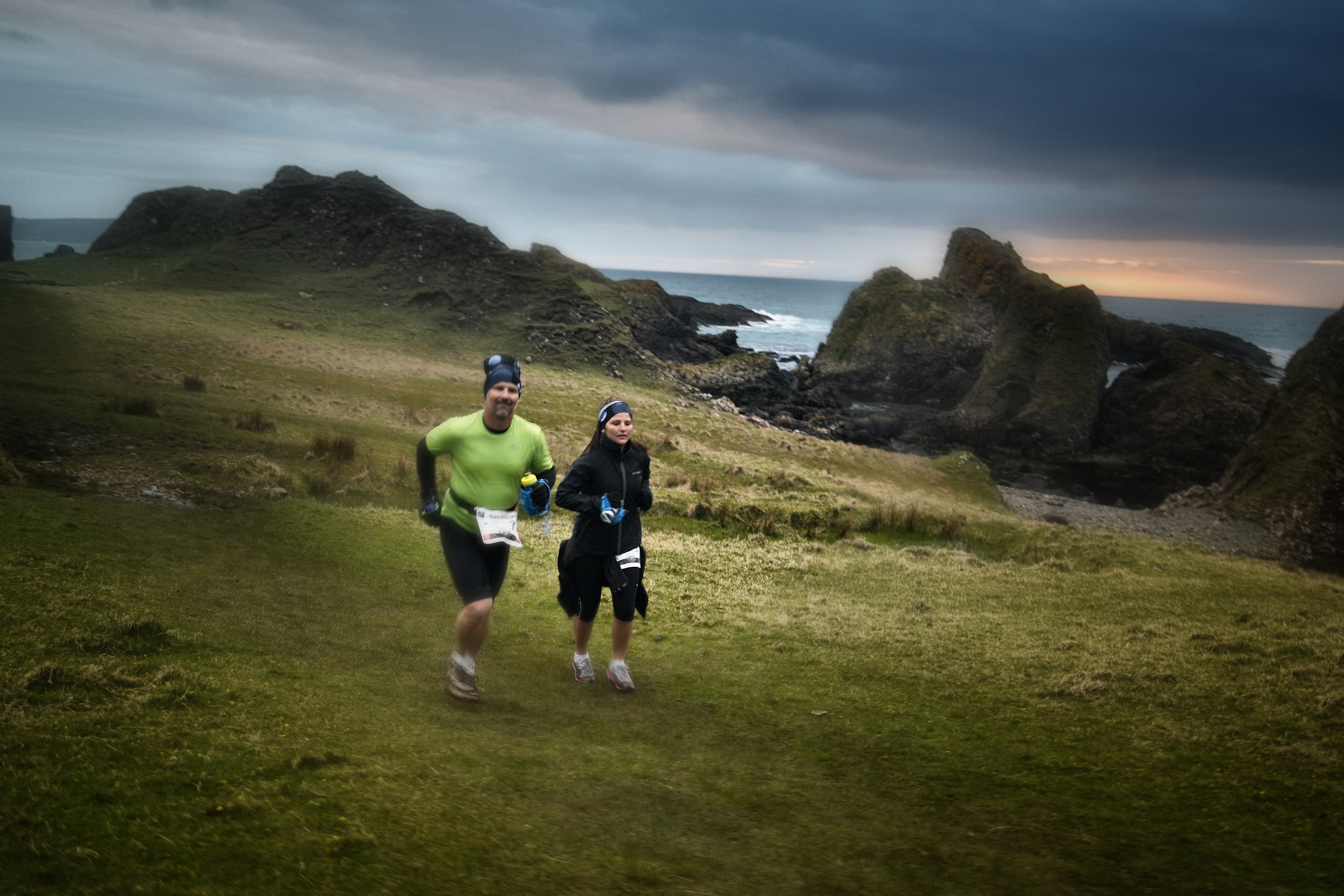 I was relieved to finally reach the beach, knowing I was nearing the finish. As I diligently dibbed and dabbed across the slippery rocks, another local women passed me. "Ugh!" I let out an audible Charlie Brown howl. My heart sunk. So close to the finish and I was going to lose podium. I needed conserve my energy - and not get hurt. So, I let her go, but kept her in lassoing range.
Once clear of the technical terrain, I found my mojo. My posture straightened and leg speed hastened as I hoofed past her using my last reserves of energy. I huffed and puffed up the twisty, steep long asphalt road out of the Harbour and I glanced back to confirm my lead. She was walking up the hill. Phew! I joyously galloped across the gusty field and shuffled down the dirt path. Music and cheers filled the air. My heart raced. With pumping elbows and knees - and a big ole smile - I crossed the finish line, placing 3rd amongst the women in just over five hours.
Side Note:
In Belfast, the day after the race: Following a lovely refueling dinner in The Great Room in the Merchant Hotel http://www.themerchanthotel.com, my race pal Ty Stevens and I tracked down The Spaniard http://www.thespaniardbar.com and ordered Dark & Stormy's - 1 oz dark rum, 2 oz ginger beer, squeezed fresh lime, 2 shakes of bitters, served over ice. We toasted a fantastic race - and the guy in yellow shirt. Cheers!