I spent yesterday afternoon along with about 100 other volunteers phone banking at my local Barack Obama headquarters, calling Colorado voters and encouraging them to get out and vote early.
The weather in Palo Alto was terrible yesterday. It poured for most of the day, flooding streets, and not letting up until later in the evening. Still, that did not deter the overflowing volunteers from standing outside the headquarters and making phone calls in the pouring rain.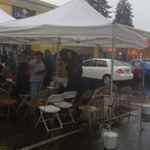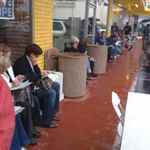 Volunteers spilled out of the office and lined the front of the strip mall where the office is located. We even took over two neighboring businesses, a Mexican restaurant that opened its doors and gave up precious table space to volunteers, and a doughnut shop that was a warm and toasty respite from the wet. (Thank you business owners!) These volunteers, on their mobile phones in the pouring down rain showed tremendous dedication. After seeing those inspiring folks, it was clear why our tiny office is number one in phone banking for the entire nation. Go Silicon Valley for Obama!
"Community organizers" lead the training, we stood outside in the rain and listened to every word. After listening to a short training session which explained our scripts, we were off.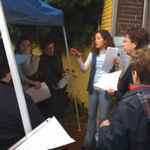 I managed to get a spot inside the headquarters where every single available sitting area was taken up with people young and old, of every race and culture, making phone calls to Colorado. Bells rang as phonebankers connected with Coloradans who indicated they were voting for Obama.
A long table of donated food (deli sandwiches, salads, Halloween candy, bagels) and water was slowly depleted as people took breaks to rehydrate and replenish.
I settled in with my phone, charger, script, call sheet, and water, and began making calls. I paused before dialing the first name. What if I bungled it? What if the caller was rude to me? What if the caller asked me questions I couldn't answer? I looked around the room again. Everyone was diligently working on their calls. The elderly couple that came in together were busy on the phone. The woman who clapped every single time a bell rang was hunched over her list ticking off calls. The man behind me with the cheerful voice who spoke to everyone like a long lost friend inspired me--with tears welling up in my eyes because I truly felt the collective power of hope and change right in that room--to finally make the first call.

Hi, may I please speak to ___________? This is Stefania calling and I'm a volunteer with Barack Obama's campaign for change. I was calling to find out if you have voted or if you plan to vote on Tuesday. We are encouraging everyone to get out and vote early because we anticipate it's going to be a busy day. Your polling place at ______________ will be open at 7:00am. If you need a ride to your polling place call_______________. Thank you for committing to vote during this historic election.
We had the name and address of every polling place. The number people could call if they needed rides. We directed people to mybarackobama.com if they had questions. Mostly I left messages. A couple of times I got hung up on. My favorite call was to a guy who when I asked if he had voted said, "Yes. I voted for the man who will be the greatest president our country has ever seen!"
It may sound corny to say it but Obama's words, "This campaign is not about me, it's about you" were ringing in my head as I made each and every call.
Half way through my list my phone stopped dialing. It's a new phone and I'm not familiar with all the features yet. I raised my hand and told a volunteer that I'd probably have to leave. She replied, "Stay right there, we have phones you can borrow." In the mean time, I Twittered, "Help! iPhone stopped dialing! Anyone know how to fix?" The woman came back with a phone for me and when that phone ran out of battery, she said, pulling her phone out of her pocket, "Here, just use mine." I continued on using the personal phone of someone I didn't know until @malidragon twittered back telling me how to reboot my phone. Back in business, I slogged on. I made my calls, ticked off the check marks on my list that would help the data entry volunteers at the bank of computers against the wall input the information that would ultimately let the Barack Obama organization know how Coloradans would be voting. As I left the offices, I was stopped by a volunteer to ask when I could be back. "Tomorrow," I replied. "And Monday."
When I first passed by my HQ there were so many people spilling out the door that I thought I might be turned away even though I had RSVPd that I would be there. That wasn't the case. Every single volunteer was given a script, a call list, and a place to sit. I mention that because I don't want you to think that becase there are so many people helping and because Obama has a narrow lead in some states that he will win this election. We cannot be complacent. I want to encourage all of you to take an hour or two (or as much time as you can spare) out of your weekend to make some "Get Out the Vote" calls. This is something that doesn't require any money, just a cell phone and a willingness to help get every last vote for Obama that we possible can.
Please go to mybarackobama.com to find a phone banking location near you. And bring a friend!