To see students and teachers often at odds dancing together in the aisles to the rhythmic beats of a local musician; to see a kid who's usually fighting take up a colored pencil and learn to draw a car with a local illustrator; to hear a super bright boy who never behaves in class write a rap out of words he hadn't known from The Little Prince... these are things no test can measure, these are the reasons I do what I do.
I started InspireCorps, a new Brooklyn-based resource to place inspirational local artists into NYC public schools, last summer after years of volunteering in my children's gentrifying Park Slope elementary, where I helped the librarian bring in award-winning mostly local authors and illustrators to talk about their books with kids.
I saw the school morph and change as PTA dollars increased and arts residencies in African dance, ballroom dance, architecture, theater and visual arts grew. Then, I went to volunteer in a literacy program at a school in Bedford-Stuyvesant without such a wealthy PTA, where the bulk of children live in the projects or shelters. I was deeply sad to see how unaware they were of the incredible talent in their midst, what little access they had (unlike my children) to the thousands of prize-winning authors, world-class musicians, award-winning actors and seasoned dancers living within miles of them.
So I brought a couple of authors. Then a musician. Then it occurred to me: this needs to happen on a grander scale. We need to harness the talent of this great borough and the great city beyond it, and we need to start using it to help bring inspiration to schools that have become mired in metrics that turn fabulous creative little beings into failures.
We cannot let children believe they are failures. Together, artists aligned, we need to help them build faith in their abilities to draw, sing, write and dance, to build faith through the act of learning what they love. We need to help all kids build faith in themselves.
My own inspiration for InspireCorps was one of the boys I tutored in Bed-Stuy, a special-ed student in the fourth grade who could barely look up at me in the beginning, whose voice was hoarse and cracked when he attempted to read, tests having told him he was a failure.

One day, he asked me to help him write his name in cursive. I did a double take, in part because he was rarely bold enough to speak, let alone ask to do something creative. The next time I saw him, he went straight to the window with a piece of paper and held it up there to trace a picture of two basketball players.
When he finally finished drawing and sat down across from me, I began to laugh.
"What?" he said.
"There's nothing wrong with you honey," I said. "You're an artist."
His smile made my day, my week, my year, stayed with me when I went to buy him a stack of tracing paper before school let out that he appreciated but wondered aloud what he was supposed to do when it was gone.
In the months since then, I have seen my friend in the halls. He holds his head high and smiles as he stares me in the eye and says hello. I always ask him about his drawing, and he says it's coming along well. Recently, in the lunchroom, he gave up his recess to sit close to author/illustrator Selina Alko and watch her draw as he did, beautifully, on his own paper.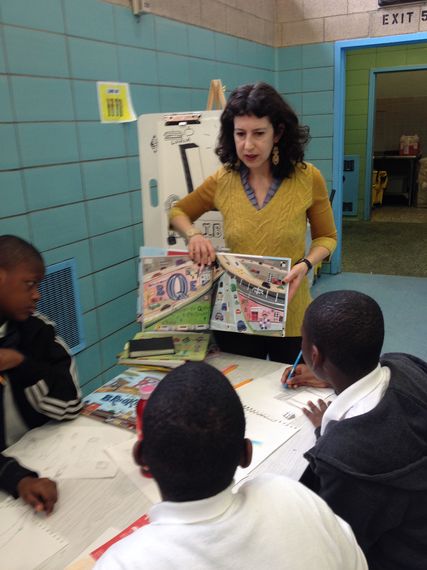 State tests may reflect none of this, but one thing I know for sure is that art has saved this boy in many moments and will in many more for years to come. Somehow, he discovered what he loved, he discovered himself, and he is a success.
Steph Thompson is the Founder/Executive Director of InspireCorps, which is hosting its first annual fundraising gala, A Night to Inspire, on May 2nd at Roulette, 509 Atlantic Ave. in Brooklyn, from 7-11. Learn more about it here: www.InspireCorps.org.