The increasing threat of non-communicable diseases (often called chronic diseases or NCDs) prompted the United Nations, in 2011, to issue the second political declaration on health in its history, the first being on AIDS in 2006. The pandemic of chronic diseases includes cardiovascular disease, diabetes, cancers and chronic lung disease, which together account for 60 percent of deaths worldwide and is a leading global cause of disability. At the same time, increasing adoption of Western lifestyles means people in developing countries are drinking, smoking and eating more, placing additional burdens on already over-strained healthcare systems.
Public health program managers, especially in developing countries (low-resource settings), are faced with growing numbers of people suffering from chronic diseases. To put this in perspective, in low- and middle-income countries, 14 million people under 60 years old die each year of NCDs -- more than entire populations of Ecuador, Sweden or Greece! Moreover, 80 percent of chronic diseases occur in low- and middle-income countries.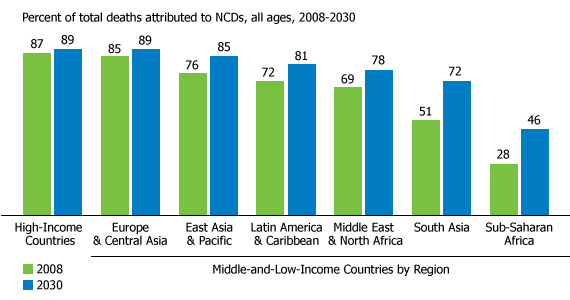 Source: Irina A. Nikolic, Anderson E. Stanciole, and Mikhail Zaydman, "Chronic Emergency: Why NCDs Matter," World Bank Health, Nutrition and Population Discussion Paper (2011).
In light of the alarming, yet avoidable, chronic diseases deaths and disabilities, I ask myself a key question:
What can public health managers do to more effectively fight chronic diseases in low- and middle-income countries?
For one thing, it's important to recognize and accept the fact that as public health program managers we must stand united against this growing pandemic -- as a critical mass of well-informed professionals is an invaluable first step in overcoming and reversing effects of chronic diseases. The International Union Against Tuberculosis and Lung Disease (The Union) is one of the four founding international non-governmental organization (NGO) federations representing the four main NCDs -- International Diabetes Federation, World Heart Federation, Union for International Cancer Control (UICC) -- forming The NCD Alliance.
When the NCD Alliance was formed in 2009, it was the first time that thousands of groups around the globe began working together toward a common goal: a world free of the avoidable burden of non-communicable diseases. Creating successful partnerships, and influencing policymakers is not easy, but over the years the NCD Alliance has played a major role in holding governments accountable and shaping global, national and regional responses to non-communicable diseases. Together with other major international NGO partners, the NCD Alliance today unites a network of over 2,000 civil society organizations in more than 170 countries.
The World Health Organization, in its Global NCD Action Plan (GAP), outlines that "strengthening international cooperation for resource mobilization, capacity-building, health workforce training and exchange of information on lessons learnt and best practices" can significantly contribute to the reduction of NCD prevalence around the world.
The WHO's GAP report further explains the fact that countries should continuously improve their health workforce's capacity to prevent and, ultimately, control and reverse the negative impacts of chronic diseases.
To support the NCD Alliance and deliver on the WHO recommended interventions, in addition to its main mission to help countries improve the management of health programs, The Union's International Management Development Program (IMDP) designed a series of courses essential to grow a community of leaders and innovators in public health. The ultimate goal of such training is to contribute to the improvement of the quality of healthcare services provided to the public through well-managed national health programs.
For example, the IMDP's mass media and communication course has trained over 250 public health communications officers around the world to create powerful health education messages, including public health advocacy campaigns. Participants have also learned how to manage communications during a public health crisis, and have improved skills for community mobilization -- a useful strategy to counteract tobacco industry promotional activities. The IMDP's flagship course on leading management teams teaches participants to negotiate and manage communications in multi-partner arrangements, utilizes the performance management process and, overall, strengthens their leadership competencies. These skills can then be used to develop and manage local, national and regional non-communicable diseases control activities.
The Union has long recognized the threat of chronic diseases and works to bring innovation, expertise, solutions and training support to address these health challenges in low- and middle-income populations. If public health managers are looking to gear up to be an effective part of the 21st century's NCD fight, consider The Union's management training as an essential instrument.