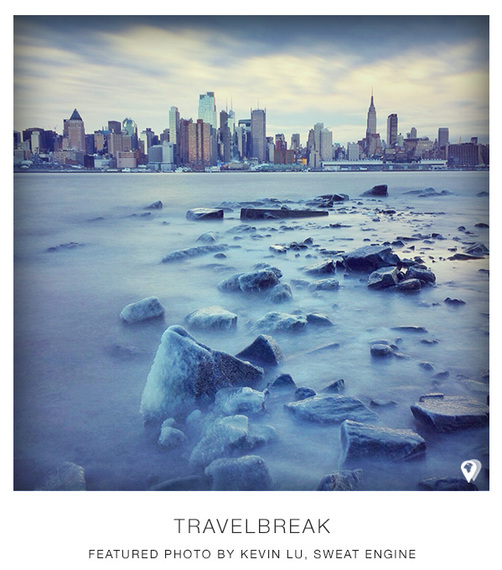 "New York" -- the one destination travelers abroad tell me they want to visit. Whether I've been at a five star hotel or a hostel with back-packers, the Big Apple never fails to be an interest to dream-seekers.
What do you think they picture when they think New York? What do you think of when you think of New York?
Broadway lights? Statue of Liberty selfies? An Empire State of mind a la Jay-Z and Alicia Keys? Subways and taxis? Wall Street and 5th Avenue? Street art and Central Park? "Friends" episodes at Central Perk?
We idealize cities with a limited perspective. Just like we can only catch so much within the lens of a camera, we can grasp only an atomic understanding of a city's culture when we briefly visit or learn about it through television and the internet.
Can you stumble onto a bonanza of great eats, drinks, and shopping within the complex concrete jungle? Of course. A plethora of entertainment, art, and lifestyle awaits in "The City with Everything." But there is more to see than that enclosed within the pages of a tour book or the ads of a magazine (or swipes within your mobile app guide -- whatever).
There's more to see than what is shown.
As of late, I've been experiencing some hardship. I found myself Sunday, at my breaking point - - on my knees -- releasing sorrow I had concealed and ignored like a little girl who has grown out of her barbie dolls and locked them in the attic. The key to the trunk, figuratively and dramatically, tossed into the ocean -- so Titanic - - in my desire to pretend they don't exist. I had grown out of crying, out of feelings, out of negativity.
Until, it felt like two drills pinned at each side of my temple circled deeper and stronger as my stomach turned into knots and my back tensed. A Thai massage sounded really good. I guess you could say I was stressed out.
What fascinates me about pain is that everyone experiences it - - although often as an invisible ghost that haunts just us and those closest to us.
Some twinge is more transparent than others, some boldly apparent; regardless, we cannot escape it. It exists. It is real. It is relevant.
Life is not always a walk in the park. Sometimes it's a sprint towards a light, sometimes it's a breezy bubbly stroll, and other times we crawl. We "fall and we crawl and we break and we take and we turn into..." an Avril Lavigne 90s hit.
"... honesty."
My mother taught me to release my sorrow. She said you don't let anyone slap you because if you do, it will show and people will stand in line to slap you. She said it's okay to be sad as long as you eventually get up and get over it. I had internalized my agony, my fears, my anger, my emotions thinking I could make them invalid, but I couldn't.
It's okay to cry.
But I let go and I moved forward. Because not matter how fast or slow our walk around the park is, we are still in a park. We set so many high expectations for ourselves, we want, we need, we give, we try, we do. We are disappointed. We succeed. We keep walking because we are full of life.
And in lives as busy as a New York intersection, we forget to stop and think "I am grateful just for being alive." My problems, my obstacles, my anxiety is valid; but I will get through it, and I am grateful to be alive.

I would like to dedicate this post to the people of New York, and to the people going through things that may not be as they seem.
As we celebrate the innocent lives lost on September 11, 2001 - the father, the fire-fighter, the sister, the best friends -- the stranger who we know little about, but have something in common with, even if it's just that we woke today expecting to live, hoping to live, but not knowing if we shall live - - as we celebrate the victims and the survivors of a history so raw and recent that it is relevant and real...
May we stop and be grateful for our problems and our life.
As we make generalizations or idolize places, people, or life-styles; may we appreciate the side we haven't seen.
Alas, eleven photos bringing to life the beauty of New York, a side you've never seen.
1. New York: Liberty at a Distance by Kevin Lu @sweatengine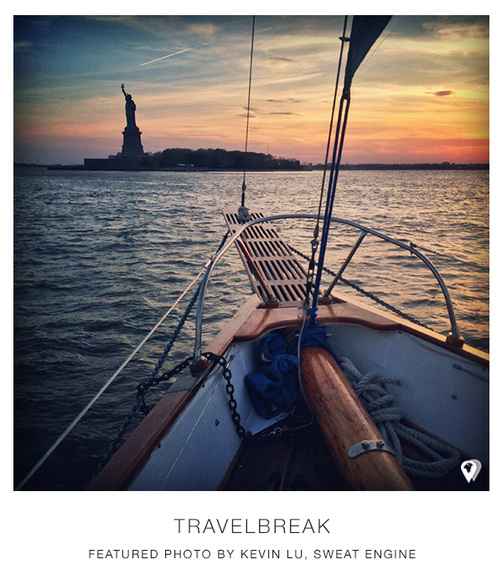 The first shot [pictured at head of article] was from this past winter. The frozen skyline of Manhattan was observed from New Jersey during sunset. It was one of the coldest days of this winter. My iPhone was shut down shortly I took this shot. Many people don't realize that New Jersey has one of the best views of Manhattan! The second is a weave of colors; a backdrop to Lady Liberty, caught from the sea.
2. New York: One Time, by Jason M Peterson @jasonmpeterson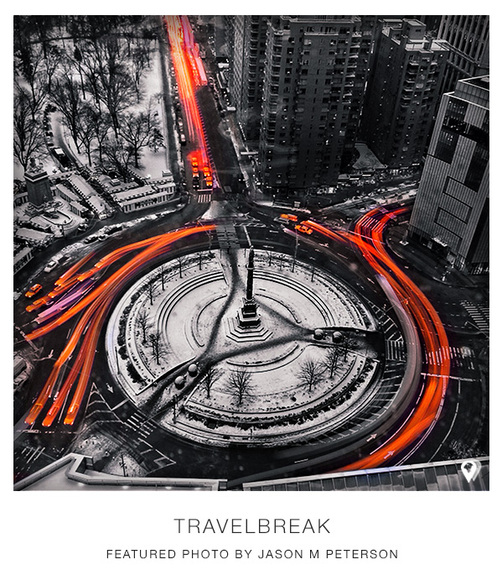 This was shot above Columbus circle from the bar at the Mandarin Oriental Hotel.
For the price of a cappuccino, you can have of the most unique views of the circle. Shot with iPhone & slow shutter app.
3. New York: Copy Play by Anthony Danielle @takinyerphoto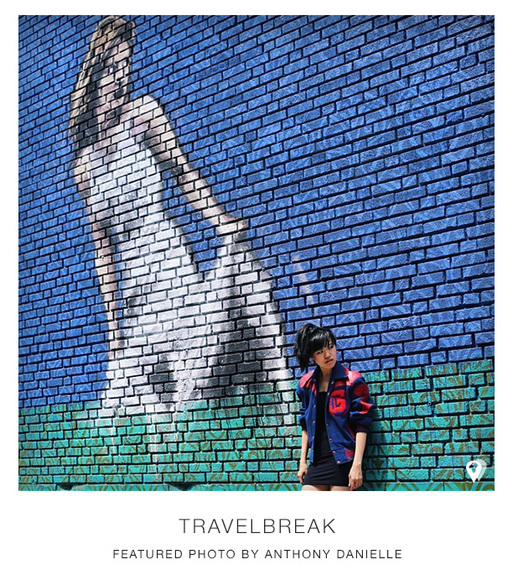 The LES is full of amazing murals and graffiti that a lot of the city really tries to put out!
4. New York: Starry Super-Structures by J.N. Silva @JNSilva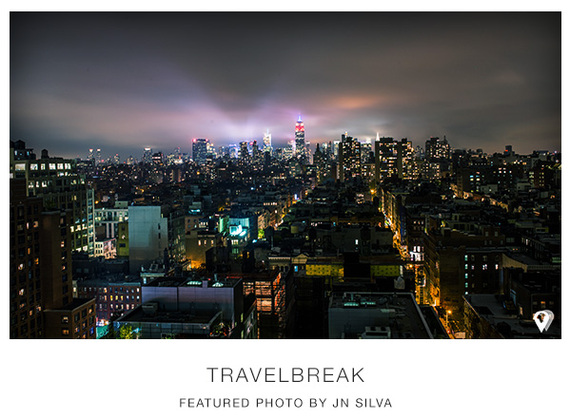 There's nothing as alluring as New York City at night. The lights, the ambience; all of the city's splendor comes to life as the sun drops. The best way to view the city is to find a high vantage point -- rooftop bars, lounges, and hotels are your best bet. This particular shot was taken from a hotel lounge in Tribecca. With most of these locations, you have to just walk in and get on the elevator... walking as if you belong. From there, get to the top floor, and shoot your heart away!
5. New York: Blushing with Opportunities by Sam Morrison @samthecobra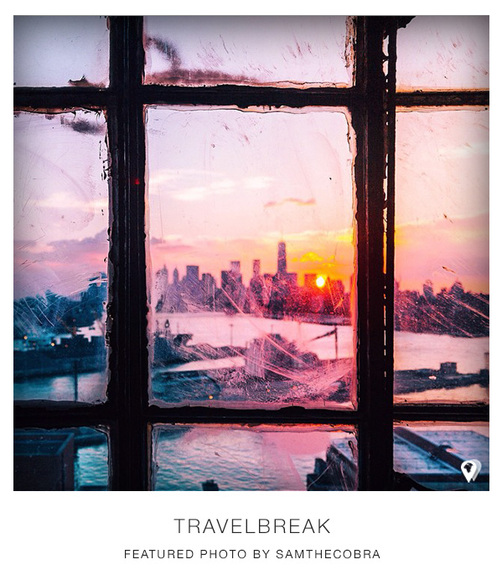 One of my favorite places in NYC that you won't find in a tour book is the Bushwick Collective. Outside my apartment and in the surrounding neighborhood live massive, larger than life, graffiti murals and commissioned street art paintings. On random residential, public and private, building walls throughout the area, you can find work from different artists in different styles and themes. The work lives on these walls for a few months, only to be covered up by another piece at scheduled times of the year. I can walk through the streets and find beauty right in my neighborhood.
Pictured: A window from a building in Williamsburg, Brooklyn - looking out to One World Trade in Manhattan
6. New York: Busy As A Taxi Intersection by Jonathan Suarez @jmsuarez_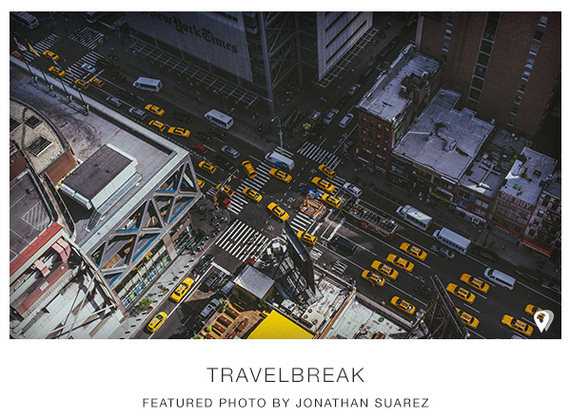 New York City has infinite locations for capturing great photos. My favorite spots are atop some of the city's towering high-rises and apartment buildings - - where public access is prohibited. These locations offer the best views of the city, hands down.
7. New York: You Are Not Just Small, You Matter by Wrong Rob @wrongrob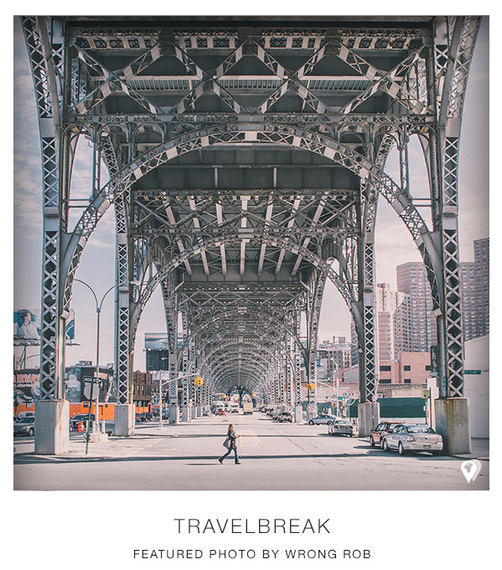 This is one of my favorite accessible and under-the-radar spots in the city.
8. New York: The Bridge Exists, Yes, You Can by Humza Deas @HumzaDeas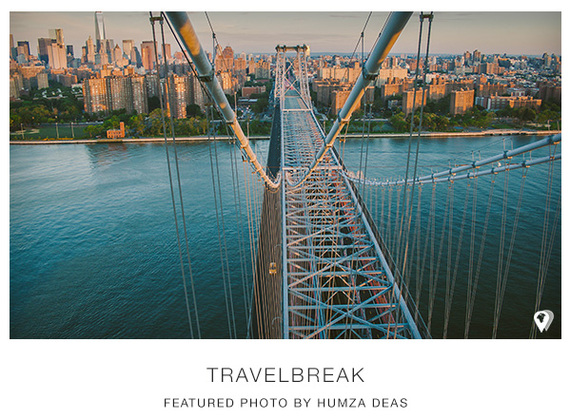 Favorite site: On top of the Queensboro Bridge.
9. New York: Beauty in Darkness by Drew Genesis @drewmogenesis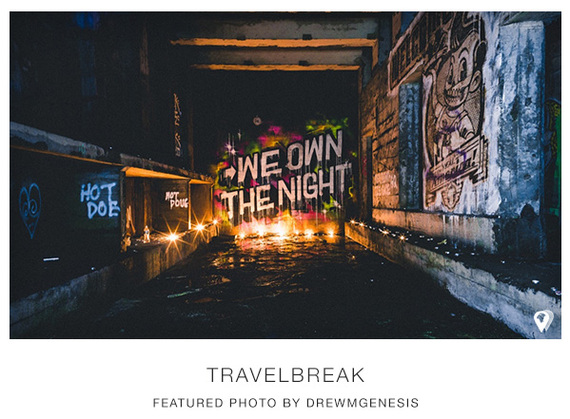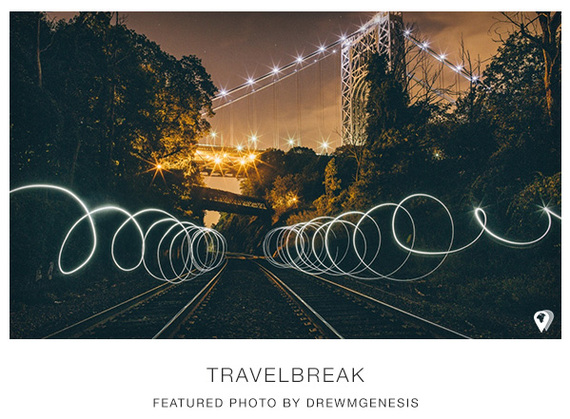 I'm not one to really enjoy being surrounded by a lot of people -- that's pretty tough being in NYC -- where there are millions of people. So I chose these locations because not many know where they are. They are great spots to be alone, and enjoy the calm.
Pictured: A secret location called "the underbelly" that's hidden in a subway station. Below, tracks by George Washington Bridge.
10. New York: Abandon Your Fears, by Noah Vasquez @7expresstrain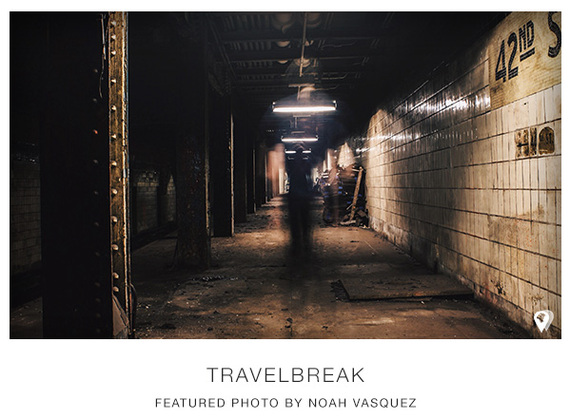 I chose the abandoned Times Square underground platform. Not only is it extremely hard to get to, but not too many people even know it exists! Built in September of 1932, it opened to the public in 1959. It's sole purpose was to give people more access to the aqueduct racetrack. Eventually, the racetrack was closed and the platform was used for the downtown E train during the evening rush hour. Not too long after, it was closed - - deemed unneeded and unsafe. Again, it was extremely difficult to reach and was an experience I'll never forget . Every New Yorker ought to know about this hidden treasure!
11. New York: A Hint of Fear, But a Bold Sense of Courage by Christopher Serrano, @Heavy_Minds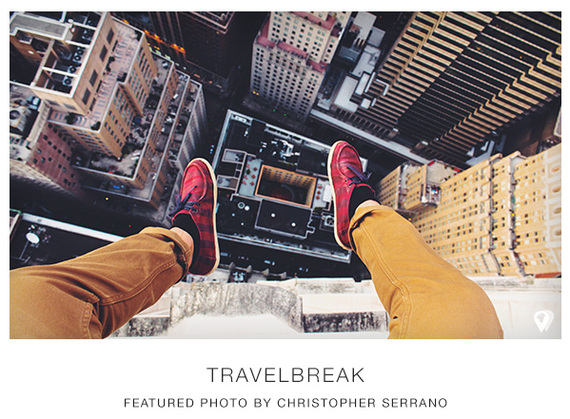 Only when we are no longer afraid do we begin to truly live. Favorite site to catch is on forbidden rooftops.
More Popular Posts by Stephanie Be, TravelBreak
10 Photos that Justify Washington As the Most Instagrammable State in America
Who Needs Exotic When Aussie Beaches Look Like This (Photos)
12 Shameless Ways to Save for Travel in Your 20s
5 Ways: How to Meet People While Traveling