Living in Australia, shark diving was a bucket list MUST. However, I was unaware of what I'd signed up for when a shark caught its teeth on my wetsuit, and the guide had to wiggle it free. Too astonished to react, standing still (or rather floating still) was the best thing I could have done.
This had never happened: a guest being "bit" by a shark at the Manly Sea Life Sanctuary. I was in the feeding pit, where I really shouldn't be.
The sea life sanctuary includes a museum, penguin cove and an aquarium circulating the building, so that guests can tour through glass tunnels and see an array of aquatic wildlife. Those feeling courageous can book a dive with the sharks! That's why I was there.
I scheduled my Aussie roommate and I to be a part of morning group; it was about $200 AUD each. Upon arrival we were taught to use scuba gear, so that we could breathe underwater and walk around the aquarium en route to viewing the sharks, fish and creatures within the tank. I didn't necessarily pass the scuba test.
I've ran with bulls in Pamplona, done hang-gliding in Rio de Janeiro, bungee jumped, sky-dived, base-jumped and more... but my biggest fear is drowning. When the time came for our lessons of using the scuba equipment in the pool, I would hyperventilate -- uncontrollably terrified -- and rise up for air. Embarrassing, I know.
I wasn't supposed to get into the aquarium tour as I hadn't exactly passed my scuba test, but with my background as an adventure lover (and a little coaxing), the scuba instructors agreed to let me enter the aquarium, with the condition that I stay near the entrance (rather than join the others for the loop). In the case that I could not control my breathing underwater, I could safely access the pool and rise for air.
As one instructor stayed with me in the entrance area -- where the sharks would be fed at the end of the tour -- the others explored the aquarium. Perhaps the familiar feeding spot drew in additional attention. While the other onlookers were not touched by sharks, I was constantly caressed by passing turtles, fish, stingrays and sharks. I'm pretty sure I found Nemo. At one point, a small, feisty shark -- not the massive grey nurse sharks -- caught hold of my wetsuit... by its teeth! No blood was shed, and I didn't feel unsafe, but it was a moment I'll never forget. The Xtreme Shark Dive instructor immediately unhooked the shark's teeth from my wetsuit, probably relieved that I didn't freak out.
There's a peace to swimming amongst sea life, and despite my abnormal episode, I felt more relaxed in the aquarium than I did in the pool. Phased by the creatures, I was able to stop worrying about breathing underwater and just "be." Overcoming this fear enabled me to later scuba dive deep into the blue sea for an unforgettable Great Barrier Reef experience.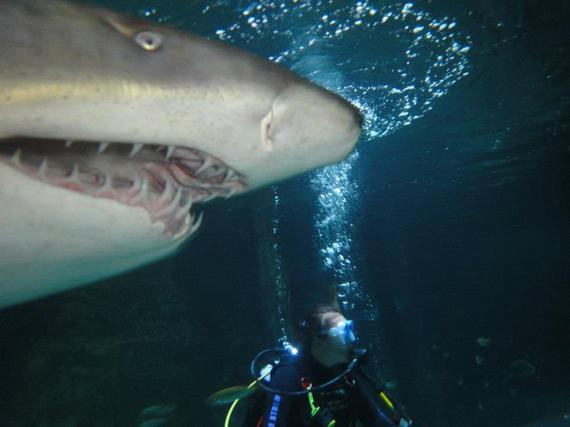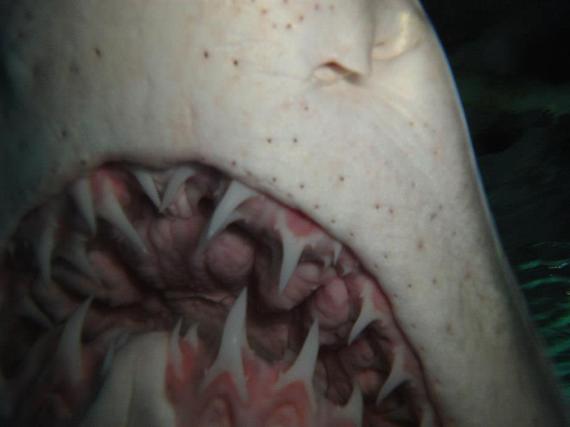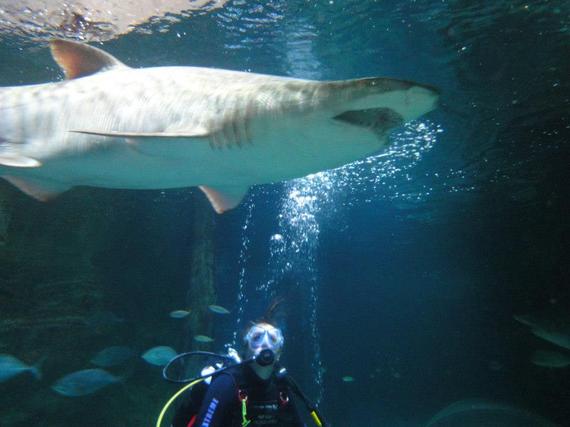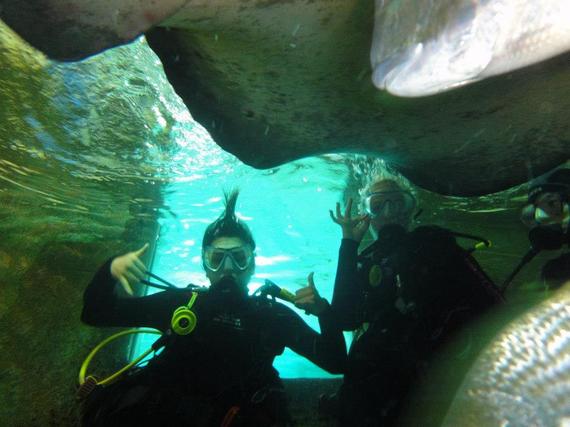 This post was first featured on TravelBreak.net
All photos Copyright TravelBreak.