A year ago, my mother friended me on Facebook, reminding me and everyone else of her permanently single status.
When she announced she'd abandoned all interest in dating men and would now only see women, I expected it to end her solitary life. The lesbians who I knew were serial monogamists, if not completely monogamous. They met and mated in less time then it took my nail polish to dry. This fit perfectly with my mother's tendency to jump head-first into a new passion.
But my sisters expected her foray into gayness to go the way of her Communism and atheism, while I felt comfortable telling random strangers that my hot mom was gay. Unlike my siblings, I was looking at her sexuality shift as an opportunity to finally have the one thing I'd craved my entire life: a traditional mother. If I couldn't have been born to a rule following, makeup wearing, clothes shopping, cake baking Betty Crocker, then this was my chance to inherit one via her relationship. It's like the father who only has daughters, who waits for the day when he will receive a son-in-law. That's how I felt. But twenty years out of the proverbial closet, my mother still has only one rainbow placemat on her table. It's not that she hasn't dated, but somehow I'm still waiting.
When my sisters and I were dating, our mother never held back her opinions about our mates; too spoiled, too arrogant, too boring, too needy, too seedy, too... My mother didn't silently disapprove, she usually spelled it out for us in bold declaratives. In her defense, my sisters had terrible taste in men. Mine is marginally better.
When we were younger, we three had opinions on our mother's boyfriends but we kept them to ourselves. Now that we were grown, I couldn't understand why my sisters didn't use my mother's new female dating pool as an opportunity for payback and freely express their thoughts and beliefs as she had done to them. Instead, they wanted to pretend her love of women wasn't happening. Their skittishness prompted me to explain in vivid detail the sexual intricacies of girl-on-girl love and what this new world offered our mother. In many ways, I will always be the annoying little sister, because that gives me license to cause them major discomfort.
Alone, I welcomed the opportunity to go through a list of characteristics, clothing preferences, dating history, children, employment records, etc. I wanted to rake some woman over the coals until she baked me into submission with cookies, cakes, ham and lasagna. Though I'm not blaming my past eating disorder on my mother, her lack of skills in the kitchen didn't help. In other words, if anyone needs a wife, it is my mother.
Interest in her own upkeep went the way of her attraction to men in suits. She desperately needs a woman to help her style her hair, choose her clothes, improve her diet, get her to exercise and banish those frown lines from writing too many essays and reading too many books on African-American history and Woman's Rights. It would also help her to learn how to share her space, her things, herself. Yes, I am ready for my mother to have a girlfriend and possibly a wife. I don't care if that means moving to one of the six states that allows gay marriage. My mother's wedding would be the perfect excuse to visit Hawaii.
I wonder what it would be like to post a want ad on a dating website advertising for my second mother? This thought encourages me to make a list. In the pro column, having boundaries is not an expectation in my family. Lines are crossed way before they're even drawn. And things one should know about my mother: She's a free spirit who cannot help fighting for the underdog, so if you're an everywoman-for-herself kind of woman, then she's not for you. She's a late bloomer. She graduated from college on Mother's Day 2011. She's going for her Master's degree and has no issue with plagiarizing my work, so don't be surprised if you find this article reprinted with her name attached. Driving across the country alone makes more sense to her than flying. She's fearlessly independent. She doesn't know that she absolutely cannot cook, so it will have to be our secret. She's passionate about saving people, particularly women and children. She's a walking encyclopedia of knowledge about Black people born before 1970, so you must be interested in her years of research. All my friends love her and cannot believe me when I suggest that in my childhood she wasn't entirely suited to motherhood, so you should be. She has a huge heart but it's terribly fragile, so you must be patient and protective. Must not be afraid of commitment. And most of all, you must love kids and wear lipstick... for my sake.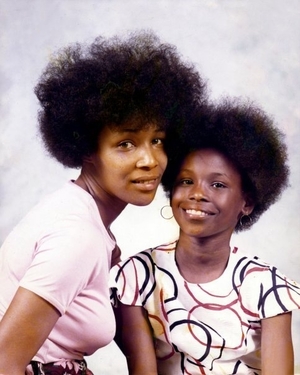 Mother and daughter