This entry is part of a contest by HuffPost Books and The Buried Life. Click here to read more about it.
I am a stylist of life's milestones.
I am trusted with people's emotions. I help create memories, the ones you want to keep sharing at family gatherings over and over. I am an event designer. Have you ever really looked at a child's face when you sing happy birthday to them? Try it. As little as they may be, so many emotions take place. They are shy, they are happy, the are scared, they put all their might into that one wish that they get to have on THEIR birthday. It is their moment, and no one can take that away from them.
I believe children should be celebrated on their birthday. This is why I would like to start a non-profit organization for kids who have to spend their birthday in the hospital. A year ago my best friend went into labor 8 weeks premature. Christian, now my Godson, was in the NICU for weeks. I would talk to my friend everyday on her way to the hospital. She was always so positive about the situation and would always talk about the other babies and parents who were worse off. She mentioned to me how emotionally tired she was and she could not picture a year from then and celebrating his 1st birthday in the hospital. That's when my idea struck. I asked her to ask the nurses what parents did for their kids when it was their birthday. The nurses response, "The parents are so tired, that they have all they can do to bring in a cupcake and sing happy birthday"
My idea, bring the party to them.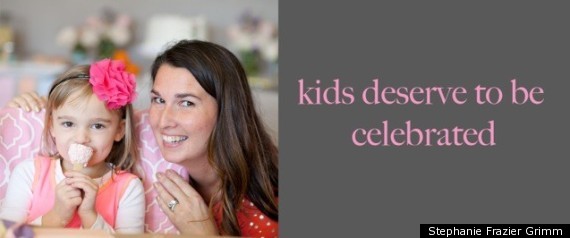 My vision is to have a set menu of themes, available at the nurses station, where the kids will be given choices, they get to pick, and on their birthday they will get a box. In the birthday box will be a themed happy birthday banner, plates, napkins, silverware, cupcake toppers and a candle so they can make that one wish they deserve.
Being on the board of directors for a scholarship committee, I know fundraising is what keeps your organization going. Another goal I have, to write a kids party design book, with a percentage of the proceeds to go to my non-profit organization. Why a kid's party book? This book would be a reflection of my unique perspective and experience planning parties. I know parties of all types. I get to plan parties and weddings everyday, I know first-hand how Mom's want to throw their child an amazing party, and pull it off with a little one hanging on your leg. This book would offer unique themes and how to instructions, all while managing the school bake sale. I am that Mom, I know time is rare. I want other parents to be able to open this book on Thursday night, get inspired, and knock out a fabulous party for their kids on Saturday. We all aspire to be the ultimate hostess, this book will help you achieve party envy amongst your friends.