Around Valentine's Day, there is invariably randy banter online among literary geeks about poetry's sexiest verses.
Of course, the bad boys like Byron and Shelley get their fair share of shout-outs, but surprisingly the one poet, in my mind, who understood the aphrodisiac effects of the written word the best is hardly mentioned.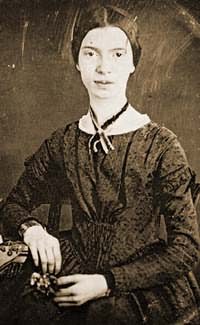 Perhaps what makes Emily Dickinson so fascinating to me is that, on the surface, she was a plain, prim, and provincial New England girl who was probably derided in her day for being an old maid destined to die a virgin, but through her uncanny gift for metaphor and imagery, her prose is like a virtual striptease. Her words flirt, they tease, they tickle the imagination with the power of suggestion.
You can almost see her sitting at her writing table, gazing out the window, with just a warm fire and some candlelight illuminating her room while sexual fantasies danced through her head and out on to paper.
Here are some classic examples of Miss Dickinson's naughty but nice verses, and some of my personal favorites.
Caution: Do not try reading these at home alone. You may need a romantic partner or an electronic device nearby.
Wild Nights!
Wild nights! Wild nights!
Were I with thee,
Wild nights should be
Our luxury!
Futile the winds 

To a heart in port, 

Done with the compass, 

Done with the chart.
Rowing in Eden! 

Ah! the sea! 

Might I but moor

To-night in thee!
The Master
He fumbles at your spirit
As players at the keys
Before they drop full music on;
He stuns you by degrees,
Prepares your brittle substance
For the ethereal blow,
By fainter hammers, further heard,
Then nearer, then so slow
Your breath has time to straighten,
Your brain to bubble cool,
Deals one imperial thunderbolt
That scalps your naked soul
I've Got an Arrow Here
I've got an arrow here.
Loving the hand that sent it
I the dart revere.
Fell, they will say, in "skirmish"!
Vanquished, my soul will know
By but a simple arrow
Sped by an archer's bow.
Longing
I ENVY seas whereon he rides,

I envy spokes of wheels

Of chariots that him convey,

I envy speechless hills
That gaze upon his journey;

How easy all can see

What is forbidden utterly

As heaven, unto me!
I envy nests of sparrows

That dot his distant eaves,

The wealthy fly upon his pane,

The happy, happy leaves
That just abroad his window

Have summer's leave to be,

The earrings of Pizarro

Could not obtain for me.
I envy light that wakes him,

And bells that boldly ring

To tell him it is noon abroad, -
Myself his noon could bring,
Yet interdict my blossom

And abrogate my bee,

Lest noon in everlasting night

Drop Gabriel and me.
He Touched Me, So I Live to Know
He touched me, so I live to know
That such a day, permitted so,
I groped upon his breast --
It was a boundless place to me
And silenced, as the awful sea
Puts minor streams to rest.
And now, I'm different from before,
As if I breathed superior air --
Or brushed a Royal Gown --
My feet, too, that had wandered so --
My Gypsy face -- transfigured now --
To tenderer Renown --
Into this Port, if I might come,
Rebecca, to Jerusalem,
Would not so ravished turn --
Nor Persian, baffled at her shrine
Lift such a Crucifixial sign
To her imperial Sun.