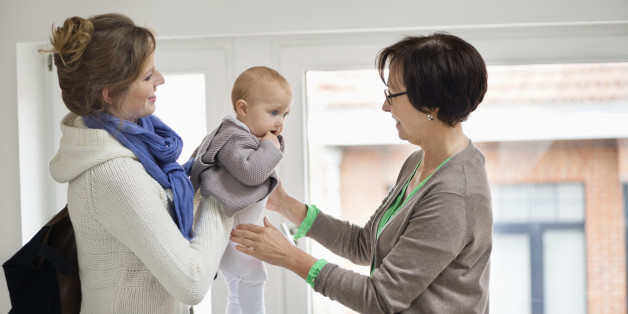 A large part of my identity involves being a mother. That may sound obvious and a bit corny, but I wasn't always sure that I wanted to have kids. My parents had a contentious divorce complete with big lawyers' bills and arguments over money and child visitation. Having a child was the furthest thing from my mind for several years.
So here I am now, 20 years later, with a husband whom I met in business school and a preschooler who brings immense joy -- and occasional chaos -- into my life. I now have doctor and dentist visits to schedule and attend for my daughter, expectations for regular volunteering at her preschool and childcare coordination, which seems never-ending.
To complicate matters, I am a business professional who works in the health care industry. This can involve some long hours when a client project is due, early conference calls when I have an east coast-based client and travel for important meetings. I enjoy the work; it keeps my brain sharp, utilizes the expertise I have built up over the past couple decades and pays preschool bills. And it makes me appreciate the time I spend with my daughter all the more.
Yes, I am a "working mom." This morning, I dropped my daughter off at summer camp, and then I went to work at my office desk. I participated in client conference calls, worked on PowerPoint slides, conducted research, sent out emails and began preparing a script for a client presentation later this week. In between that, I coordinated a play date with a friend's mom, coordinated summer camp schedules with another mom, made dinner reservations for a date night with my husband next weekend and researched Red Cross courses to refresh our CPR/First Aid skills. Every day is different, mostly variations on the same theme.
If I had to pick the most important aspect of being able to be a "working mom," it is having dependable childcare. If there are no other responsible, qualified adults who are available to take care of my daughter, I am the default. If my daughter is sick and she cannot go to preschool, I am the default. f her preschool has a vacation or teacher work day, I am the default. Work comes to a grinding halt. My clients and projects have to wait until there is a childcare resolution.
My husband helps when he can and does some morning drop-offs, but when he has to travel for work or prepare for a senior management presentation or attend an early morning meeting, I can't count on him. There are no family members who can cover for us. My parents, in-laws, and sister live about a six hour drive away from where I live in Los Angeles, not close enough to babysit in a pinch or come over and cook dinner. The good news is that it is still reachable with a short flight -- with some planning, of course.
Many of my friends and peers are part of families where both parents have a corporate or office job, and they face similar challenges. They live more than a quick car ride away from their parents and relatives. Others have family members that are far enough away that a flight is needed for a visit. This involves more planning and cost. Still others have one or both parents who have health issues or have passed away, leaving the parents to find stand-ins for grandma and grandpa.
Because of my husband's and my long work days and travel schedules and the absence of local family support, daycare is not a viable childcare option for us. Neither my husband nor I are consistently done with our workday in time for a 5 or 6 p.m. daycare pickup. Daycare seems to be organized assuming that one parent has a lot of flexibility, and that just doesn't seem realistic these days. So we have had to rely on nannies.
During the times when we were searching for a new childcare provider, I had to de-prioritize some of my work to make time for nanny interviews and trial periods. Since I am an independent consultant, I lost wages since I couldn't bill the hours I was dedicating to the nanny search. Some parents working more traditional office jobs face different challenges with not having enough flexibility for a thorough childcare giver search depending on their boss or company culture.
So why is it so frustrating for us and many other Americans to find high quality and affordable child care? The U.S. infrastructure for childcare seems to be a few decades behind the times. It assumes there are two parents, one of whom can devote their life to child-related activities. It assumes many jobs end at 5 p.m.. And it assumes that parents can rely on extended family members to fill in the gap. These assumptions are outdated and just wrong for many families --including mine.
A month ago, a White House Summit on Working Families took place where panels discussed care challenges and what companies can do to support their employees who are working parents. It's about time that all businesses, not just the occasional Fortune 500 company, find ways to support employees who rely on childcare. This support can come in many forms that could include:
- Consistent paid maternity leave
- Longer maternity leave
- Onsite daycare/preschool at your employer
- Subsidies for daycare/preschool
- Flexibility around working from home/remotely
- Childcare service that comes to your home when your child is sick
There are many reasons a parent says no to a job offer, goes part-time or drops out of the workforce altogether, and childcare challenges are probably near the top of the list. Let's start thinking more creatively about how to fix this problem and build stronger families and communities in the process.