Venturing out and starting a business has got to be one of the most terrifying experiences ever. Not only are you taking a risk in hopes that people will be receptive to your product and eventually become customers, but you're also turning your dreams into a reality which ultimately involves your family. While it's quite possible to live out your entrepreneurial dreams alone, receiving support from your family is enough motivation to keep you going once you get started. As a child, my family had several businesses. My father owned a sporting good store and an employment agency so I got bit by the entrepreneurial bug at an early age and apparently so did my brother, Charles Penn.
In 2007, Charles along with his wife (my sister-in-law) established Le'Penn Designs, a leading stationery design studio based out of Southfield, Michigan. "It's important that he supports me because we have a small child together. I need his help when I have to meet with a client or when I have an important business meeting, says Le'Trice Penn, Lead Designer of Le'Penn Designs. She continues, "having your own business is demanding with late nights and demanding clients, it makes life easier to have a supportive spouse."
Le'Trice is the creative force using her natural talent to design bespoke stationary, while Charles brings his business sense to the table by acting behind the scenes and doing quality control. Together they've found a niche and the best part is that they don't have to answer to anyone but each other.
Glen L. Johnson is the voice behind Full Figure Plus. As a man, Glen offers a unique perspective to the plus size fashion world, which is typically female dominated, but what's even more fascinating is the support that he receives from his wife, Twanna Johnson. "The most important factor in my wife supporting me in my entrepreneurial ventures, is that it shows that she believes in me and trust me even if she does not fully understand all that I do. Not only does that trust in my actions make me work harder, but it inspires me to do everything in my power to make her proud," says Glen Johnson.
As the Editor of DailyVenusDiva.com, Glen and I are apart of the same circles within the plus size community so we often find ourselves attending the same events. Although I've only met his wife once, her unwavering support of him is evident and in my opinion that's the secret to his success. It takes a special woman to fully embrace the business of blogging and to understand why he has to travel the country attending plus size fashion and empowerment events.
Both of theses couples are educated with multiple degrees between them. Instead of following a career path filled with time sheets and supervisors, they've decided to create their own stream of income. There is no guarantee that life, marriage or business will be easy for any of us but these couples are committed to each other and they are living proof that two heads are better than one in love and in business.
Le'Trice & Charles Penn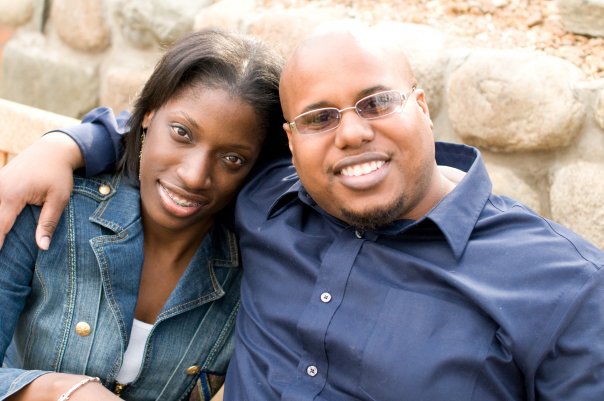 Glen & Twanna Johnson