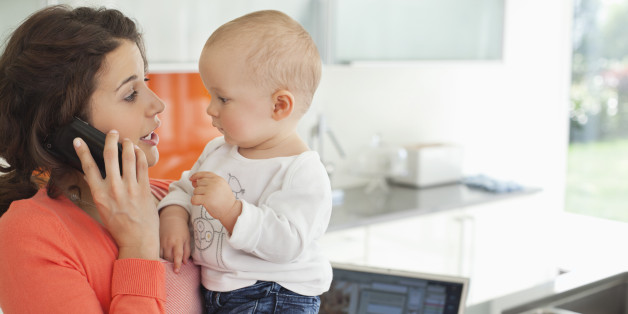 The moment I held my son for the first time, my entire world changed. I immediately knew what I was put on this earth to do: to be the best mother and wife I could be. I had to do to achieve this and I was ready. I also knew in my heart that I was supposed to make my mark in this world; change the way people think, motivate others and build something great. I wondered if I could successfully do both. The stress of finding balance between family and work began before I even left the hospital.
I wondered if there were other mothers out there that had it all figured out. If there were others who knew how to balance it all to achieve "true success." I wanted to learn from someone who would be willing to share their journey with me.
During my maternity leave, I began my quest for clarity and direction by reaching out to several "higher ups" of corporations that were also mothers. I began reading books about working mothers who were offering their advice. I wanted to gain perspective on how they had done it. How did they find that balance between work and family and at the same time continue to climb that corporate ladder? I was motivated by the fact that I was even able to find successful working moms to speak to. That meant that these women existed!
The outcome of my research was not what I expected or had hoped for. I'll spare you the gory details and give you the short and sweet of the discussions that occurred in my quest for clarity: "It can't be done. There is no balance to be had."
As if I wasn't already feeling the stress and guilt about wanting to work and be a mom, I was now being told by fellow mothers and potential mentors that I needed a really good nanny who was willing to step in and raise my son. At work it would be best if I pretended I didn't have a family, as this was often seen as a barrier to productivity and would deter organizations from choosing me for promotions and or higher positions. I was told I needed to make a decision: work or family.
SERIOUSLY?!
My maternity leave was coming to an end and I was feeling the fear of going back to work increase daily. On one hand, I was excited to return and get back to building programs, building and motivating great teams and putting that hard-earned master's degree to good use. On the other hand, I was devastated. I was leaving my son, my entire world, in the care of someone else for hours while I was working. What if I missed something amazing that he did? What if he resented me for leaving him? What if he liked the sitter better than he liked me?! Based on my discussions with "successful" working mothers I would need to choose. I could not have both...
I turned to a very good friend of mine, who is also a working mother, and shared with her the results of my research. I expected to hear her say she was sorry and then ask me what my plan was. Instead, God bless her, she pulled me out of the negative haze. She reminded me that I was an intelligent and strong woman who was also a mother. I had a ton to give any organization that would be lucky enough to have me and support my desire for work life balance. She was still searching for balance herself, but believed it did exist. She said that there had to be someone out there that supported the philosophy that you can have both and encouraged me to press on.
Shortly after, I came across a book called Thrive which reminded me that success means different things to different people. What I needed to do was define what success meant to me personally. Once that was identified, it would be easy to stay focused and find my balance.
After a long internal debate and many conversations with my amazing and supportive husband, I did decide to go back to work. I decided that in order for me to be successful, I needed to find balance. I needed to contribute and do a great job at work, but I also needed to be home and with my family. I needed to be able to make dinner. I needed to be able to do baths, read bedtime stories and rock my son to sleep. I also needed to be with my husband. These were essential ingredients to my happiness, to my definition of success.
As I sit here writing this, I am still working on fine-tuning this thing called balance. For now, I take pride in the fact that I am a good mom and wife. I make time to have dance parties in the kitchen while we make dinner as a family. I get to see my family laugh to the point of tears often and we hug a lot. I rarely miss bath and bedtime and I sleep next to my husband every night. I use my lunch hour to get my workouts in, support those that I work with any way that I can, and have a job that I love.
According to my definition, I am successful.