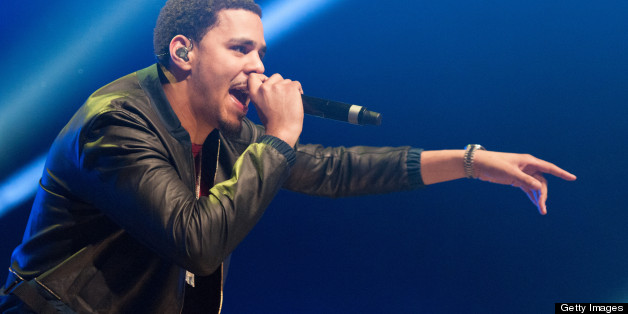 The buzz around North Carolina born and bred hip hop artist Jermaine Lamar Cole ( most commonly known as J. Cole) has filled airwaves since he was first introduced to the world by legendary hip hop artist Jay-Z in 2009. While J-Cole is from the same city the majority of my family has lived in for years, I've still had a hard time buying into the hype because quite frankly I expect perfection when it comes to the few hip hop artist I faithfully support.
Don't get me wrong, I love the production behind practically every single J. Cole has brought to the forefront since his mix tape days; however, I've never been a fan of being a fan of an artist just because their production was good or because everyone else liked them. I think subconsciously I am afraid to give most hip hop artist a shot at being great because in today's industry the moment you "make it" is the moment you lose yourself as an artist. J. Cole was slowly but surely reaching that level of greatness and I could vividly see his lyrical content shifting from being conscious and real to ratchet and degrading. Things just didn't look good for the budding artist.
As the hype behind J. Cole's new album Born Sinner has begun to increase over the air and internet waves, I've been finding it harder and harder to actually take a peek at some of the tracks he has recently released. I haven't heard any negative reviews yet the fact that the rest of the hip hop world seems to support him led me to believe that he had in part have "sold out" to gain such hype, he proved me wrong.
On YouTube I was drawn somehow to the premiere of J. Cole's newest single featuring TLC entitled "Crooked Smile". The song begins with the 28-year-old Fayetteville, N.C., native rapping, "They told me I should fix my grill cause I got money now/ I ain't gon sit around and front like I ain't thought about it. I keep my twisted grill just to show them kids it's real/ we ain't picture perfect but we worth the picture still." Within the opening verses I was convinced. I was convinced that J-Cole deserves a shot at the top spot. I was convinced the hip hop industry I had given up on recently might have a chance at survival after all. For once in what seems like decades a new hip hop artist was educating us all on not only how he learns how to love his insecurities but how we too should learn to accept our "crooked smiles." The more I listened to the song, the more I put it on repeat because I recognized that J. Cole was telling the story of so many men, women, boys and girls across the world. He was telling the story of how we can get so caught up in what other people think of us that we try to fix what God has already put his paint brush on.
As a fan and hip hop critic, I often myself wondering why artists convey messages in their songs that make us feel we are obligated to live a certain lifestyle in order to obtain happiness and suddenly, it clicked. The messages that artist convey are simply the messages that they have accepted as their reality. So today, hip hop take a bow and thank Mr. Cole. His realness about the hip hop industry reality may have just transformed the hip hop game, forever. I can only hope Born Sinner doesn't ruin the transformation he has just begun.