It's an exciting time for independent filmmaking. Storytellers are using grassroots campaigning techniques to raise crucial funds online. This also enables a direct link to the communities they're building and may have an effect on the outcome of their narrative. Oftentimes, the story of how the story was made becomes a part of the story being told.
But what happens after the independent film or project seeking support is complete? Without studio assistance, how does the artist get the word out? They turn to social media and crowdfunding platforms like indiegogo and Kickstarter when they're starting their film, but they continue to need support after the project is finished. Distribution is never easy because there are no real established paths or models to follow and the Internet is vast and wildly unpredictable.
Over the past year, I've been writing about creative storytelling, focusing on some extraordinary independent artists, their projects, and their crowdfunding campaigns. This week, I interviewed journalist and filmmaker, Lisa Biagiotti about the incredible journey of her gorgeous, topical, and award-winning film, deepsouth.
deepsouth - Official Accolades Trailer (2014) from Lisa Biagiotti on Vimeo.
deepsouth is a documentary that uses a new kind of narrative to open up the dialogue about the worsening HIV/AIDS crisis in the Deep South. Through the filter of the film, we see that this epidemic is symptomatic of much bigger cultural issues like poverty, lack of representation, no funding and education, and a community that is heavily influenced by shame. One of the movie's main characters is Kathie Hiers, the CEO of AIDS Alabama. Hiers breaks it down best at the start of the film:
"We don't have a lot of money. Here's some of the things we do have: the most people living with HIV and AIDS, the most poverty, the most sexually transmitted infections, the most people without health insurance, the most vulnerable populations, the fastest-growing epidemic, the least access to health care, the highest mortality rates, and the least resources to deal with this crisis."
deepsouth is a highly-regarded documentary. It's referenced in every discussion about the HIV/AIDS crisis in the Deep South, and it even brought Biagiotti to the White House to discuss the issues this past June. It's an important film, beautifully rendered, that tells an essential story on a very human level. And as of yet, it has no distributor.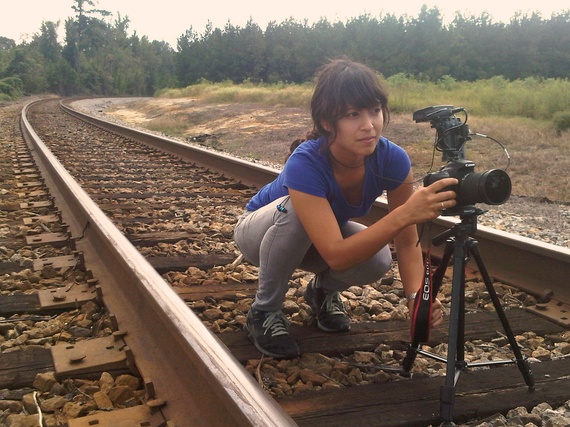 Biagiotti is currently running a Kickstarter campaign to provide funding for the digital DVD distribution and for the over 70 planned screenings across the country for World AIDS Day on December 1, along with live-streaming Q&A sessions with the cast and crew.
I asked Biagiotti a few questions about her journey with deepsouth:
SS: Tell me about the film and how it originated. How did you become interested in the topic?

LB: Five years ago, I was doing a few stories for PBS on homophobia and HIV in Jamaica and I came across some shocking statistics about the US. I noticed that 50% of AIDS infections in the US were in the South and that AIDS was one of the leading causes of death among African-American women. I thought this was surprising, given that at that time it was 2009. So I drove over 13,000 miles, interviewed more than 400 people and liquidated the entirety of my IRAs to try to figure out what the story was. I needed to make sense of these alarming statistics.
I think deepsouth presents a different sort of story and a different kind of narrative about HIV in the US. It's not the same narrative from 20+ years ago, which framed HIV as a public health crisis or a loud activist movement. Now it has become a social illness. In traveling across the South, I found that HIV was an indicator of many other factors and social ills. So if this film has a hypothesis at all, it's that this is a regional crisis seen through the lens of HIV. The film is about so much more than HIV and it looks at the socio-cultural dynamics of this social illness.
Also, this is a story about systems in general, and navigating broken systems. Whether it's about me as a filmmaker and journalist navigating the mainstream media or it's about this issue of the HIV/AIDS bureaucracy, the journey of this film has mirrored the issue 100%.
SS: You said the journey of this film has mirrored the issue 100%. In what way?

LB: Nothing that I've unearthed in the last five years is actually new; it's just hiding in plain sight. I feel like a broken record when I cite the research and data that has been trending for decades. My team and I decided to tell a story that more closely matched the reality we experienced on the ground. The result of that is a social issues documentary that has no talking heads, no statistical plot turns and no call-to-action. It's a story about the side that lost the war. The history books are not written by the defeated. And more than that, it's about people who the losing side deemed as less than people. These are the roots that anchor deepsouth.
This little film won best documentary awards at LGBT film festivals, got invited to the White House this past June, was featured in The New Yorker. And still so few people know that HIV in the American South is a "thing." It's drowned out by the "end of AIDS" propaganda, and a powerful system that continues to ignore this part of the story.
SS: How has the film changed or evolved or time? And what surprised you most about this story?

LB: deepsouth and I have become a part of the story. I think the issue itself hasn't really changed. It's pretty much the same and it's probably getting worse in terms of shifting health care systems and access-to-health care problems after the film was made.
You can't talk about the issue without talking about the film. It's great because the film is referenced so much in communities because we've been there. HIV is still talked about through the same filter as the first epidemic/first movement, so some reframing is in order and I believe this documentary is the start of that.
SS: You screened the film at the White House. Can you elaborate?
LB: I was invited to the White House for a meeting on HIV/AIDS in the Southern United States along with 120 Southern advocates. I was unfortunately the only "activist" to show up. I was the only one to actually ask why the South was neglected, and I was the only one to call for a more grassroots, indigenous and tribal approach to a very different disease.
SS: Can you talk more about the issues you've been dealing with as an independent distributor of your film?

LB: I've been trying to navigate this world of distribution but it's been really hard. I've been guided by Sundance #ArtistServices, but it's still kind of lonely. I'm setting a lot of things in motion at once: encoding to digital platforms, running a crowdfunding campaign, booking and organizing tour spots, finalizing fact sheets, etc. Typically, this is the combined jobs of a team of PR people, outreach strategists, distributor and impact producers -- and there are only 2.5 of us doing this!
Our trajectory has been successful in a more non-traditional way. I've been touring with the film and screening it across the country. We're just shy of 150 screenings total in the last two years. Our by-invitation grassroots tour made its way around the film festival circuit, but we were mainly invited into communities, playing in local theaters, government agencies, black churches, historically black colleges and universities, schools of public health, law and social work, annual conferences, etc. There is so much evidence that this film does allow people to talk about the issue in these communities and it allows them to have a reference point. It gives them some of the vocabulary to actually discuss these things.
SS: Why Kickstarter? Why now?
LB: I've tried to go through more mainstream channels, but the kind of story we're telling doesn't seem to fit any broadcast or advocacy programming mold. I don't know if it's fatigue about the issue, or if they're expecting something else. Even now, people are still surprised when I tell them I'm doing a documentary on HIV in the American South. That still shocks people. So I am aware that this is actually "news" to the masses.
Honestly, I can't believe I'm using Kickstarter now. I wrote proposals at the request of several organizations, but they declined support. And since I have no organizational support at this time, I turned to Kickstarter because I had no other choice. Kickstarter is about engaging and expanding new audiences and I needed to find alternative ways to distribute the film and raise awareness and still pay my rent.
SS: Do you think the Internet engagement has reached a different demographic of people who wouldn't have known about this story otherwise?

LB: The Internet has made all of this possible because the trailer is online and there is a small but engaged following on Facebook. I could never have reached the almost 150 screening hosts without the Internet, and of course, word of mouth. And now I'm partnering with Tugg, Inc. who will handle my community screenings and educational distribution so I don't have to physically show up to present and screen the film.
We also recut the sex-ed classroom scene in the film in a more Internet-friendly style, and Upworthy featured it on their site, so an entirely new audience is potentially being introduced to the documentary.
SS: What's your strategy for what comes next?

LB: I really wish I could tell you that I masterminded this whole thing, but I had no strategy for what we've been able to accomplish. I had an idea that became a story and then became a film. Then that film became a part of the story and it started impacting communities in a very real way. Traditionally, you make a documentary, it gets distributed, you move on. I tried to create an impact campaign around this film, but it could never get funded.
As one person, I don't have that kind of infrastructure around me to implement a strategy. So it's been about finding people (or them finding me) who believe this is more than a film and who have the will and imagination to leverage this as an intervention and change-agent in their work.
This is probably the beginning of a long tail, but I feel my active role in this is ending. My goal is to get the film out there in a bigger way because silence and neglect pervades the issue on every level.
SS: And where are you now?
LB: On the eve of my self-distribution on World AIDS Day, this is the only interview request I've received. My 70-stop #WAD2014 tour is not sponsored by an organization. deepsouth is not coming to a TV channel near you. (But it will be on Yerka, iTunes, Amazon, and Vimeo.)
Success looks a little different than the rah-rah activism of the past, and maybe the film is making more of an impact because we're rooted in the community and working directly with people on the ground. This is where we are on #WAD2014, at the generous invitation of these communities! So these conversations will be happening, and maybe it will capture the imagination and will of people and systems outside of the South, too. The pins on the map are our point people. Let's start with them. After all, isn't that how the civil rights movement was won, when people outside the South aligned with the plight of the Southerners and supported the point-people on the ground?
SS: What's the most important thing you've learned since you started this project and what's the most essential thing you'd like other people to take away or know about this topic and this film?

LB: That these people matter. And that despite the progress we've made with HIV, this issue is not over -- no cure, no end. These people may be forgotten by the mainstream society and they're not screaming for help, but their lives matter and they need help.
I'm just a journalist and a filmmaker. I'm not an activist. I've taken on this role accidentally and reluctantly. I've been hand-delivering the news, if you will, to communities one-by-one, and I'm not telling them anything that's new or hidden or different. It's just basic information and the film is this abstraction of the epidemic/issue. But every scene is researched which is why it's being used to educate by the Mississippi Health Department, Emory University, etc. It really does show what this disease looks like in these places.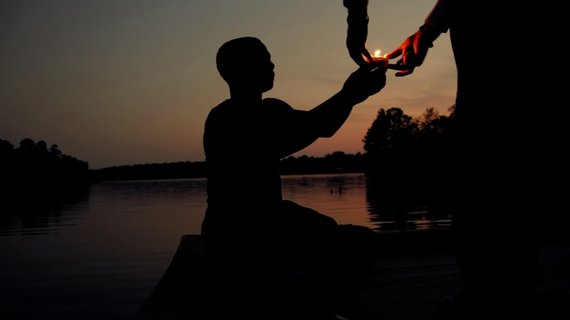 You can visit and support the deepsouth Kickstarter campaign, now in its final few days. You can also check on the upcoming screenings and live-streaming Q&As for World AIDS Day on December 1 on Tugg.