Get ready to amp up your summer outfits and make your style scream: "I am a redhead fashionista!" A must-have this spring/summer is a fitted belt. This one accessory can really pull together any outfit, whether going out on the town or staying casual during a hot afternoon.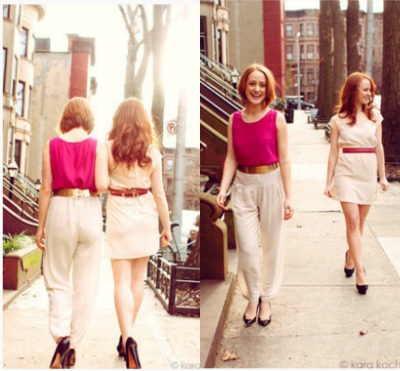 Sometimes, a nude top can completely wash out a redhead; but with a rockin' colorful, "redhead friendly" belt, you're sure to have a great outfit.
Growing up, I always thought I had to buy new clothes once spring sprung and I would completely forget about the clothes I purchased from last year. I would find myself saying, "I have nothing to wear!" also known as a fashion-lover's worst nightmare. I eventually learned what the power of a belt can do and it is now a must-needed accessory that I always recommend to my redheaded ladies.
Some fashion tips on how to rock a belt this season and learn how to compliment your red hair:
1. Keep It Simple: If you are not in the mood to wear jewelry and want to keep it simple, go for a belt to loop around those fitted jeans or colorful summer shorts.
2. Layer: Layer together a small and large belt. Just make sure both compliment each other; just like Adrienne and I in the above picture!
3. Get Creative: Tie the belt in the back instead of the front.
4. Get Really Creative: Add studs to a simple leather belt.
5. Use Other Closet Items: Make a thick piece of fabric look like a belt. Crisscross the fabric and tie it in a big bow for a flirty, summer look
6. Skip It: Have fun with skipping loops or not using them at all.
My top five favorite "redhead friendly" belts for spring/summer:
1. A brown double wrap belt looks great with a neutral dress. MM6 Maison Martin Margiela new wrap belts are beautiful and fun.
2. A corset leather belt with a high wasted pencil skirt is a fabulous way to spice up a work outfit. Diane von Furstenberg is a great choice.
3. A wide belt is so versatile. Loving Alice + Olivia's spring wide belts in red (of course).
4. Bright skinny belts are a must-have. Rag & Bone and Linear Pelle are two of my favorites.
5. Looking to rock a preppy look? Braided rope belts look stunning with an opened cardigan. You can make this yourself by simply purchasing a rope and tying it around your waist.
My ultimate redhead tip: Experiment with your style to find your favorite belts. Don't forget that fashion is suppose to be fun and represent who you are!
It's now time to buckle up and get ready for the warm months ahead, redhead-style!
Image courtesy of How to be a Redhead! Photo by Kara Kochalko.