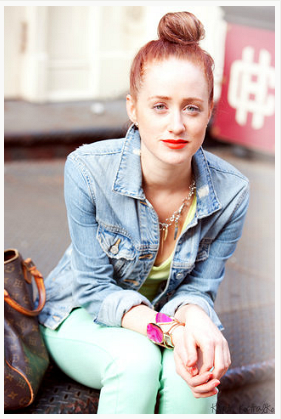 As the seasons change, so do styles and trends. This past winter, every New Yorker was rockin' leather boots and jackets. The spring was all about bright neon's and bohemian style prints.
This summer is definitely all about the 'effortlessly chic look.'
What exactly is this look you ask? With my busy schedule and fiery, upbeat redhead personality, I am always on the go and don't have time to spend hours in front of the mirror. With the temperatures climbing, my main fashion goal this season is to feel comfortable (and of course confident), but stylish.
The 'effortlessly chic look' is the 'look of all looks,' especially if you live in a bustling city and always on the go. It's opting for basic tees and comfortable flats. It's adding a pop of color with a simple scarf or a set of bangles. It's being yourself, but at the same time embracing the gorgeous summer weather.
Achieve the 'effortlessly chic look' with these five summertime finds:
Denim Jean Jacket -- This fashion item will never go out of style. Go for the basic jean jacket by rolling up the cuffs or opt for a denim vest that you can pair with almost anything!
The Basic White Tee -- You can never go wrong with this item. A basic white tee can be tucked into a maxi skirt or high-wasted shorts.
Fitted Shorts -- Bright colored shorts are so in right now. Make sure they are not too tight, but fit just right. Want to add a punch? Get a pair with studs on the side!
Silk Scarf -- This can complete a whole outfit and make your eyes pop. Go for prints that suite your personality and style.
Pair of Cap-Toe Shoes -- Loving this new summer trend. Go for a pair with straps at the ankles or a simple mini heel.
These five items can all be rocked together and leave you looking redder than ever! Keep beautifully redhead and Rock it like a Redhead!