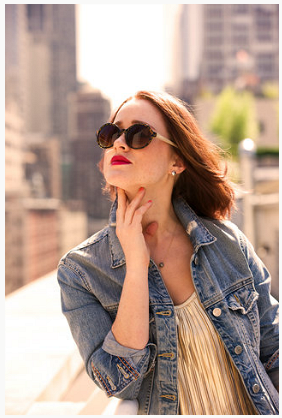 Ever since I was a young girl, I admired the beautiful redheaded celebrities that swept the red carpet and were the stars of the box office. It was as if these celebrity redheads were goddesses that "had it all" and it was my goal to reflect their styles.
I wanted to emulate their gorgeous swaying red hair and amazing outfits that complimented their pale skin. I had a corkboard over my desk where I hung up my torn-out photos collected from the latest pop culture magazines; the entire board was filled with redhead stars such as Laura Prepon, Rachel McGuire, Julianne Moore and Nicole Kidman. I admired their chosen gowns at the Golden Globe Awards, their everyday cool Hollywood looks and articles of what makeup and hair products they used on a daily basis. This board was an object of my youth and a symbol of how proud I was to be myself. Everyday, I would glance at my board that continued to grow and grow; photos came and went, but how much I loved being a redhead never changed.
Once I left home to go to college, the corkboard stayed hung up in my room. As semesters passed, the photos started to fade and crumble and the corkboard eventually got packed up and put in my parents' attic. Even though the board isn't apart of my daily life, my love for being a redhead has blossomed and has become a part of my life and profession.
Many redhead girls grow up getting caught up in what is considered "normal" and find themselves not loving the one great gift giving to them, their natural red hues. My advice is to start a vision board or be more technologically advanced and create a Pinterest board that represents how you feel about being a redhead. And if you're not a redhead, start a board on what expresses you and your life goals.
Stuck on how to create your own board? Here are some tips to help you get started:
Choose photos of your favorite "redhead friendly" colors. Explore what colors you love to rock with your red hair.
Find celebrity quotes to add to your board. One of my favorite is by the legendary Lucille Ball: "One in his life, every man is entitled to fall madly in love with a gorgeous redhead."
Have a favorite redhead Hollywood star? Add some photos of her looks to inspire your wardrobe.
Empowering articles and interviews are great reads and very self motivating.
Don't be afraid to add pictures of YOU rocking your style!
Keep Beautifully Red and Rock it like a Redhead!
Photo By Kara Kochalko, Image Courtesy of How to be a Redhead