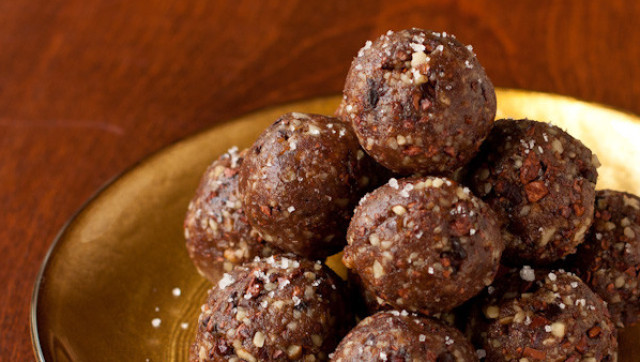 These luscious little morsels taste enough like Snickers bars to satisfy a candy bar craving... the dates have a caramel flavor, and the nuts, chocolate, and salt combine for an incredibly satisfying little snack.
This version of a truffle is incredibly healthy... natural dates are super-sweet but rich in iron and fiber. Cacao nibs give you all the benefits of chocolate without added sugar, and the pecans add additional heart-healthy fats and fiber.
Chocolate-date-pecan truffles
Makes 16-20
10 fresh dates
1 C. pecans
1/2 C. unsweetened cacao nibs
1 t. smoked sea salt or good quality sea salt
almond milk, optional
Remove the pits from the dates.
Put the dates in your food processor with the rest of the ingredients. Process until the mixture is finely ground and holds together when pressed. If the dates are a little dry, you may need to add a small amount of nut milk.

Using a 1 T. measure, form the truffles into balls. Place on a cookie sheet lined with parchment, waxed paper, or a silicone sheet.
Sprinkle with a little bit of sea salt flakes if desired.
Refrigerate until firm.
Store in a sealed container in the refrigerator.
Stephanie Weaver blogs as her alter ego, The Recipe Renovator. All her recipes are gluten-free, sugar-free, and made with plant-based ingredients.