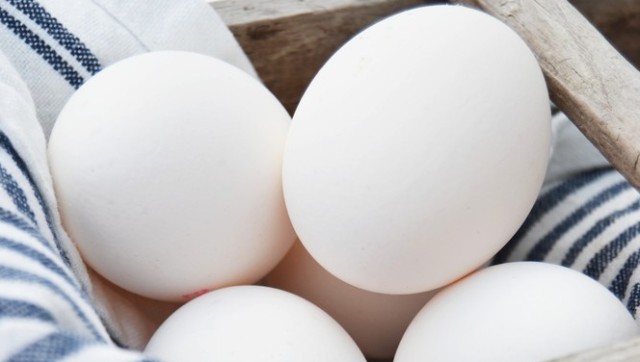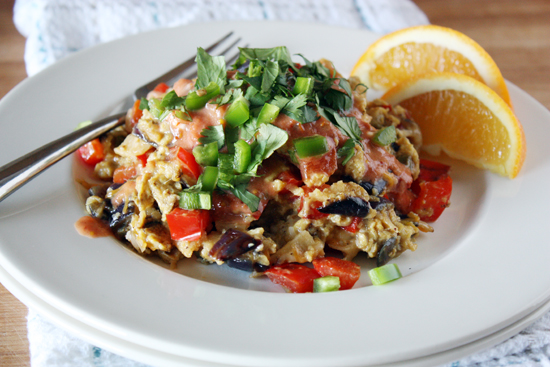 I know everyone's got Thanksgiving on the brain. But me? I'm thinking about migas.
What exactly are migas, you ask? That's precisely what I asked myself recently when I stumbled upon a recipe for them online. Once I discovered them and was enlightened by their allure (I mean, there's fried tortillas and oodles of cheese in there), I knew I had to make my own version in my own kitchen, stat.
Of course, I knew I couldn't just MAKE migas for breakfast. There had to be a reason to indulge in this delicacy -- a reason for me to forgo my usual bland bowl of oatmeal and my husband, his scrambled eggs on toast. Thankfully, I didn't have to wait long. My husband's birthday was fast approaching and, being that I'm a food blogger and he, a lover of food, I knew this would be the perfect way to start his special day.
The idea of migas is to use up your leftover tortillas from the day before to make a tasty breakfast. It worked out great for us because we happened to have a stash of corn tortillas in the freezer, as well as an extra bell pepper, an onion and some eggs and cheese lying around, just waiting to be used up. All I needed was to add a handful of chopped cilantro and fine-diced jalapeno and a spoonful of salsa and suddenly, I had breakfast. And it really was that easy, too -- in the same amount of time it takes me to make my bowl of oatmeal and a cup of coffee, I had a colorful bounty of protein and vegetables on my plate.
This recipe is perfect to make for guests or your family the morning after Thanksgiving, when everyone's nursing turkey-and-wine hangovers and they all just need a quick, hearty meal to perk up their spirits just enough to chow down on leftovers; and from my experience, it goes over well as a birthday breakfast, too. But now that I've been bitten by the migas bug, I can assure you -- it won't take a special occasion for me to make this breakfast again soon.
Migas
Yields: Two servings
Ingredients:
1/2 cup vegetable oil
2 corn tortillas
6 eggs
2 tablespoons milk
1 tablespoon olive oil or butter
1/2 red onion, chopped
1 red or green bell pepper, chopped
1 jalapeno, seeds and membranes removed, finely chopped
3/4 cup shredded cheddar or Monterey Jack cheese
Salsa and chopped cilantro for serving
Directions:
Heat a small skillet over medium heat; add vegetable oil. When oil is hot, add one tortilla at a time and cook each side until crispy, about one minute. Remove from oil and place on a paper towel-lined plate to drain. Stack cooled tortillas and chop with a sharp knife. Set aside.
In a large bowl, whisk together eggs, milk and salt and pepper to taste. Set aside.
Heat a large skillet over medium-high heat. Add olive oil. Add chopped red onion, chopped bell pepper and half the chopped jalapeno. Cook until well sautéed, about five minutes. Add tortilla pieces and stir. Reduce heat to low.
Once heat is reduced, pour in egg mixture and cook, folding gently until eggs are set, about three minutes. Fold in shredded cheese. Divide mixture between two serving plates; garnish with remaining jalapeno, salsa and chopped cilantro.
Recipe adapted from The Pioneer Woman.