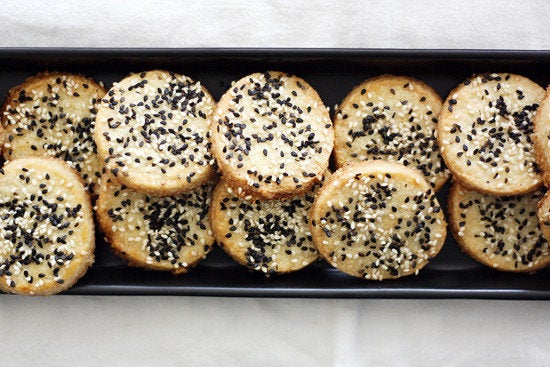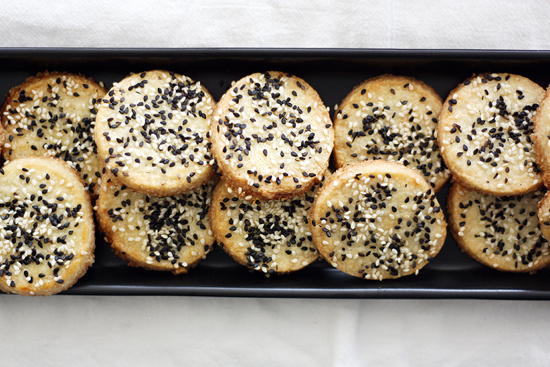 Tell me I'm not the only one who dreams about sweet and salty. It's why peanut butter and jelly has withstood the test of time; why cheese and chocolate pairs so well together; why my heart goes pitter-patter for honey-roasted nuts and kettle corn. It's also why these sweet and salty sesame cookies are just about the best little dessert/appetizer you can imagine.
I'll admit the idea of a sweet and savory cookie is a bit confusing -- do you eat it as dessert or as an appetizer? Is it really a cookie, or more of a cracker? The answer is yes. You can eat it with coffee or a cocktail, with olives or ice cream. It's made with sea salt and butter, with sesame seeds and an egg wash. It might be odd, yes, but the elusiveness of its flavor is what keeps you going. Just what, exactly, will this taste like? I'll give you a hint -- magic. It tastes like magic. The kind of magic that has been keeping taste buds salivating over sweet and savory treats for years.
I won't try to convince you to make these cookies (I mean really, who needs convincing when it comes to cookies?), but if you're on the fence about them like I originally was, I urge you to give it a go. The worst that will happen is that you end up with a plate of cookies that, surely, someone will eat. The best? You may just discover your new favorite dessert.
Sweet and Salty Sesame Cookies
Yields: Anywhere between 1 dozen and 4 dozen cookies, depending on the size of your cookie cutter
1 cup unbleached all-purpose flour
3/4 cup almond flour or almond meal
1/3 cup granulated sugar
1 teaspoon fine sea salt
1 stick cold unsalted butter, cut into 1/2-inch cubes
1 egg, beaten
black and white sesame seeds for sprinkling
In the bowl of a food processor, add flours, sugar and salt; pulse until combined. Add butter and pulse until coarse crumbs form. Slowly trickle water into spout while pulsing food processor, adding just enough water til a dough just begins to form. Remove dough from processor and knead a few times on counter top. Divide dough into two discs. Roll each disc between 2 pieces of wax paper into a 1/4-inch disc; place discs, still covered by wax paper, on a baking sheet. Freeze dough until firm, about 1 hour.
Heat oven to 350 degrees F. Line two baking sheets with parchment paper or silicone mats. Using a 1 1/2-inch round cookie cutter (or whatever size you have, though obviously the larger the cookie cutter, the fewer cookies), cut dough into small round discs. Place discs about 1 inch apart on prepared baking sheets. Brush tops with egg wash, then sprinkle liberally with sesame seeds.
Bake cookies until lightly browned, about 15-20 minutes, rotating halfway through. Let cool on baking sheet 3 minutes, then transfer to a cooling rack to cool completely.
Recipe adapted from Food & Wine.