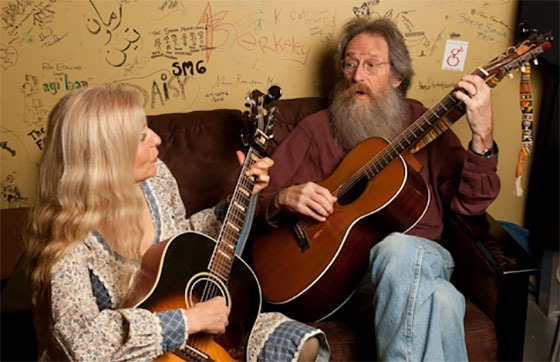 Larry Hanks and Deborah Robins. Used by permission of Larry Hanks and Deborah Robins.
The wheel of time turns, a year goes by, and once again I'm writing about CDs that people put into my hands at the annual conference of the Folk Alliance International. The meeting has moved to Kansas City, land of strip steak and burnt ends, and it's added a music camp, where people learn everything from songwriting to banjo-picking. But the core of the meeting is the same as ever: folk musicians, venues, agents, labels, and journalists meeting, mingling, playing, and listening for hours while the wheel of time seems to stand still.
Which brings me to The Wheel of Time by Larry Hanks and Deborah Robins, the first CD in this rundown of old-time music I picked up there. Hanks and Robins make music halfway between the old-time stylings of Jody Stecher and Kate Brislin and the straightforward folk of their hero, Michael Cooney. Their material here ranges from earthy old ballads ("The Farmer's Curst Wife") to modern tales of the folk scene (Tom Paxton's "Did You Hear John Hurt"), and from no-nonsense stories of crime and punishment ("The Rambling Boy" and "Duncan and Brady") to the hazy-eyed mysticism of old spirituals ("Ezekiel Saw the Wheel" and "Turtle Dove"). Even the humorous songs hit in a variety of registers, from the black comedy of "The Whiskey's Gone" to the wide-eyed innocence of "The Log Driver's Waltz." Covers of folk and country classics by Woody Guthrie ("Vigilante Man") and the Carter Family ("Winding Stream") round out the set. Hanks and Robins don't play a zillion instruments, but they make the most of their two guitars and two voices with pretty harmonies, overlapping call-and-response singing, a variety of fingerpicking and strumming approaches, and vocal styles ranging from a deep bass to a high yodel. Best of all, it's all done with taste and grace and humility--nothing flashy, just what each song needs to sparkle its brightest. Any fan of old songs should have a great time with this disc. Here's a taste of their approach...it's not on this album, but it's fun!
A few years ago, a couple of the members of a band called The Tillers dropped by my day job at the American Folklife Center in the Library of Congress en route to a gig at one of our nearby institutions, the New Deal Café in Greenbelt, Maryland. They were interested in hearing some of our field recordings and getting advice on venues they might play. My colleague and partner in crime Jennifer Cutting and I helped them until it was time for their gig. I can't remember what they heard, but in Kansas City when I saw a big display of their new album, Hand on the Plow, I looked at the song titles and thought I recognized some familiar pieces. "Five Hundred Miles," "Long Summer Day," and "Weary Soul" are all the names of songs in our archive, so I assumed they'd recorded some versions of our field recordings, as many artists have done before.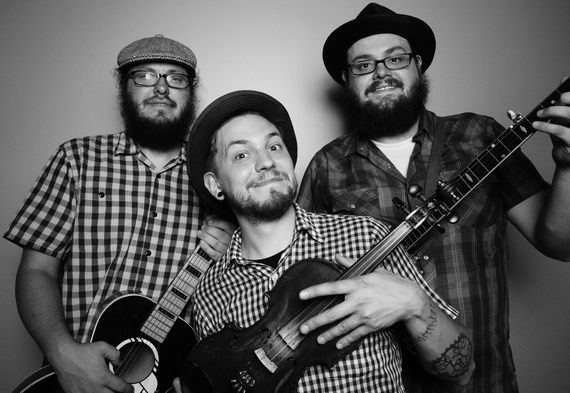 The Tillers. Used by permission of Hearth P.R.
Well, dang! It turns out the whole album is original songs as far as I can tell. But they're great songs, with that road-weary dust-bowl feel you'd expect from a group steeped in field recordings and commercial 78s of ballads, blues, and breakdowns. Fiddle, banjo, guitar, and bass make up most of their arsenal, with occasional spoons, harmonica, accordion and dulcimer. They play all these instruments with facility and verve for an all-around impressive and enjoyable disc. A few tracks stand out for me: the fiery "Tecumseh on the Battlefield," based on a wild fiddle tune; 'Shanty Boat," about lazy days on the river journey from The Tillers' native Cincinnati to New Orleans (which used to be common stomping grounds for such vessels); and "Willy Dear," a ballad with a tragic ending that could come from Shakespeare or Greek myth. Here's a video of another nice track:
If you like traditional folksongs and tunes, never fear: the album the Tillers were touring with when I first met them, Wild Hog in the Woods, is also very much worth hearing. Joined by Kentucky fiddler and singer Uncle Mike Carr, they work their through a treasury of great old music: hoary ballads like the title track, which goes back to medieval sources; American classics like "Omie Wise," "Sail Away Ladies," and "Sugar Hill;" material gleaned from old commercial 78s like "Going Down the Lee Highway;" and lots of unusual fiddle tunes from Carr's deep repertoire. It shows off the more traditional side of the band beautifully, and it's a fun listen all the way through!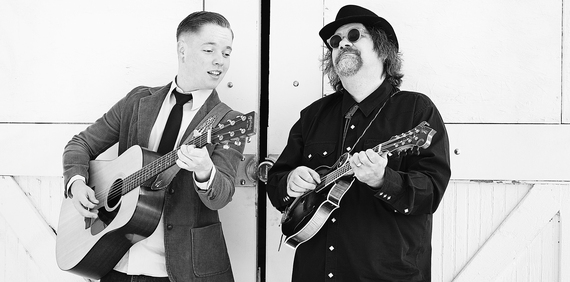 Billy Strings and Don Julin. Used by permission of Don Julin.
I'd heard Don Julin's name around the scene for years--as a mandolin player, composer, and the author of Mandolin for Dummies--but his partner, Billy Strings, was unknown to me until this year, when I picked up the duo's new disc, Rock of Ages. A youngster of twenty, Strings turns out to be good beyond his years, a soulful bluegrass-style lead singer and guitar player who gets nicely inside the songs, making you believe he's sung the Cocaine Blues, shot Wild Bill Jones, seen the Rock of Ages, and clucked over the Old Hen. His talents are well complemented by the mandolin mastery of his partner, who can solo out in front of any tune, weave his way around a song, or strike well-timed chunky chords behind a guitar solo. The duo's playing has bluegrass drive, and on tunes like "The Red Haired Boy" and "Soldier's Joy" they take turns soloing like bluegrass pickers. But because they're a duo the sound is more open and loose, like an old pre-grass string band. The notes reveal that they did this whole disc in a basement with no effects but natural room reverb and no overdubs; the impressively full sound and professional results suggest we'll be hearing a lot more from them in the future. Here's a video of one of their FAI showcases:
Old Buck is the debut album from a great conglomeration of young but seasoned pickers, who also sing: Riley Baugus (banjo), Emily Schaad (fiddle), Debra Clifford (guitar and mandolin), and Sabra Guzmán (bass). Readers might know Baugus's flawless clawhammer banjo from his work on the movie Cold Mountain and on Alison Krauss and Robert Plant's Raising Sand. The others have been successful in the old-time scene, winning contests and touring with bands like Old Sledge and The Lonesome Sisters. The disc is sixteen tracks of high-energy, old-fashioned string-band music. It's got haunting versions of old vocal chestnuts like "Soldier's Farewell," "Chilly Winds," and "Rose Connolly," and ends with a sweet version of Hank Williams's honky-tonk anthem "You Win Again." Mostly, though, this is a tune album, chock full of such fiddle and banjo fare as "Fisher's Hornpipe," "Nancy Ann," "Highlander's Farewell," and "Black Jack Grove." There are no notes to speak of, so tune-heads may wonder where they got their versions. But the fiddle and banjo tear up the tunes, while the guitar and bass keep everything bouncing along merrily. It's relaxed, fresh, and exuberant from start to finish. Who could ask for more? Here's Old Buck rehearsing outside the studio where the album was recorded: