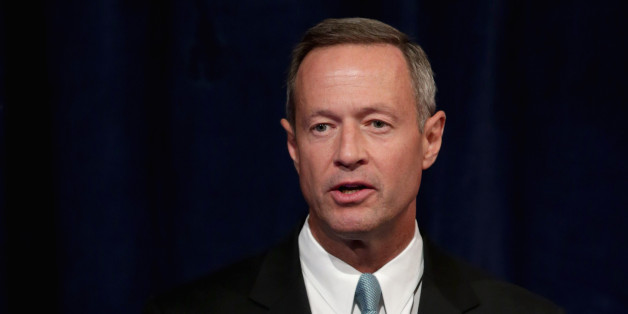 This post is part of an ongoing series by Credible about how the 2016 presidential candidates would affect student loans and the financing of education for students and borrowers.
Democrat Martin O'Malley, who has served as both Mayor of Baltimore and Governor of Maryland, has all but announced his presidential campaign. With frequent visits to early primary states, a recent op-ed on Wall Street reform in the Des Moines Register, and a bold stance against the Bush and Clinton dynasties during an ABC News interview, he has positioned himself to the left of Clinton for the Democratic nomination. While Hillary is certainly the current favorite, an O'Malley campaign will showcase his record in Maryland -- bringing college affordability and student debt to the forefront.
Throughout his two terms as governor and in recent speaking engagements in Iowa and South Carolina, O'Malley has used bold language to denounce the crippling student debt that keeps young people from buying homes, starting businesses, and otherwise investing in the American economy. He penned a 2014 essay on The Huffington Post called "Making College More Affordable for Families" in which he highlighted his higher education record in Maryland and said Americans "have to do everything we can to ensure each graduate walks across that stage into a brighter future free of the tangled web of loan debt."
In Maryland, state college tuitions were the eighth highest when O'Malley began his first term as governor in 2007. By 2014 they had fallen to the 27th most expensive. O'Malley did this by freezing state college tuition for four years and then holding tuition increases to 3 percent or lower after that. He increased funding for higher education by 34 percent between his first and last fiscal budget as governor, all during an era of cutbacks in state funding for universities and steep tuition hikes across the country. Washington Post columnist Reid Wilson declared Maryland the best state in the country for keeping college costs relatively stable in 2014, attributing the state's success to O'Malley's efforts.
He has been bullish on interest rates as well. "It's outrageous that you can buy a home for a lower interest rate than you can get a student loan," O'Malley was quoted as saying in the Washington Post. "We need some very, very serious consideration to making it easier and to find a way to refinance a lot of the debt that kids are under today."
While O'Malley hasn't yet suggested any specific actions designed to promote forgiveness or refinancing of student loans on a national scale, his similarities to Senator Elizabeth Warren -- and his desire to capture the allegiance of those who wish she were running -- could predict a similar commitment to student borrowers. O'Malley is expected to formally announce his candidacy for the Democratic nomination in May.
To learn more about what private sector options are available to help graduates with student debt save, visit Credible.