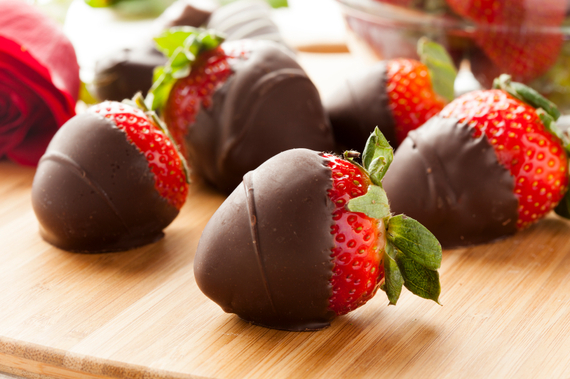 A little romance never hurt, right? This Valentine's Day before you buy those wasteful greeting cards or make expensive dinner plans, consider something more personal. With the help of my friend and food blogger Samantha Grasso at The Homegrown Tomato, I present to you Beats & Eats. I first introduced this concept back in 2013 when I hosted a music site of my own. Every holiday I presented a music playlist and paired it with a recipe by The Homegrown Tomato. Since it is almost Valentine's Day, I decided to reintroduce the concept and showcase one of Samantha's quick and simple desserts. Besides, what's Valentine's Day without a little chocolate, right? If you are looking for a dinner recipe, consider The Homegrown Tomato's delicious 3-Bean Chili.
Okay, let's get started and set the mood with a smooth groove. I have complied a 5-track playlist below with music to compliment your date. You can stream the full playlist below.
Taylor McFerrin - Already There (featuring Robert Glasper & Thundercat)
While Flying Lotus was making waves with his "You're Dead!" album Taylor McFerrin quietly released his groundbreaking debut, "Early Riser" on Flying Lotus' label Brainfeeder. The standout track, "Already There" features bassist Thundercat and Grammy Award winning pianist Robert Glasper. The electro-jazz feel is great for any day and this album should be added to your collection. I would argue that it was one of the best albums in electronic music last year.
Nujabes - Beyond

If you're a fan of '90s producer DJ Krush, then you should certainly be aware of Nujabes. Unfortunately at the height of his career the Japanese producer died in a tragic car accident. Nevertheless, his legacy will continue with his smooth hip-hop beats often featuring vocals by Japanese singers. He even remixed Nas' classic single, "One Love."
Gold Panda - Fifth Avenue
Gold Panda's "Fifth Avenue" reminds me of a walk in the park. Whether you are having a picnic outside or opting for your cozy dining room, this track is so atmospheric it is sure to set the tone.
Flako - Lion's Mane (featuring Dirg Gerner)

I am obsessed with Flako mostly because crooner Dirg Gerner is often singing on his tracks. I also loved his work with Fatima on her Yellow Memories album. The British producer just released a single titled, "Kuku," but "Lion's Mane" is more fitting for our mood. The shift in tempos will keep you listening, but won't overpower your romantic ambiance.
Bonobo - Emkay (Live)

Let's end with a bang! If you missed Bonobo's "The North Borders" tour back in 2013 you can experience the full show by taking a listen to the live album. The tour featured Bonobo's full band and singers Szjerdene, Andrea Triana and Cornelia all make appearances. This live version of "Emkay" proves that Bonobo is much more than a producer, but a talented composer and performer as well.
Take a listen as we prepare our dessert.
Chocolate Covered Strawberries by The Homegrown Tomato
Ingredients: 1-2 cups of dark chocolate chips, depending on how much you are dipping (60% cocoa or darker).
Optional things to dip: 1-quart fresh strawberries, whole, raw or roasted unsalted almonds or whole sliced bananas.
In a double boiler, melt your chocolate over medium-low heat. If you don't have a double boiler you can improvise. To do this, fill a large pot with a few inches of water, and set a smaller pot, in this case a steamer insert, into the large pot. Make sure the water is high enough in the large pot to submerge the bottom of the smaller one. (If you are using a small pot, and not a steamer insert for the second layer, add some water into the small pot as well.) Finally, nest a small glass or other heatproof bowl into the second pot of water, and fill that with chocolate.
This type of heat transfer allows the chocolate to melt slowly and stay warm without boiling, keeping it nice and smooth!
Continue heating the chocolate until it drips right off the end of a spoon.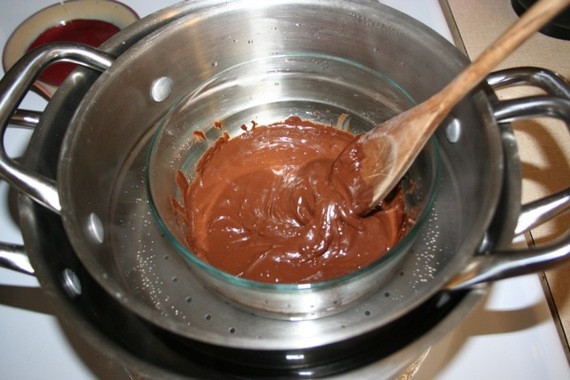 Once the chocolate is melted, dip anything! For strawberries, almonds and banana slices, dip right in and twist each piece as you are pulling it out to coat evenly and prevent drips.
Lay everything flat on wax paper or aluminum foil to cool.
Enjoy with a your sweetheart, friends or family. Don't forget the champagne!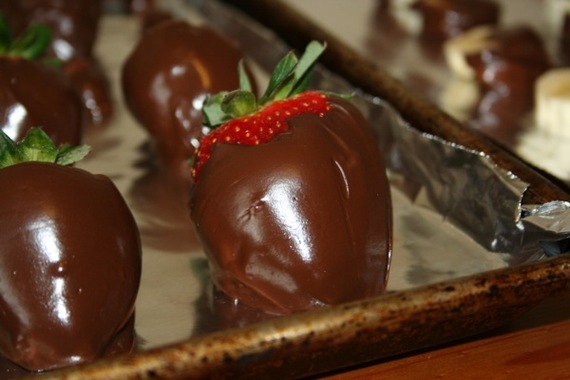 Need a longer playlist? Consider my "Ride the Beat" playlist via Spotify.
Want more Beats & Eats? Follow the blog online.