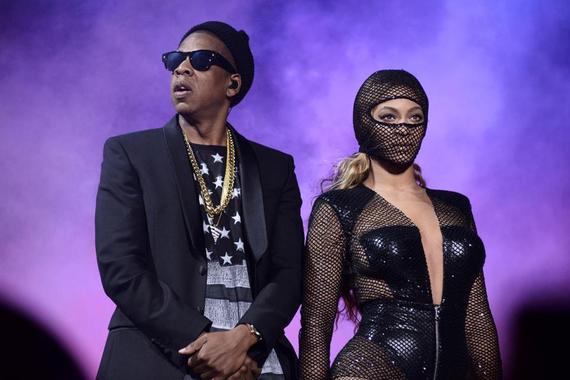 MASON POOLE/INVISION FOR PARKWOOD ENTERTAINMENT
Beyonce and Jay-Z prove that being in love is a wonderful feeling that everyone deserves. Despite the internet rumors, their endless love is clearly the central theme of the duo's joint stadium tour On the Run which hit Gillette Stadium last night. The dynamic pair is best known for appearing as music's ultimate power couple who on camera seem to be perfectly in love. However, last night between the lights, action and playful affection, they also showed that love is a beautiful process that requires work. Thanks to the now famous elevator fight, we all know that Bey and Jay are not as picture perfect as we might have thought, but in a way that is what this tour is all about. Between all the big hits and high paying partnerships, Beyonce and Jay-Z have worked through a lot. In On the Run they finally invite us into their story, or should I say we finally started listening.
The Beyonce and Jay-Z relationship is now 12 years strong. This means that both of their music over the past decade has revealed more than what the cameras show. In "Resentment" from Beyonce's 2006 album B'Day she clearly sings about infidelity with such sincerity you can only image it is coming from a personal experience. During the show last night she even changed the lyrics to reflect her marriage and sang the tune wearing a wedding veil. Jay-Z has also had his share of heartbreaking lyrics too. Remember that song "Lost One" from his 2009 album "Kingdom Come"? He was clearly talking about a breakup that could have easily been towards Queen Bey. Instead of singing this one, he went for "Song Cry" to allow viewers to connect with his emotional side.
Regardless of any troubles in their real relationship, on stage they proved that through it all the love remains. True love was particularly celebrated as Beyonce sang almost every lyric to her husband's songs and Jay-Z often encouraged his wife's stage presence shouting, "Oh yes! She's really bad!" As the concert ended with family photos, long hugs and a mash-up of their hits, "Forever Young" and "Halo" you feel a bit closer to The Carters. As you watch the entertaining show all of the fairytale beliefs that they are perfect can clearly be put the rest. Instead what we see is that they are much like the rest of us. They used this beautifully arranged tour full of our favorite songs to remind everyone that love isn't perfect, but when it is good- It is a really special thing.
Here's to 12 more years of Bey and Jay!