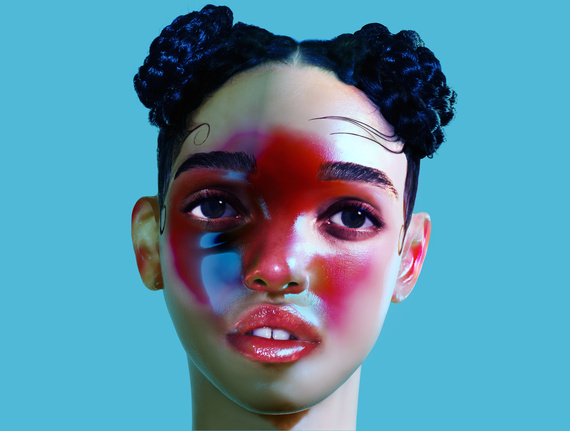 FKA Twigs hates to be called alternative R&B. In a recent interview with NME she said: "I love annoying sounds, beats, clicks... I don't see anyone else doing that now. It's got loud noises in there, the structures aren't typical, it's relentless. It's like punk; fuck alternative R&B!" The English singer may seem a bit dramatic about the comparison, but she does make a good point. The production on her full-length debut, "LP1" is quite unique and is a far leap from R&B. Instead FKA Twigs is guiding the way to a new vibe in electronic music with her slow and steady punk inspired rhythms.
"LP1" has a smooth dark ride like the Portishead tracks "Roads" and "Over". Yet, it also delivers vulnerable and sassy sing-along lyrics like Aaliyah did on "One in a Million" back in 1996. Despite the similarities "LP1" is already a standout record of 2014, and the 26-year-old singer is playing a lead role in the entire process. She is not only the songwriter, but also her own music producer and video director. This kind of creative control is becoming a bigger trend in entertainment, but not many artists can do it quite like FKA Twigs.
Twigs' earlier remarks are probably because she would hate to be shoved into a box with rising alternative R&B artists. Unlike BANKS, SZA and Kalela, Twigs emerges into a new artist with every song and video. Her approach is not focused on precise song structures and harmonies, but instead it is a musical ride that is full of constant surprises. Her production compliments her voice, which at times can simply act as a sample rather than the usual verse, chorus format that most artists use.
Twigs' desire to not blend in is the kind of quality stars are made out of. Whether you call her alternative R&B, punk or electronic, FKA Twigs is the future. She is an artist we should all be watching closely even if she does become the next Mrs. Robert Pattinson.
Check out her latest videos below and decide for yourself. Is FKA Twigs the next big thing in music? Will she finally make everyone stop twerking? I hope so!