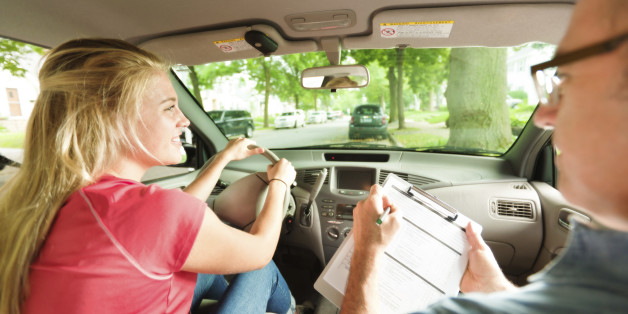 With the start of a new school year upon us, it may be parents who are most in need of education... at least when it comes to teen driving.
New research from SADD (Students Against Destructive Decisions) and Liberty Mutual Insurance highlights the fact that many parents are engaging in exactly the same unsafe driving practices they warn their children about, including texting and driving, driving after consuming alcohol and not wearing a seat belt while operating the car.
According to the survey, here's how the numbers break out on parents who admit to these behaviors.
• Talking on cell phone while driving: 86 percent
• Speeding: 80 percent
• Texting and driving: 40 percent
• Driving after consuming alcohol: 34 percent
• Driving without a seat belt: 21 percent
They're not good.
Why? Because research shows that teens often replicate their parents' poor driving behaviors, according to David Melton, Liberty Mutual's managing director of global safety. He adds, "It's critical for the safety of everyone on the road that parents be a model for responsible driving whenever they are behind the wheel."
Just as alarming, parent drivers often engage in these unsafe practices while their teens are in the car. For example, 58 percent of teens say they have witnessed their parents' texting and driving and 41 percent report seeing their parents drive without a seat belt.
Sadly, many teens say their parents continue these unsafe habits behind the wheel even after they are asked to stop, an effort parents themselves affirm.
• 40 percent say their teen has asked them to stop driving without a seat belt
• 33 percent say their teen has asked them to stop texting and driving
• 26 percent say their teen has asked them to stop speeding
• 23 percent say their teen has asked them to stop posting social media updates while driving
According to the survey data, parents may not be taking these requests to heart. While the majority (84 percent) of parents say they change their driving behaviors when asked, nearly half (41 percent) of teens report that parents do not change their driving habits when requested to do so by their teens. Even more concerning is that more than a quarter (28 percent) of teens report that their parents even justify why they should continue to engage in unsafe behaviors behind the wheel, while 12 percent report that their parents ignore them completely.
Given the fact that the majority of teens learn to drive from their parents, open dialogue about safe behaviors on both sides is critical. If parents aren't setting the right example for safe driving every time they're behind the wheel, it's probable that teens will learn and mimic those risky behaviors.
It's likely that those are not the lessons we want them to learn as opening bells ring throughout the land.