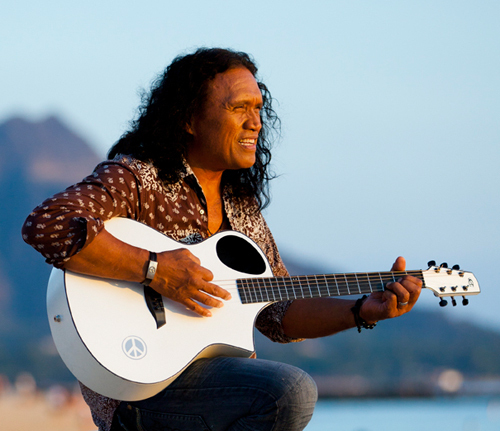 Hawai'i opens its hearts and pockets December 15 to give aid to the Philippines in a telethon of island stars, sending out the aloha from the Great Lawn of the Hilton Hawaiian Village. The legendary Henry Kapono and his wife Lezlee have reached out to assemble an amazing array of island talent for an awesome Sunday of music. Headliners include Kapono, Kalapana, Jake Shimabukuro, Makana, and Amy Hanaiali'i Gilliom (a more complete list below). Local luminaries and stars from Hawaii 5-0 will make appearances and staff the phone banks, along with Hawaii-born Iron Chef Mark Dacascos. Filipino-American YouTube sensation AJ Rafael will also fly in for a guest appearance. The show will be broadcast live on Hawaii TV and radio, nationally on Clear Channel's iHeartRadio station, and live across cyberspace by special arrangement with YouTube on http://www.SoulSessionsUSA.com
The devastation of typhoon Haiyan moved executive producer Jon Brekke and friends to reach out in their fourth relief benefit, a series that began with Kokua for Katrina to benefit New Orleans after Hurricane Katrina. At the time of Katrina, Kapono had his restaurant at Aloha Tower and Brekke was creative director at Oceanic Time Warner.
"When Katrina hit," Brekke relates, "I was in tears watching those people on the roofs and at the stadium dying of thirst. I was heartbroken. I picked up the phone and called Kapono, and he said yeah, I'm thinking of doing something. Three days later it had grown into a telethon, and we did it, a telethon in 12 days."
At the close of Kokua for Japan, after the Fukushima quake, 1.6 million dollars had been raised, which is a significant amount when one considers that it comprises a dollar for every man, woman, and child in the state. At the time, it was a full 1 percent of giving from the entire globe. The event was nominated for a VH1 Do Something Award.
"It's a big undertaking but we get such good response that it makes it worthwhile," Kapono explains, "putting positive energy into something that's a negative for other people."
Now, years later, Brekke and Kapono both have moved on to other projects, but they retain this ideal of kokua, and they step up when extreme events happen. "Kokua" is a deep Hawaiian concept of giving help, relief, or aid. Isolated on the most remote archipelago on the planet, the indigenous Hawaiians had to learn to pull together to survive.
Kapono explains, "Kokua is giving from the heart without expecting anything in return but that it helps others."
Brekke, the Kapono family, and the others working to put this on receive no compensation. The previous telethons channeled money via the Hawai'i Red Cross.
"The Hawai'i Red Cross is sort of lean and mean," Brekke says. "It's not like a corporate national sort of thing. They're much more streamlined getting the money where it needs to be. And with 230,000 Filipinos in Hawaii, this money is definitely going to get where it needs to go."
This telethon adds Fil-Com, a Filipino community association, and other organizations already providing relief on the ground to the list of recipients. The need is massive, and will take many hands to mend.
The drawing power for the Kokua show is the music, of course, and the program is powerful. Locally and globally, love for Hawaiian music will make this a highly successful fund-raiser.
"Music is a powerful source of love and giving," Kapono explains, "and just making people feel good about what they're doing and why they're there."
This is the second telethon to be broadcast on iHeartRadio and the first to be broadcast outside the islands via YouTube, on the www.SoulSessionsUSA.com stream.
"I imagine we will have people in the Philippines gathered around whatever they have, an iPhone or computer, and watching the artists on the YouTube broadcast," Brekke says. "It's great that we can send this show out on the internet so people there can enjoy some great music from Hawai'i."
Sunday's show will be musically marvelous, and elevates the values of kokua and aloha to the global stage. These living concepts make Hawai'i an exceptional environment of compassion and cooperation, and the world could certainly use more of these.
"I've always felt that Hawai'i is the heart of the planet because we're always doing something good for somebody," Kapono reflects. "It's just the aloha spirit.
Featured artists:
Henry Kapono, Kalapana, Jake Shimabukuro, Amy Hanaiali'i Gilliom, Raiatea Helm, Sean Na'auao, Loretta Ables Sayre, Kalei Gamiao, Kuana Torres Kahale, Aidan James, Da Braddahs, Roman/Kolohe Kai, Rebel Soujahs, Natural Vibrations, Jordan Segundo, Starr Kalahiki, Honolulu Jazz Quartet, EMKE, and Sing the Body
At the phone banks: an array of island luminaries and principle cast members from Hawaii 5-0
A Hawai'i Benefit Concert to Support Philippine Victims of Typhoon Haiyan
12/15, 12-5PM, Hilton Hawaiian Village Great Lawn
Simulcast on iHeartRadio nationally and YouTube at SoulSessionsUSA.Com
http://www.kokuaforthephilippines.com/