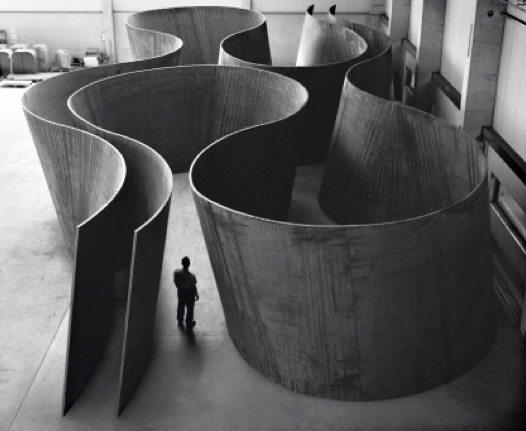 Richard Serra, Inside Out, 2013, Weatherproof steel 158 x 982 x 482 1/2 inches, Shot before delivery to this exhibition venue: Richard Serra/New Sculpture, Gagosian Gallery, West 21st Street NY, NY, October 26- February 8, 2014
Photo by Lorenz Kienzle
I can't think of a better way to open myself up to the slings and arrows of rebuke than making a top ten list like this. But someone did ask me to list the five best 2013 exhibits off the top of my head. I took them up on that and then added five more. If memorability is in fact, as Henry Geldzahler claimed, a good measure of aesthetic goodness, then perhaps this list is of some worth. So here goes...my top ten contemporary art exhibits in 2013. No ranking is intended in this list beyond just making the cut. My servitude to pop culture convention only goes so far.
1. Carnegie International Exhibition
Nicole Eisenman Survey in the Hall of Sculpture
Carnegie Museum, Pittsburgh, PN
Carnegie Museum October 5, 2013 - March 16, 2014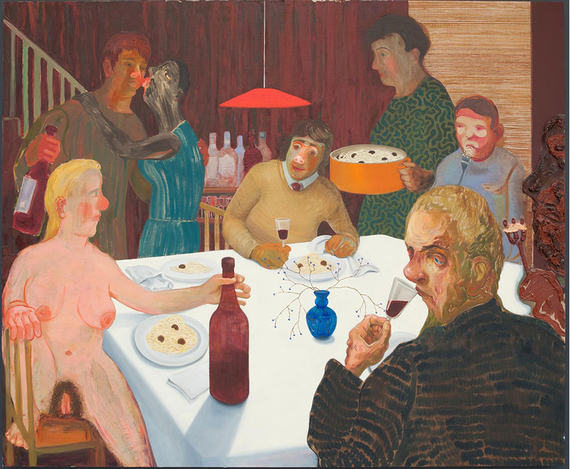 Nicole Eisenman, The Sunday Night Dinner, 2009 42 x 51 in. oil on canvas, Collection of Arlene Shechet and Mark Epstein, Courtesy Carnegie Museum
The highlight of this well-conceived iteration of the Carnegie International is the survey of Nicole Eisenman's work from the past two decades. She was the winner of this year's Carnegie Prize. Work such as The Sunday Night Dinner has placed Eisenman as one of the most important 21st century expressionists who cast back to the roots of expressionism without evoking the weaknesses of 1980's Neo-expressionism.
To see more paintings :
http://ci13.cmoa.org/artists/nicole-eisenman
2. James Turrell
Solomon R. Guggenheim Museum, New York,
June 21-September 25, 2013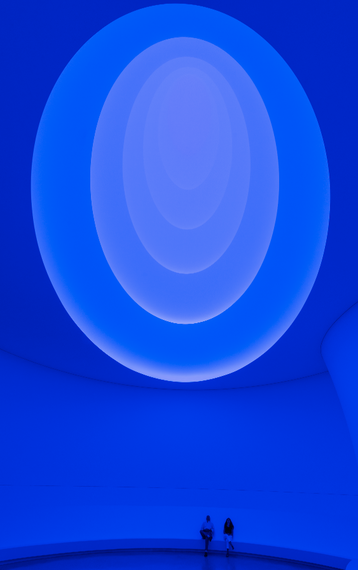 James Turrell, Aten Reign, 2013, Daylight and LED light, dimensions variable, installation cycles through the color spectrum in an hour. © James Turrell
Installation view: James Turrell, Solomon R. Guggenheim Museum, New York,
Photo: David Heald © Solomon R. Guggenheim Foundation, New York
Given a fair chance, James Turrell's gigantic installation in the Guggenheim rotunda had power to invoke sublime feeling in a communal experience. His Aten Reign ran the full height of the rotunda: five huge concentric orbs of gradated light that enclosed the ocular skylight. In hourly cycles the lights ran the full range of spectral hues as daylight streamed down through the artificial rings of light. Sure, if we just look out into space we can set our limited intellects out on a head-on crash with the infinite and the incomprehensible. But how often do we do that? A little more spectacle (like Aten Reign) added to the familiar spectacular can jar us into this good-for-the-soul state. Aten Reign was the astonishing appetizer that casts back to the sublime proposed by Kant -- one that has transcendence. This is not the empty kitsch/hubris spectacle set up to fail and call itself into question. So bring on the main course. The world still awaits Turrell's Rodin Crater.
See video here: http://www.guggenheim.org/turrell
3. Eija-Liisa Ahtila: Olentoja (Creatures)
Davis Museum at Wellesley College,
Wellesley, MA
Exhibition run: Sep 18 - Jan 5, 2014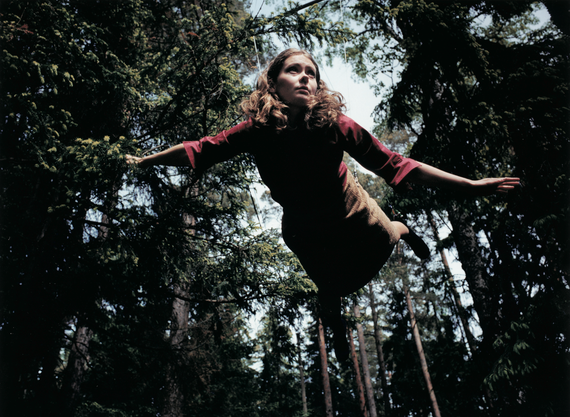 Eija-Liisa Ahtila,The House, 2002, 14 min DVD installation for 3 projections with sound
Copyright Crystal Eye Ltd, Helsinki, Courtesy of Marian Goodman Gallery, New York and Paris
Finnish artist Eija-Liisa Ahtila has been a figure in the vanguard movement re-imagining film art into multiple screen pieces with cinematic production values. This exhibition of her key works included House (2002), one of the best pieces in the movement. This work demonstrates that beauty and transcendence do not have to be put into the satirical air quotes of postmodernism to be critically and aesthetically relevant.
Click here for the full review.

4. Laura McPhee: River of No Return
Kemper Contemporary Museum of ART,
Kansas City, MO.
May 17-September 22, 2013



Laura McPhee, Mattie with a Northern Red-Shafted Flicker, Laverty Ranch, Idaho, May, 2005, chromogenic print, 96 x 72 inches, Collection of the Alturas Foundation and courtesy of Carroll and Sons, Boston ©Laura McPhee
The Kemper Museum of Contemporary Art again showed its extraordinarily good judgment in featuring the work of Laura McPhee. She is a final holdout in the line of great large format photographers using the 8 by 10 camera and pulling prints with traditional chromogenic chemistry. River of No Return featured twenty-three beautiful mural sized (6 by 8 feet) prints that were photographed over several years in the ranch land and wilderness of central Idaho. An exceptional inclusion, Mattie with a Northern Red-Shafted Flicker, is a fresh and relevant iconic image that is resolute and easy to love, even without backstory. Here the cliché of winged beauty ceases to be cliché in the hands of Mcphee.
Click here for the full review.
5. Nicolas Consuegra
Gallery Booth for La Central Gallery, Bogota, Columbia
Miami Beach Art Basel
Dec 4-8, 2013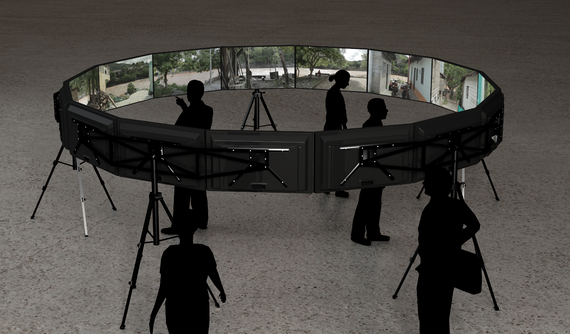 Nicolas Consuegra, The Water That You Touch is the Last of What has Passed and the First of That Which Comes, 2013, 15 channel video, Courtesy La Central Gallery, Bogota, Columbia
The La Central Gallery dedicated all of its Art Basel space to Nicolas Consuegra's 15-channel video installation that, to my eyes, was the best extended cinema piece in Art Basel Miami (and the satellite fairs) this year. The Water That You Touch Is the Last of What Has Passed and the First of That Which Comes chronicled the Magdalena River as it runs through a depressed small town outside of Bogotá. Presented as a moving ring, the river becomes a sensual emblem of rushing infinitudes and potential for a town that is in socioeconomic stagnation.
See it here: http://vimeo.com/81408376
6. Benjamin Degen / Shadow Ripple Reflection
Susan Inglett Gallery
Chealsea, NY
24 Oct - 7 Dec, 2013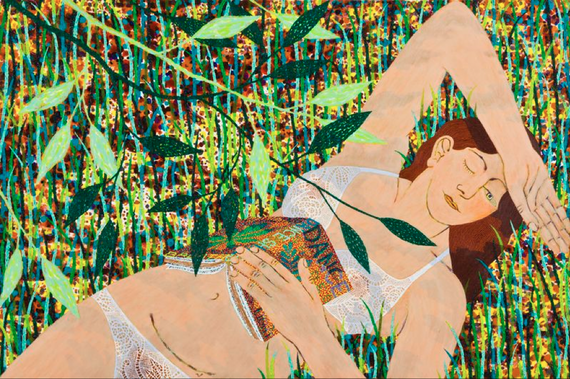 Benjamin Degen, Dapple, 2013, Oil on linen over panel, 36 x 54 in.
Courtesy: Susan Inglett Gallery, NYC.
With Shadow Ripple Reflection, an uplifting exhibition of eight new paintings, Benjamin Degen showed us that he is better than ever. These works skirt bravely close to cliché: sunshine, youthful figures lounging, reading, swimming, setting out and returning. But they take positive hold on the memory because they seem so unfamiliar in the fanatical and web-like detail in the non-flesh passages. In the most complex sections it is as if the pigment spun from spinnerets of a spider. The work may nod toward Matisse, Bonnard, Seurat, Renoir and Gauguin, but it is absolutely recognizable only as itself.
See more images here: http://inglettgallery.com/works.php?id=59
7. Ai Weiwei: According to What?
Pérez Art Museum Miami (PAMM).
Dec. 4, 2013 - March 16, 2014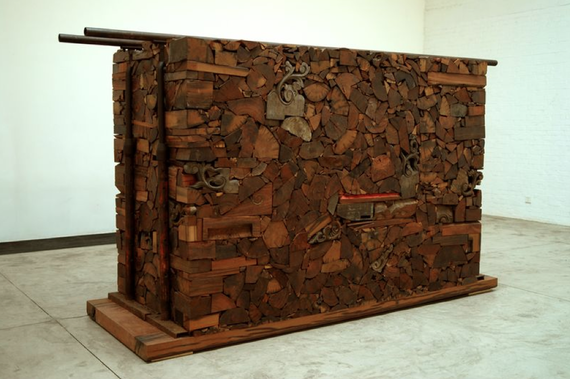 Ai Weiwei, Kippe, 2006, Tieli wood (iron wood) from
dismantled temples of the Qing Dynasty (1644-1911) and iron parallel bars,
Collection of Honus Tandijono, Image courtesy of the artist
Of course Ai Weiwei makes the list. Most are familiar with his best pieces, but this is the first time an extensive survey of his work has landed in the States. According to What? went first to The Hirshorn in Washington D.C., and an equally rich iteration was mounted to inaugurate the new Pérez Art Museum Miami (PAMM). The exhibit runs through March 16, 2014. It includes some of Ai Weiwei 's best sociopolitical work from the last twenty years and is directed at his native China and the world at large.
The exhibit includes Weiwei's most intense pieces, those that use found materials. For example, in Straight (2008-12), 38 tons of steel rebar was salvaged from school buildings in the aftermath of the 2008 Sichuan earthquake. The piece remembers the greed and corruption in the criminally shoddy construction of the buildings. Ai Weiwei straightened every piece and had it laid out in massive waves along the gallery floor. In another work, Kippe (German for "precarious balance"), Weiwei remembers the loss of cultural treasure in the name of the new China. In the piece he has reclaimed iron wood (a gorgeous wood of astonishing density) from the destruction of a Qing Dynasty temple. It is presented as beautifully stacked firewood. It remains unglued, held together by an old playground set of gymnast parallel bars. The work is as smart as the best of Duchamp, perhaps even more so, for its beauty and its social conscience.
Hear a podcast on Kippe :
http://www.hirshhorn.si.edu/collection/ai-weiwei-according-to-what/#detail=/bio/friday-gallery-talk-assistant-curator-mika-yoshitake-on-ai-weiwei/&collection=ai-weiwei-according-to-what
Hear NPR podcast on the Hirshorn Exhibition:
http://www.npr.org/2013/01/23/169973843/in-according-to-what-ai-weiwei-makes-mourning-subversive

See the video on Weiwei's work in the 2013 Venice Biennale here:
http://www.youtube.com/watch?v=USz6UG6J_gA#t=16

8. Li Songsong/We Have Betrayed the Revolution
Sept 19, 2013 - Nov 09, 2013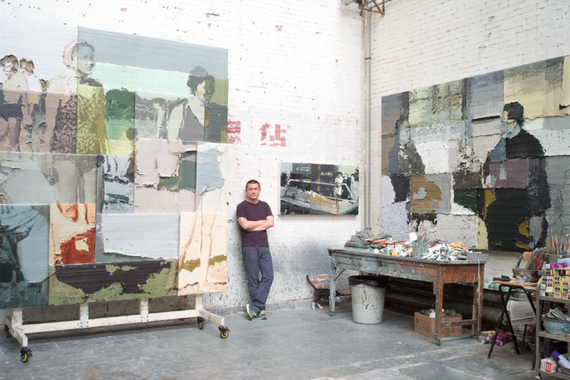 Li Songsong in studio preparing for his Pace Beijing solo show: Li Songsong/We Have Betrayed the Revolution, September 19 through November 9, 2013, Courtesy Pace London,
Photo: Hu Xixiang
This Pace Gallery, London exhibit reaffirmed Li Songsong as one of the most important painters in Beijing today. These recent paintings are gigantic with a signature mortar-thick texture that reconstructs enigmatic essences of appropriated images in patchwork fashion. With social conscience, the work remembers bits of the collective memories of China that have current political relevance. The paintings are admirably ambiguous both in content and form. Heavy materiality contradicts merging details/tonalities, and one easily shifts back and forth in thinking of the imagery as in a state of formation or dissipation. In an interview on the occasion of this exhibit he told me the following concerning paint thicknesses that extend two inches or more: "Texture is my way to fascinate myself into the boundless personal works. First of all, before the image speaks of the 'meaning', texture already exists. It is exactly this sense of presence that makes me agree with and devote myself into work."
See the exhibit here:
http://www.pacegallery.com/london/exhibitions/12598/we-have-betrayed-the-revolution
9. Richard Serra: New Sculpture
Gagosian Gallery West 24th Street, NY, NY
Through March 15, 2014
Gagosian Gallery West 21st Street NY, NY
Through February 8, 2014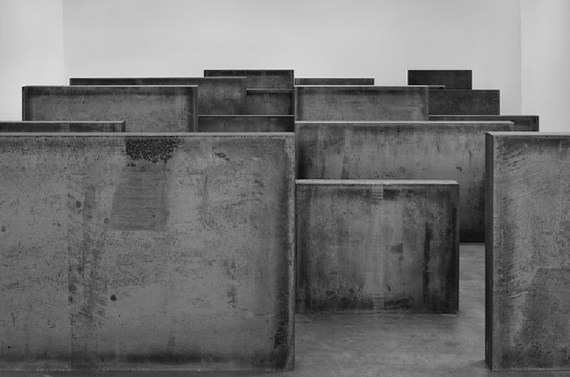 Richard Serra, Intervals, 2013, weatherproof steel, 24 plates, varied sizes
Photo by Tom Powel
See more images here:
http://www.gagosian.com/artists/richard-serra/selected-works
One would think that Richard Serra would have a hard time living up to his previous accomplishments, with, for example, two New York MOMA retrospectives in the last 25 years. But this year's two-gallery Gagosian exhibit proved that the artist is not resting on his laurels. All of this work was made in 2013! Gagosian 21st street had the easier solution to poetry incarnated in untold tons of steel with serpentine shapes. Gagosian 24th street took on more difficult territory with rectangular slabs. Remember the notorious slab, Tilted Arc, and 1989, the year it was removed from a NYC Federal building plaza. Perhaps it would have fared better inside the building. I have always favored the giants indoors; they seem all the more gigantic, dangerous, and impossible. Intervals was one of the best pieces with some of the thickest slabs Serra has ever used. As I listened to an ogler whispering "this is not art," I walked through Intervals and played with the idea of "domino effect" in my mind.
Video excerpt from Tilted Arc trial:
http://www.sfmoma.org/explore/multimedia/videos/90
10. I am concluding by leaving # 10 blank as a way of highlighting my despair over the possibility of not seeing something of great relevance that I would have certainly put on this list. I would love a suggestion in the comments section below.