There are a number of challenges when you are searching for an English-speaking indigenous shaman and a curandera espiritu, or spirit healer, to come to San Francisco to appear on a television program.
One problem is location. Indigenous shamans and spirit healers are highly attuned to the culture, the land, the flora and fauna of their own land and community. They rarely travel abroad, as they are often needed by their indigenous communities. They are most often not willing to get on an airplane, especially by themselves, to spend many hours in flight, followed by several days in a foreign city.
Another problem is language. The elder shamans, at least those with the most experience and credibility almost never speak English, or at least not well enough to be understood by a national American television audience. The same is true for the curandera espiritu, the spirit healers -- you don't just stumble upon them walking around an American city.
So we were truly excited when we were able to find and bring Angaangaq Angakkorsuaq, an English-speaking Eskimo shaman elder from Greenland, who was both willing and able to come to San Francisco and Flordemayo, a Mayan (by birth) spirit healer also willing to come from far away New Mexico. We indeed finally had a program, a uniquely indigenous program.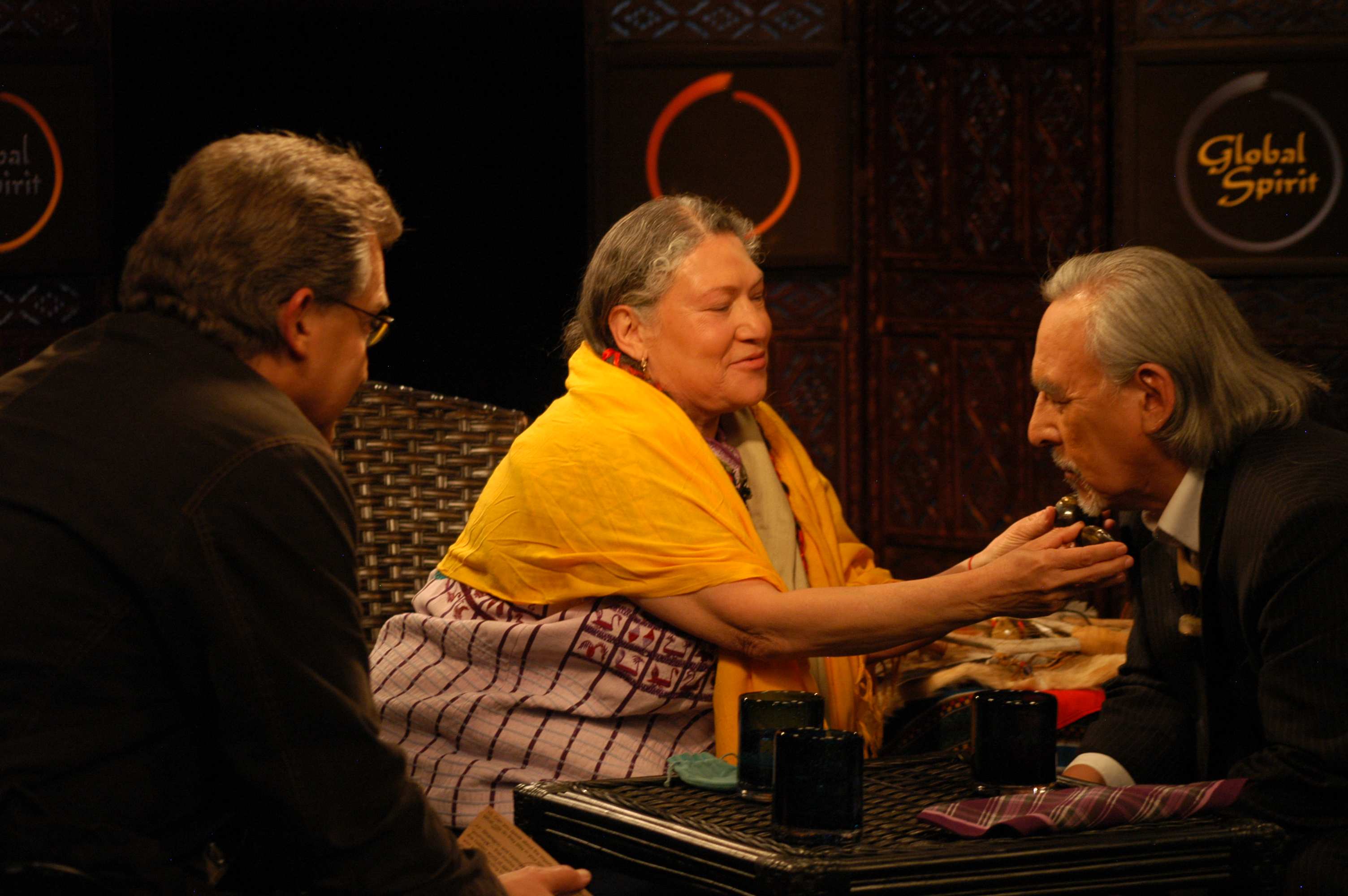 We then thought how great if these two guests could meet each other for the first time right on the Global Spirit studio set, with our cameras rolling. As you may have guessed, the guests bowed and honored each other, then each began with an indigenous prayer and blessing.
Fortunately, our series host Phil Cousineau is well experienced with indigenous peoples and knows how to genuinely listen and how to "let go" at the right moment. On this first season of programs, we've seen Phil, in the midst of an otherwise "normal" conversation, adjust effortlessly to indigenous chants, prayers, rituals, songs and also to sustained silence. In this program, he is completely sincere, as he asks Flordemayo, then Angaangaq: "So, what should our relationship with the natural world be?" The answers are native observations of a planet in crisis: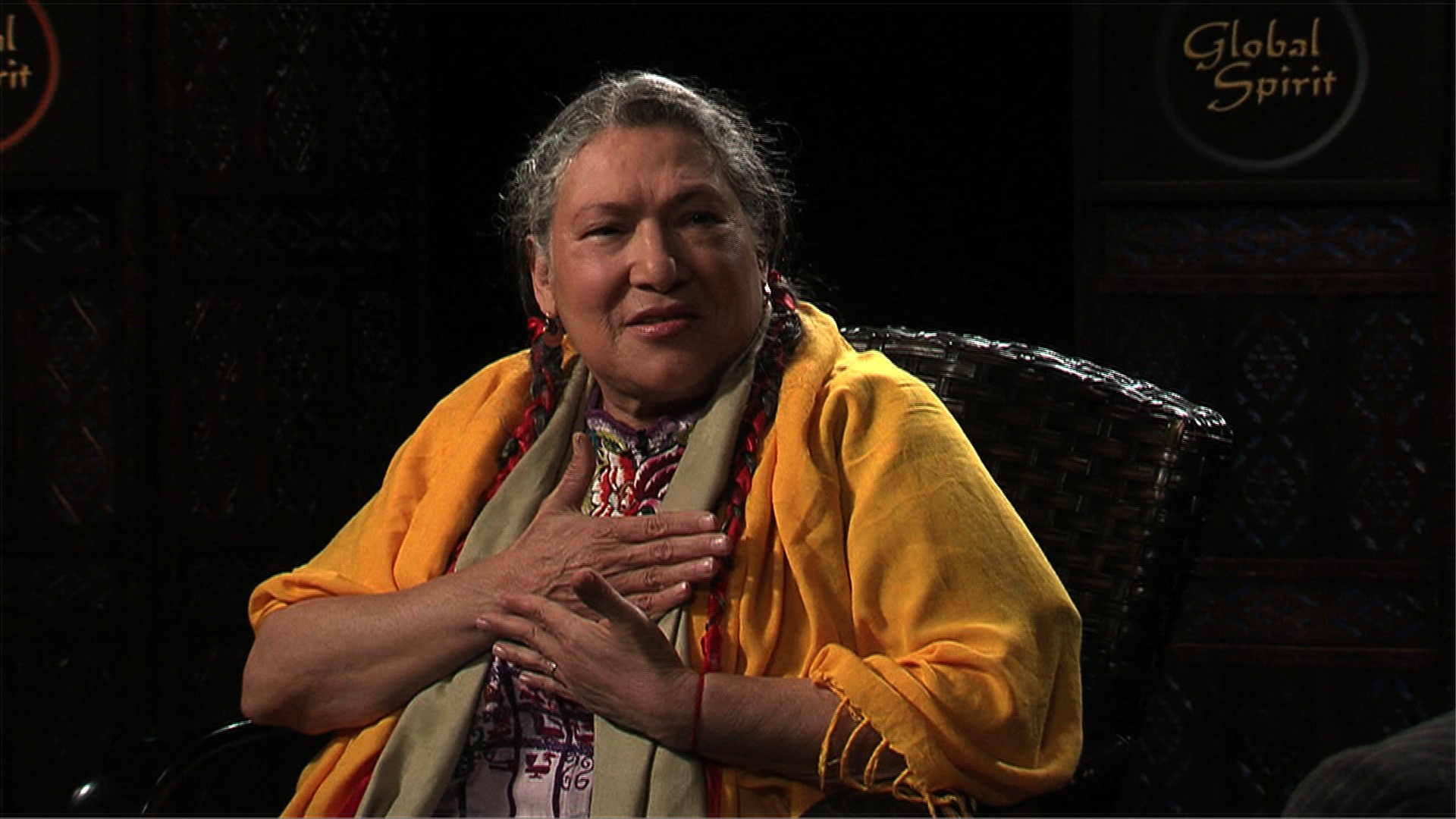 "The earth is speaking to us, but we're not listening. The air is speaking to us, but we're not listening, because we made the conscious choice of closing our hearts. Whenever this happened, I don't know, but right now we don't have the time to lose. We have to become warriors of our own survival. We need to go back and retrieve the knowledge of the old ways. We need to bring that knowledge forth, to bring ourselves back into balance." --Flordemayo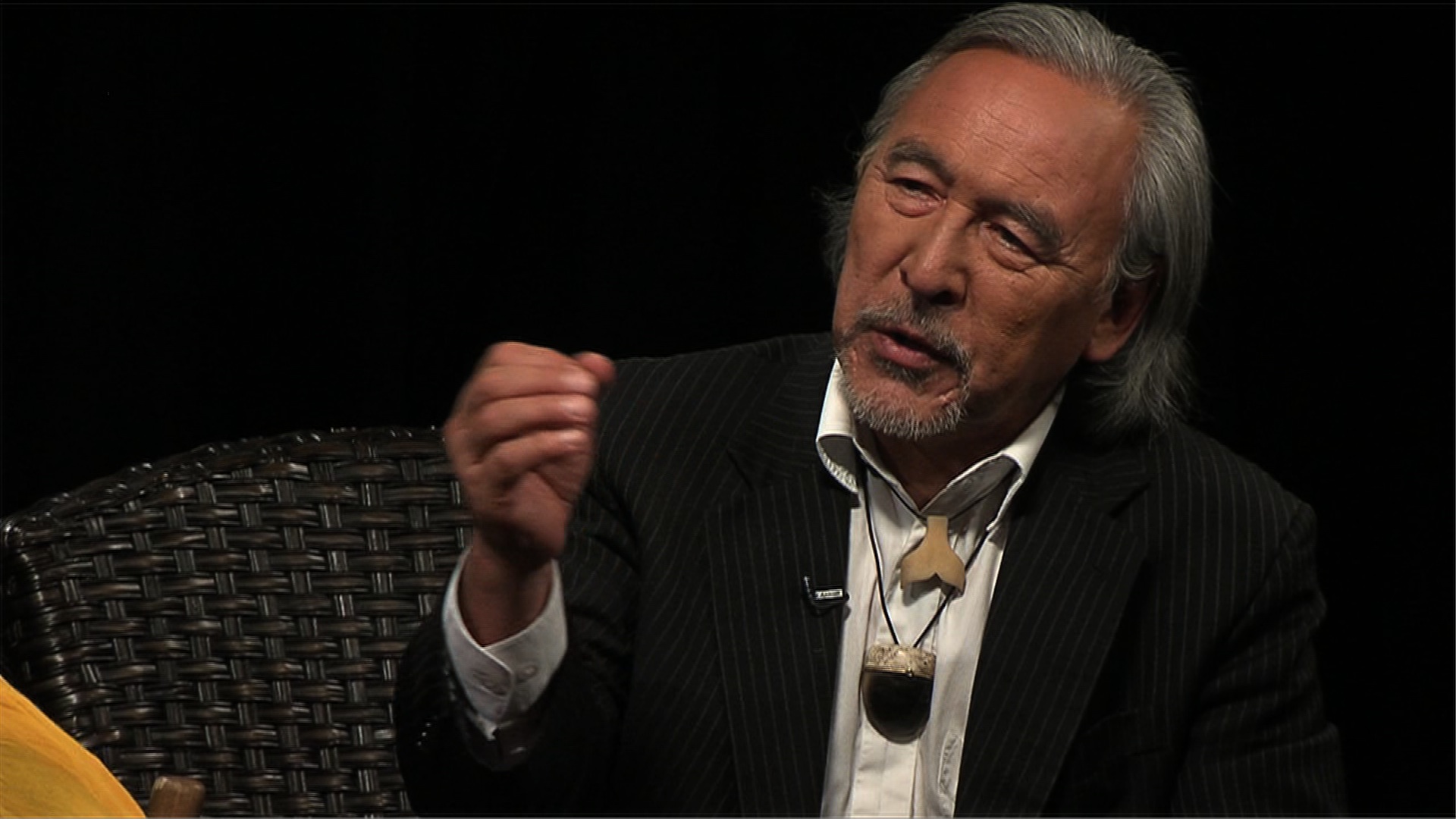 "When you listen to the teachings of my ancestors, they say 'something has to die, before something else can live'. So the old world, the world the way you and I have known it, is coming to an end. It does not matter any more what causes it, and why it happened. My father would say, 'It does not matter any more, the snow has melted anyway.' So that means that all the reasons don't matter. It's happening now anyway. So, in this way we know the calendar is coming to an end. In its place, when you ask them what will be, they will say, 'Nobody knows that, but something else will be born out of that.'" --Angaangaq
The next day, I was filming with Angaangaq under the Golden Gate Bridge, as he played his ceremonial drum and sang out to the seals and sea lions. They heard his Qilaut drum, an instrument used for speaking with the Creator and animal spirits, then popped up their heads, seeming to sense this sound so primal and ancient. To my amazement, they swam directly toward him, as if they somehow knew the same shamanic "code" as their distant relatives in Greenland.
Later that same day, in a forest of old-growth redwoods, Angaangaq and Flordemayo, moved by the sheer power of the forest, shared insights and a deep connection with each other, with the redwoods and with the earth. Through the cameras viewfinder, I remember smiling as I watched two native elders from different continents and traditions, standing in a hollowed redwood tree trunk, humming together and holding each other, somehow brought together through the unlikely vehicle of television.
This video sequence is from the Global Spirit program: "The Shaman, The Spirit Healer And The Earth," now showing on many public TV stations (check local broadcast schedules at www.GlobalSpirit.tv).
GLOBAL SPIRIT is a unique inquiry into humankind's belief systems, wisdom traditions, and states of consciousness. Presented by British actor-comedian John Cleese and hosted by author and spiritual seeker Phil Cousineau, this new series takes viewers on a mind and soul-expanding journey, exploring the relationships between ancient wisdom traditions, diverse belief systems, world religions, metaphysics and modern science.