One of my favorite make-and-do projects for Halloween is crafting a table full of miniature paper baskets, often referred to as "nut cups." These traditional holiday favors have been around since the early 1900s, and although the name sounds quite specific, filling them with candies is also terrific! Decorate your party by stacking them up on cake plates for your guest to take, or drop them into small cellophane bags tied up with festive ribbon for handing out to all those goodie grabbing goblins that will soon be appearing at your door!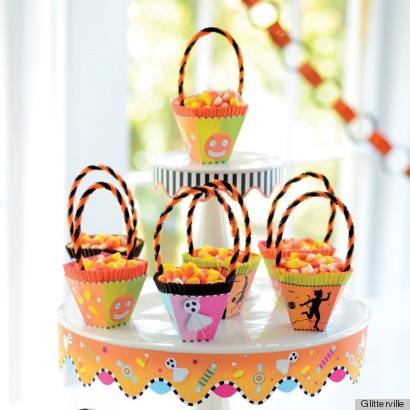 • Downloadable Clip Art (in slideshow)
• White card stock
• White glue or hot glue
• Paper Festooning in various colors, or marabou
• Chenille stems
• Candy or nuts to fill the cups

Tools:
• Printer
• Scissors
• Craft knife
•Ruler

Click through the slideshow to see the steps! All photos and text by Glitterville.
PHOTO GALLERY
Glitterville Nut Cups