One day I was out for a smoothie date with a friend. She's a mom to two young boys, and the youngest wasn't in school yet, which meant she had to be in mom mode all day long. This particular friend was very passionate about many things, loved life and adventure, and enjoyed getting out for some grown up fun on weekends and holidays... just as much as she loved being a mom to these two precious boys.
I remember the day very clearly. We talked a bit about yoga... me mentioning I just couldn't seem to "get into it" for whatever reason, her talking about how much she loved it. She said something to the effect of...

"Whenever I hit the mat, I find myself again...
I feel like, 'aaaaaah, there I am. I'm still here.'"
This struck me to my core, having been "lost" for many, many years. I didn't quite understand the experience she spoke of, but it still resonated deeply.
Fast forward to this past year, just having moved to Colorado and realizing I needed to do something different with my workout routine. I needed to dial it back and try a form of movement that was gentle. So I started walking... and I fell in love. I walked every day for a long time, bringing my boyfriend with me when he was awake or available. But those walks on my own? The ones where I'd pop in my headphones, take to the path and just absorb the beauty around me? Those were the best walks.
I started receiving divine downloads again, something that I hadn't been experiencing for some time. I received poems and blog posts as I walked, started taking pictures, began feeling in my soul what was next for me in life and business, and experienced peace and joy. It was great, until I got busy. Really busy.
It also got really cold, and I didn't make my walks a priority for a good three months or so. A couple weekends ago however, I decided to go for a walk, and you know what happened? I found myself again. As I listened to my music, took in the crisp air and sunshine, and watched the birds fly by, suddenly, there I was again.

I hadn't even realized I was gone.
It can be really easy to lose sight of yourself when life gets busy, stressful or overwhelming. Sometimes it's as simple as starting a new relationship or taking on a new job or responsibility, like a child. We're energetic beings and are easily influenced and affected by the energy surrounding us, or the people in our life.
On that walk, I realized the power of my friend's words and the importance of finding and having those things that bring us back to ourselves, time and time again. Because life is full of twists and turns, varying energy, new connections and constant change. The only way to really ensure you don't lose sight of yourself is to keep in constant contact with your truth, passions and purpose. This is so essential.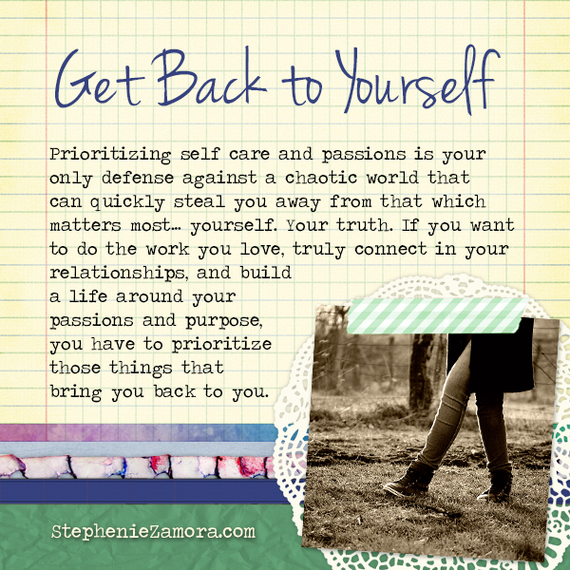 How to Get Back to Yourself

1) Think about the last time you really felt like you.

Even if right now you feel really connected to yourself and your truth, think about what it is that allows you to feel that way. Is it your daily meditation practice or morning routine? Is it yoga, running or taking walks in nature? Is it a certain friend or community that reminds you of your passions and purpose? Is it art or music? Think about when you feel most connected to the divine and your purpose.

2) Make a list of the things that keep you grounded.
Once you have these things, whether it's one or five items, make a list. Get out some markers and bright colored paper and make it eye catching. Put it at the center of your vision board or simply tape it to your bathroom mirror. Do what you have to do to make this list a daily focal point. This list is one of your most important assets moving forward, as it's the key to staying connected to yourself.

3) Prioritize time for these items.
Every single day, do at least one thing on this list. Whether that's a quick 10-minute meditation before you run out the door, a simple entry in your journal on your lunch break, or moving some things around so you can get to yoga once a week, prioritize. Many times these items will seem frivolous and less important than things like family, errands, work or chores, but they're not. They're the most important things in your life right now. If you want to do the work you love, truly connect in your relationships, and build a life around your passions and purpose, you have to prioritize those things that bring you back to you.
Prioritizing self care and passions is your only defense against a chaotic world that can quickly steal you away from that which matters most... yourself. Your truth.
Take action now!
Go through the action items above and make your list. Take a look at your schedule and find the space each day to do at least one thing off your list. If you've been really busy and life is really hectic, this is even more important. It's so easy to lose sight of yourself, and it's up to you to ensure you don't get lost in the day-to-day shuffle.
Leave a comment below and tell me one thing you'll do today from your list.
P.S. Less than one week until Foundations for Unshakable Joy begins! If you feel like you've lost sight of yourself and aren't sure where to begin making your way back, this is the perfect program for you. This transformational 6-week program is the exact foundational process that took me from a stressed and depressed mess, to happy, fulfilled and living a life built around my passions and purpose. It has everything you need, and I'll be there every step of the way guiding you, supporting you, coaching you and holding your hand as you step into your truth, uncover your passions, and begin to create alignment in your life and career.
My promise to you: You'll experience more joy, passion, zest for life and clarity than you've ever experienced before, in just six weeks.
Click here to learn more about Foundations, as well as the incredible bonuses and additional products and programs you'll receive when signing up! Don't wait! We start Monday, February 10th and it's going to be amazing. xo
Stephenie Zamora is the founder of www.stepheniezamora.com, a full-service, life-purpose development, design and branding boutique. Through her Mastery program, she merges the worlds of personal development and branding to help men and women build passion-based lives and businesses they love. Click here to access her free Foundations for Unshakable Joy™ video training series and learn the unexpected trick to transforming your life with one single question!
Connect with Stephenie on Facebook and Twitter!
For more by Stephenie Zamora, click here.