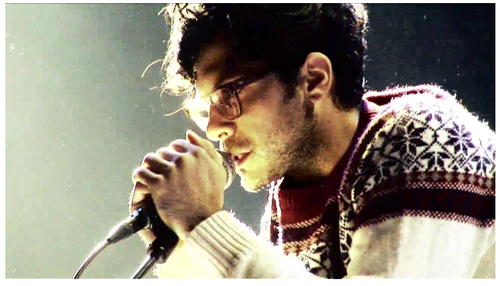 WHY? has no problem being a band you can't pin down. They love pop, indie rock, acoustic ballads, hip-hop beats, and anything you can dance to. On their latest effort, Mumps Etc., WHY?'s frontman Yoni Wolf takes a step back to tackle life's disappointments with a newfound sense of appreciation for the graveness of it all, contrasting the playfully aggrieved tone of his previous albums, yet he hasn't lost his trademark sense for clever wordplay and underhanded irony.
This time around, though, he does it with more beats, more hip-hop, and more maturity. Sickness, death, dancing, the uncertainty of life, and the ultimate metaphor for not giving up when life deals you a shitty hand are all discussed when Yoni Wolf talks to Stereo IQ.
Stereo IQ: You're touring Europe right now. What's the European fan base like? Is it any different from the American fan base?

Yoni Wolf: Our audience is pretty young. That's true for the U.S. and Europe. Sometimes there are people my parent's age, but all in all it's people in their late teens and early-to-mid twenties.
Stereo IQ: Mumps, Etc. just came out. How has the response been?

Yoni Wolf: It's been overwhelmingly positive so far. Some people haven't liked it but it warms my heart that a lot of people are responding to it and it's really nice that they're receiving the work.
Stereo IQ: Your first single, "Sod in The Seed," starts off with, "Let's review some recent facts, I make decent cash, I'm a minor star." Coming off the success of the last two albums, a lot of people are saying this is a new time period for WHY? Do you feel like this is a different time period for WHY?

Yoni Wolf: It's always different; every album is a new time period for me -- physically, geographically, mentally, and spiritually. Every record is a new chapter. I use them to gauge what's going on within me. They sum up a period for me -- what I was thinking about or focusing on during that time. This one is no different than the others.
Stereo IQ: Sickness is a big theme on Mumps, Etc. Some have called it an album about sickness, do you agree?

Yoni Wolf: I wouldn't say it's just about sickness, but that does play a big character. The "mumps" character plays a large antagonist throughout the album, but it's not just physical sickness, it can be mental sickness as well -- negativity, depression, anger -- all those things that can stand in your way from being a healthy person. In the end, the thread is that fight that you have inside, that hope that stays with you through all that stuff. The last track is a statement of intent -- "I'll hold my own death as cards in a deck, when they are no other cards left" ("As a Card"). I'm not folding. I want to come at earth with the heart of an approaching asteroid. I'd like to think that the fight is the protagonist.
Stereo IQ: I want to give my condolences about the passing of your friend Kevin Kegal. I saw your post about a week ago and then there's the track, "Kevin's Cancer." You wrote that before he passed away?

Yoni Wolf: Yes, I finished it early on.
Stereo IQ: Is that song hard to play now?

Yoni Wolf: We haven't played it since he passed. It may be emotional. He was a super positive guy. I was going through health issues at the same time, nothing compared to what he was dealing with. It really put it in perspective for me. It made me realize you have to keep a positive attitude, there's no point of living in a dark shroud of negativity and complaining. It's about taking your life in your own hands.
Stereo IQ: The song also has this idea of living with and embracing uncertainty. Do you think it's possible to live optimistically with uncertainty?

Yoni Wolf: The core is the cancer infiltrating your healthy cells, telling you, "You don't know anything, you're not sure why you're here." I did feel that way. But in positive times, I don't care: I'm just blessed to be here. That's more how I like to look at it. I definitely feel that I am uncertain with why things are the way they are, why we're here at all, but I think its possible to stay positive. You don't have to be angsty to be agnostic.
Stereo IQ: You have a strong Jewish background -- your parents were messianic Jews, your father had a synagogue, and Jewish references are scattered throughout your lyrics on all of your albums. How important is Judaism to you and how does it influence your songwriting?

Yoni Wolf: I'm not religious whatsoever. It had a cultural effect on me. There's a certain vocabulary that I have, that I grew up hearing and I use that in songwriting. I don't have a belief in god, one way or the other. I don't not believe in God. I don't know what that is.
Stereo IQ: For instance, on "Gnashville" you'll reference scripture and on "Berkeley by Hearsebark" you talk about the Maccabees. By using such familiar vocabulary, are you calling something specific into question?

Yoni Wolf: Its stuff that's ingrained in me. I grew up with it everyday so I'm going to use it like the word "fuck". It's just a word that's part of my vocabulary. I'll use it when it's appropriate -- either as a metaphor or trying to create a feeling I have.
Stereo IQ: You once described yourself as a dancer. Judging by your music videos and your live shows, it's clear you love dancing. Do you consider that another form of expression, or is just when you get on stage the music takes you over and you can't help but freak out?

Yoni Wolf: I'm a terrible dancer but I go for it 100 percent. That's what it's all about. I am no way a trained dancer but when the spirit moves me, will I move? Yes.
Stereo IQ: Do you think it has an influence on your audience? Maybe it helps them get into the music?

Yoni Wolf: Maybe some people get into that, but maybe some people look at me think "what a fool." Being on stage is about letting go of all your inhibitions: doing you, being free, being emotive.
Stereo IQ: You've done a few unreleased covers -- Bob Dylan, Pavement, The Cure. Would WHY? ever do a covers album or release a cover on one of their next albums?

Yoni Wolf: I have thought about releasing some sort of covers album at some point. I had such fun on the ones that I did. I play them at live shows, when it's just me. I don't think we would put a cover song on a proper WHY? album. There's a structure to those, from A-Z, and a cover would be weird.
Stereo IQ: Your solo performances, such as the Daytrotter session, are just you and a piano, sometimes covers or sparse renditions of WHY? songs. Would you ever do a Yoni solo album?

Yoni Wolf: Yeah, if I was going to do a covers album, it would just be me on piano. But God knows what our future is.
Check out lyrics and explanations to Why?'s songs on Stereo IQ:
Why? -- Sod in the Seed Lyrics
Why? -- Strawberries Lyrics
Why? -- Jonathan's Hope Lyrics
Why? -- Good Friday Lyrics
Why? -- A Sky for Shoeing Horses Under Lyrics