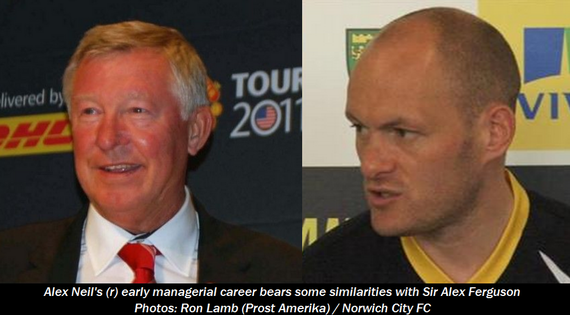 Up until this weekend, many of you will have never head of Alex Neil, manager of newly promoted Norwich City.
There's a fair chance you might not have even now. However if you had cast your eye on Scottish football over the last two years, then you would know all about Neil. And you too would have probably seen at least one comparison with his namesake Alex Ferguson.
Unlike Ferguson, he was an unexceptional player. Like Ferguson, Dunfermline Athletic was part of his playing itinerary. Sir Alex was a Dunfermline player before joining Rangers.
Doncaster born of Scottish parents, Alex Neil was released by Dunfermline before he started his playing career at Airdrie in Lanarkshire as a trainee. In 2000, Barnsley paid £25,000 for his services.
After 83 games in four seasons, he left for Mansfield on a free transfer. In 2009 due to a homesick girlfriend (now his wife), he returned to Scotland, specifically Lanarkshire again. There he donned the red and white hooped shirts to play 207 names for the quaintly named club Hamilton Academicals.
He remained there as a player until he became player/manager on Billy Reid's departure.
Last season he guided Hamilton to promotion to the Scottish Premier League, the very same league from which Ferguson won promotion in 1977 while boss of St Mirren.
Even in the second tier, it was an achievement for Neil as the league contained many clubs with more financial clout. In fact, even when securing second place in the division, Hamilton only managed the 6th largest attendance of 1436 -- and that was with a winning side.
Ahead of them in match day income were Dundee FC with more than triple the gate and Falkirk with 3,114. Morton, who finished bottom and were relegated, still attracted higher attendances.
At half way through that season, the Accies had just 28 points from their 18 games, 14 behind Falkirk, and looked destined to a lower mid table finish. However in a revitalized second half, they collected an amazing 39 points and pipped Falkirk to a second place finish, having beaten Morton 10-2 on the last day.
There they would meet the fallen giant Hibernian in a two-legged play off, after seeing off Falkirk. After losing the first tie at home 0-2, the Accies were written off. But they shocked Hibs and won 0-2 in Edinburgh, converted every penalty in the subsequent shoot out and won promotion.
Neil had only become manager on a permanent basis on May 24th of 2013 at the age of 31.
He finished that 2012/13 season off by winning five of the final eight games of that campaign as interim manager and Accies made him permanent player-boss the following month for the 2013/14 season.
Once fully in charge he set about his task with gusto and won promotion in his first season in charge.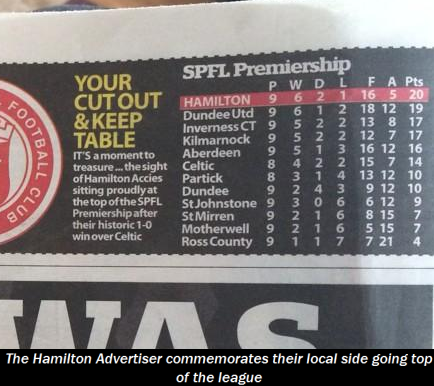 Even better was to follow.
The club were red hot favorites to be relegated in 2015.
If they were financially smaller than most clubs in the second tier, they were submerged by the clubs they saw in the new fixture list.
Despite moving up a league with its higher visiting fans, they finished the season last week with an average attendance of just 2,912 by which time Alex Neil had left.
But their season began in dreamland.
In late October, as opposed to trying to avoid relegation, Neil's side actually topped the table after recording their first victory at Celtic Park in 76 years.
It moved the local paper to print a cut out and keep copy of the league table.
The Accies were still third when the inevitable happened and a bigger club came calling for their hotshot manager.
That club was the yellow-shirted Norwich City, then lying seventh in the English championship. The East Anglian club had 37 points from 24 games but it was a result elsewhere that started things in motion.
The Canaries had been knocked out the FA Cup by Preston North End from a division below after which Neil Adams resigned the managerial position on January 5th, 2015.
Adams had been unable to prevent Norwich being relegated the year before, having taken over from Chris Hughton in mid-season. Norwich head-hunted Neil, agreed terms with Hamilton and four days later, Neil was in charge at Carrow Road, bringing his assistant manager Frankie McAvoy  with him. City  fans' expectations of a quick return to the EPL were not being met. All that was about to change.
In Neil's first game in charge, his side beat the league leaders Bournemouth ending their 14-match unbeaten run despite being reduced to 10 men when the score was 1-1.
From then on, it was all the way up for Norwich. The next 22 games brought 49 points, and Norwich finished third. They would face fierce local rivals Ipswich Town in the play-offs.
With his recent play-off experience behind him, his side negotiated the East Anglian derby 4-2 on aggregate. Middlesbrough awaited in the Wembley final.
Norwich player and current Scotland international Russell Martin had already been so impressed that he predicted that Neil will follow in Sir Alex's footsteps and one day manage Scotland.
I can see Alex Neil as a future Scotland manager. I'm sure he will have aspirations to manage at the highest level and he has all the attributes.

He's doing really well in the Championship and his stock is on the rise. I think we'll go up but even if we don't his stock will continue to be on the up.
Jim van Wijk writes on soccer for the Press Association in London. However when he is not at the Emirates or covering Chelsea, his loyalty as a fan is to Norwich City. The experienced journalist sees bigger things ahead for Neil but assesses that the Scot's biggest challenges lay in front of him:
The impact Alex Neil has produced is nothing short of remarkable, some 17 wins from 25 games which ended in promotion glory at Wembley and a £130million promotion jackpot.

The unheralded Scot, though, now faces his toughest challenge yet in trying to keep Norwich in the Premier League, charged with getting results against the likes of Arsenal and Chelsea as opposed to St Mirren and Kilmarnock.
Meanwhile, his departure was a precursor of an immediate downturn in Hamilton's fortunes. They lost the next four matches leaking 12 goals, the start of a 13 game stretch without a win. They scored just six goals in that streak but had secured enough points under Neil to easily retain their Premier League status.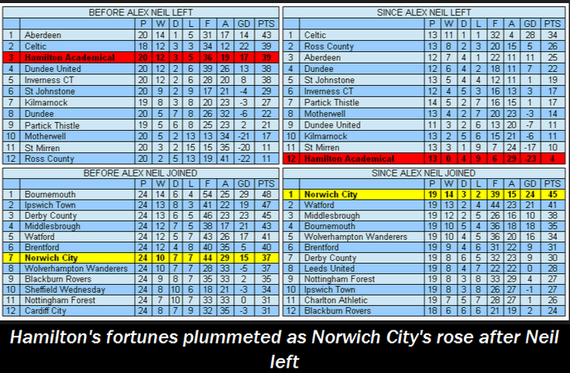 On Monday, 85,000 spectators saw Norwich beat Middlesbrough 2-0 and return to the EPL at the first go. Two goals in the first 15 minutes put Norwich well clear and Boro never looked like clawing it back. Once more Neil had won promotion in his first season in charge.
After the match, he told the media:
I'm not silly, I know it is going to be a huge task for us. We will be one of the smallest clubs in the Premier League.

But there are other clubs of a similar size who have done well.
It's a challenge he has faced before. Very very recently.