 Thinking about buying a PC or computing device? You may want to take a look at the company with the most complaints before forking out your money. Taleee's consensus engine looked at customer complaints from across the web and here's the exclusive scoop for Huffington Post readers:
The worst? DELL. Some 50% of the almost 25,000 complaints we tallied from across the Web are aimed at DELL. Here's the pie chart look of the percent of complaints against many well-known brands: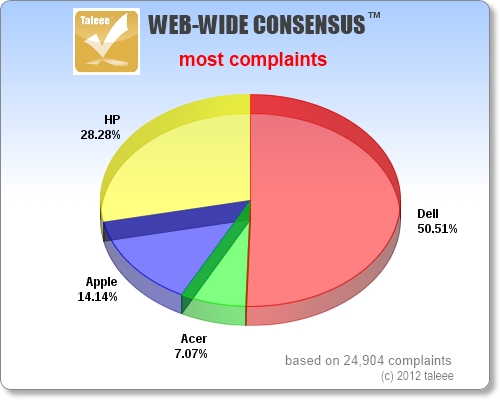 When investors and the media look at why a company is winning or losing it's going to boil down to customer satisfaction. That's why my company Taleee tallies up customer opinion. Customer experience is king.
Among the top 3 PC/tablet makers Apple scored the best with the fewest complaints, 14% overall. Acer had 7% of complaints, owed in part to its smaller market share.
DELL started so strong. A guy (Michael Dell) in his dorm room making PCs and beating Tandy and IBM at their own game. I am a fan of the entrepreneur Michael Dell. No doubt he's built a great company. In its early days Dell stood out based on its custom configuration and direct ordering model, catalogs. Over the years I've owned every manufacturer's PC, from Apple to Zenith, and many Dell PCs.
Years ago I had a great DELL mini portable with no problems. But my latest two Dell laptops have had issues. One just conked out, couldn't handle video playing without freezing up/overheating. The newest one has problems with its display, the brightness dims and changes by itself no matter what the setting. What's changed? DELL, wherefore art thou?
The two Acers I have both work fine, little netbooks that work well in price/performance. The Apple iPad is fantastic. The HP I have is clunky and laborious with a fan that sounds like it's taken from a jet engine.
_________________________________________
An update in response to certain readers: In compiling the data for this post, I did indeed look at market share. In fact, given market share, the statistics make the insight even stronger. Here's the breakdown of market share. Apple and HP sold the most so you'd think their complaint totals would be higher. But they're not. That speaks to quality and making customers happy. (No PC makers are clients or customers of Taleee. This is pure research and insight for consumer benefit.)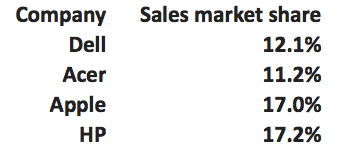 Source: Gartner. Except Apple's market share includes tablet sales per Canalys and other research data.
How about you, what have your experiences been with your PC or tablet? Sound off in the comments.