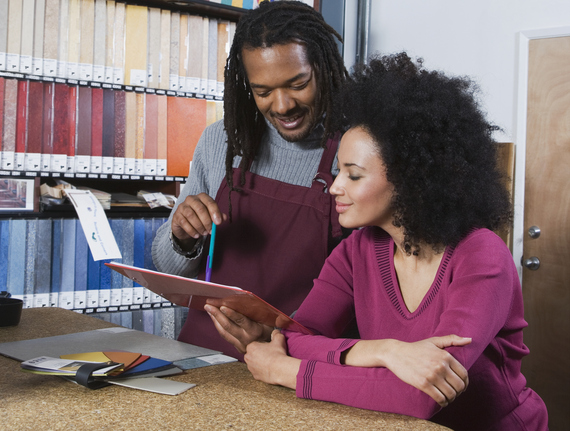 One of the most common questions I hear is, "Where can I meet a nice man, Steve?" Maybe you've flirted with all the eligible bachelors at your church already, or you're looking for alternatives to the usual places where you hang out with your friends and family. The funny thing is that "nice" single men are all around you, but you may not be hanging out where they tend to spend some of their free time. Or maybe you're too shy to walk up and introduce yourself to someone new? Well, I've got some advice that should make it a little bit easier for you.
Here are some of my favorite places for women to meet men, as well as some icebreakers to get the conversation flowing without making it feel forced or especially awkward:
1. A good steakhouse. Apologies to all you vegetarians, but this man eats meat. So, I'm excited by the idea of a woman who will go to a steakhouse and eat her meal alone, which tells every man in the place: "I'm single!" Don't sit down to eat at the bar, though; sitting at a table near the bar looks a lot classier (besides, if you eat dinner at the bar then all he can see is your back, which makes it hard to catch your eye and flirt a little). Don't go with a pack of girlfriends, because then he'll be too nervous to approach you in the middle of a crowd. Instead, sit at a small table near the bar and with your chair facing toward the main dining room.
Once you've made eye contact: Ask him, "What cuts of meat do you prefer to cook yourself at home?" or "Which sides do you recommend here?" If y'all end up moving seats so you can eat at the same table, ask him which steakhouse he'd suggest you try next and why. People have so many great memories and stories that revolve around food, it shouldn't be hard to keep the conversation going until you're both ready to leave. Even if he's not the perfect man for you, he may have a single friend who'd love to have you over for a cookout this weekend!
2. Hardware/home improvement store. This spot offers has one great and usually overlooked benefit: any woman who goes to Lowe's or Ace Hardware by herself is likely single, and plenty of single men doing their DIY projects can be found picking up supplies here on weekend afternoons. But ladies, don't just go there and wander around staring at the men shopping. Instead, see this as an opportunity for a little self-improvement in addition to scoping out potential dates.
Once you've made eye contact: Before you go, make a list of things you need to pick up anyway, like air filters, light bulbs, trash bags, etc. That's your excuse so you don't leave the store empty-handed. Then, grab a basket and walk up and down every aisle. If he's getting paint mixed, ask him which finish he likes best and why; if he's in the gardening section, ask him to help you pick between two potted plants for a sick friend. Men like to feel needed, so asking him for help is an easy way to get him talking. Whatever you do, though, don't lie just to have an excuse to talk to him. Lies are like parking tickets -- they tend to pile up and start costing you extra pretty fast!
3. Auto shop/mechanic. Look, you have to get your oil changed, right? Men do, too - and the best part is, you're both going to be waiting there for a little while. Think of this as an opportunity to "shop around" for dates while you're getting your vehicle serviced. It's just enough time to meet someone and talk a little, but leave you wanting to carry on the conversation afterward if you're both feeling that spark.
Once you've made eye contact: Ask the man you're interested in that you're thinking about getting a different vehicle and ask what kind of car he drives and why. Or ask him if he can show you how to do some very basic task yourself, like adding wiper fluid, checking the air in your tires or how to clean a corroded battery cable. As I mentioned in #2 above, men love to feel helpful - and car maintenance is something everyone should know how to do. And if you run across a man who's fixing up a classic car or building his own bike, that should give you both plenty to talk about.
Each of these places has a lot to offer you on their own: a delicious meal, stuff that you need to pick up from the store anyway and keeping your car in good working order. If you're going out to run some errands, see every trip you make as an opportunity to meet a good man. Once you've got yourself into that frame of mind, you're bound to run into him soon!

In addition to being a world-renowned comedian, talk show host, philanthropist, husband and father, Steve Harvey is the Chief Love Officer of online dating site Delightful.com. He draws on his personal experiences and the stories that millions of people have shared with him over the years to help more people find and keep the love they deserve.