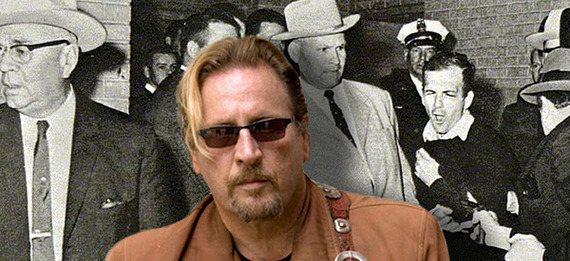 Singer-Songwriter Paul Metsa takes on the volatile life and legacy of Jack Ruby (photo by Howard Christopherson).
Paul Metsa is the other great folksinger from Minnesota's Mesabi Iron Range. Hibbing's own Robert Allen Zimmerman left the state in 1961, busting at the seams with ambition and the nom de guerre Bob Dylan. Only Metsa, though, wrote what is, hands down, the ballsiest folk ballad of the last 30 years -- more devastating than "Hurricane" Carter's right upper-cut and up there with any American folk standard. "Jack Ruby" is a twelve verse odyssey of the Chicago-born, mobbed-up nightclub operator that blasted Lee Harvey Oswald into oblivion and himself into history on November 24, 1963.
"Like millions of other Americans, I had seen Jack Ruby shoot Lee Harvey Oswald on live television," Metsa recently told us. "I was completely haunted by the whole affair."
"Jack Ruby" has been a calling card for the Minneapolis-based singer/songwriter for decades, but this year's 50th anniversary of the JFK assassination has provided a timely platform for a song that, moments after it debuted at Farm Aid in 1992 (ironically outside Dallas), inspired Kris Kristofferson to bolt out of Willie Nelson's bus and nearly accost Metsa backstage with praise.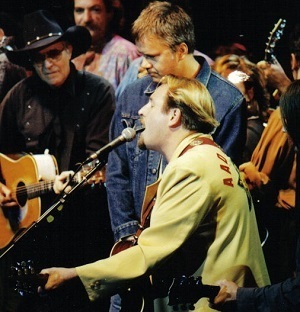 Paul Metsa and friends at Severance Hall, Cleveland, Ohio, September 29, 1996 (photo by John McCally).
Once dubbed the "Pit Bull of Folk," Metsa draws from the same creative well as Woody Guthrie and Leadbelly's leftwing ethos and barks with the same rocking ferocity as The Boss. Not surprisingly, "Jack Ruby" was recorded at E Street Band's Garry W. Tallent's Moondog Studios, co-owned with then Bob Dylan touring guitarist Bucky Baxter (both Baxter and Tallent played on the session).
"Two songs were my archetypes for Jack Ruby: 'John Henry,' the steel driver who beat the machine in a race to build a railroad tunnel through a mountain and then died, and 'John Hardy,' the railroad worker who killed a man during a craps game. I always thought that the name Jack Ruby had a poetic quality to it, and the same syllabic ring to it as John Henry and John Hardy. It was a folk song waiting to happen.
The muse and Metsa's growing fascination with all things JFK-conspiracy collided one day in 1991 when he came across a random newspaper article about Jack Ruby's brother Roy, then selling his late brother's personal affects to pay off a tax lien, including the Cavanagh hat he was wearing when he shot Oswald.
"At that point, it just dropped down from the heaven and said, 'Metsa, there's your line and here's your chorus.'"

Jack Ruby, Jack Ruby in a Cavanagh hat,
whoever taught you to shoot a pistol like that?
Oh, you snuck in the basement
And you stood in the back,
Jack Ruby, Jack Ruby in a Cavanagh hat
"I loved Woody Guthrie's version of 'John Hardy' because it told a story of an outlaw, verse by verse, and I thought 'what a great way to tell a story, to write a folk song. Okay, I'm going to write my version of what I think of the JFK conspiracy and use Jack Ruby's life as the building blocks, because he had such an interesting life.'"
Jack Ruby was born Jacob Rubinstein in 1911. His parents, Joseph and Fannie Rubinstein, Orthodox Jewish émigrés from Poland, settled in the Maxwell Street area of Chicago's South Side to raise their eight children. Ruby loved his siblings, but his mother's unpredictable mental breakdowns and father's alcoholism cast him on a wayward path to seek out role models among neighborhood wise-guys.
Jack Ruby, Jack Ruby when you were fifteen years old
On the south side of Chicago you looked up to Capone,
Stole girls lunch money beat boys on their way home
Jack Ruby, Jack Ruby when you were fifteen years old
At 11, Ruby already had a rap-sheet, including arrests for truancy and fighting. By his Bar Mitzvah, at thirteen, he'd forsaken the classroom all together for the kind of education that taught him to use brass knuckles and beat the shit out of two or more guys simultaneously. During Prohibition, Ruby reportedly ran errands for Al Capone's hit-man Frank Nitti and by 1939 was a "business agent" for a Teamsters' garbage collecting local.
After his honorable discharge from the U.S. Army Air Corps in 1946, Ruby made his way south to Dallas, where for the next 17 years he managed several nightclubs and strip joints. His was a nocturnal world of hookers, jazz musicians, hustlers, on- and off-duty cops, and underworld mob contacts that extended from Chicago to New Orleans and back.
Did the kingfish in New Orleans give you the key,
The numbers to contact the men you should see,
A confederate cloak of conspiracy,
With an eye towards November 1963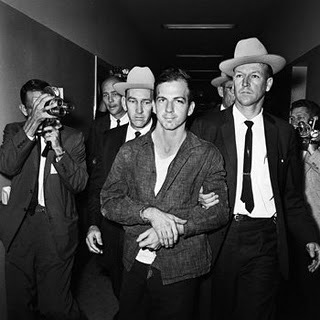 Oswald on parade before press the day of his arrest for murdering Dallas Police officer J. D. Tippit.
Ruby's presence in the basement of Dallas Police headquarters at Lee Harvey Oswald's prison transfer has since spawned more theories tying Ruby to a conspiracy than there were people at Dealey Plaza two days earlier to see President Kennedy shot to death.
Ruby had, in fact, been a police informant and friend of many cops, so it wasn't exactly unusual to see him among reporters that morning. But that's just one way of looking at it.
"Yes, Ruby knew cops, yet it doesn't add up," said Dick Russell, venerable journalist and co-author of They Killed Our President: 63 Reasons to Believe There Was a Conspiracy to Assassinate JFK (Skyhorse Publishing).
"Somebody sent Ruby, and I think it was probably the Mafia, because he had a lot of mob ties. He probably owed them, because he was obviously going to get arrested and thrown in jail for the rest of his life. So Ruby silenced the guy who otherwise would've told the world about a conspiracy to kill Kennedy, and also a lot of things that the intelligence agencies didn't want out."
Metsa isn't above putting in his two cents about an alleged conspiracy either, but at the end of the day he's just another brilliant songwriter. Not unlike his role model Bob Dylan's The Lonesome Death of Hattie Caroll, Joey, and Hurricane -- three other masterpieces based on true events -- Metsa's "Jack Ruby," like all great songs, relies more on a rich narrative and melody than it does strict reportage -- but it sure asks some thought provoking questions.
Was Lee Harvey Oswald the only one?
What of those in the bushes who started to run?
With secret service credentials and government guns,
They'd answer no questions for what they had done
"The more you read about Jack Ruby, the deeper into the rabbit hole you get with the whole conspiracy," Metsa told us.
"On one hand, he might have shot Lee Oswald because he didn't want Jackie Kennedy to go through the trauma of a trial, but he also might have shot him because [New Orleans crime boss] Carlos Marcello told him to do it. But 'Jack Ruby' is not necessarily a finger-pointing song, per se, and I think there's enough room in it for people to ask their own questions."
Jack Ruby may or may not have been broken-hearted and out for blood that Sunday morning in 1963 when he barreled down the basement garage ramp at 2014 Main Street, past the unsuspecting cops and reporters, with a .38 Special snub-nosed revolver drawn and pointed at Oswald. But it's ambiguity, not violence, at the heart of this story and the innumerable questions which Oswald would have eventually answered had he not been killed.
Oswald was set up so he did say
Before he appeared in the basement driveway
On live television Ruby blew him away,
God speed the witness with something to say