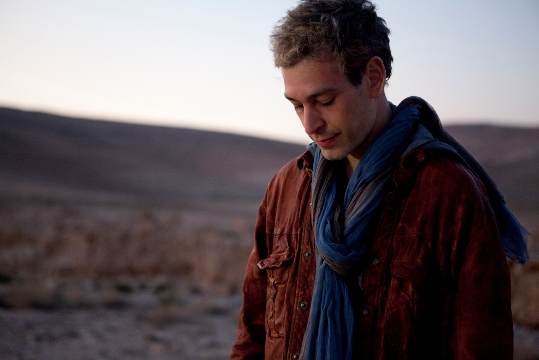 Photo: Mark Squires
Much has been made of Matisyahu since he took clippers to his dangling beard and side-curls, 86'd the black fedora and shockingly emerged from his Hasidic outer shell one year ago. Recent photos of the international hip-hop, reggae sensation now reveal a clean-shaven, hip rocker, looking more like he came from a GQ photo shoot than the pages of a Roman Vishniac book about yeshivas in pre-war Poland. The artist's brash identity makeover was initially unsettling to his die-hard fans who feared that it somehow would diminish the integrity of the music. Then, to the many others drawn more to Matisyahu's beat-box, dancehall-toasting skills, his "get-up" was merely incidental to his appeal. And they were right. Now, just off a five-month tour promoting his latest album, Spark Seeker, with backing band The Dub Trio, he is about to take his annual Hanukkah celebration, "Festival of Light" on tour -- eight dates of acoustic shows beginning at the Nob Hill Masonic Center in San Francisco on December 8th. We had the pleasure of talking to Matisyahu about music, transformation and maintaining his spirituality without the beard.
SK: Your producer and collaborator Kool Kojak said this about your new album: "[Spark Seeker] is a documentation of this episode of change we went through and we documented it with expressions of our feelings and soul through music." Beyond your obvious change in physical appearance, how else would you describe the change?
Matisyahu: Change is an internal thing. Different things happen or transform and music and art is a documentation of that. I don't think I can put my finger on that specifically or say, "Well, I was Hasidic and now I'm not Hasidic." It's not that simple.
Do you think you're taking more conceptual risks with how you approach your art?
To some extent, though I wouldn't call them risks. I would say that as I've gotten older I trust my intuition more; I allow myself more freedom both musically, creatively and my own life existentially. That's part of the change. Letting go, opening up, trusting.
You've regularly made reference to Bob Marley in interviews, but were you hip to dub music, like King Tubby, Scientist or dancehall toasters?
Oh yeah, I listened to a lot of dub and roots reggae but my other big influence was the conscious dancehall wave of the mid-'90s artists like Capelton and Buju Banton.
What about Shabba Ranks?
He was before that and he wasn't coming from so much of a spiritual thing. It was more of a party-vibe.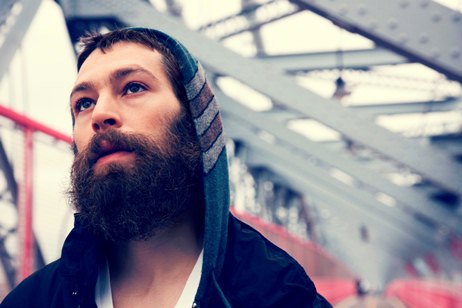 Photo: Beau Grealy
Have you been down to Jamaica to see where all that great music was recorded?
On my last record, Light, we went down to Jamaica and worked with Stephen McGregor and Sly [Dunbar] and Robbie [Shakespeare] and recorded in some of the classic studios in Kingston.
That must have been incredible to work with Sly and Robbie.
It was just so cool to have them on the album. They're old-school guys, the originators. Watching Robbie write his bass lines was an incredible experience.
How did the experience of recording your new album differ from earlier recordings? What was special about this?
Every record I have made has been different. With Light, I collaborated with a lot of different producers and musicians I respected, and we all wrote and worked on material which I then took to an old-school producer, David Kahne, and we put it all together. The lyrics came first -- they were written before the music.
[Spark Seeker] was made more like I would have recorded when I was in high school or college -- me and a friend hooking up, writing songs together, having a good time, taking a field trip (in this case Israel). It was a more relaxed and fun process. And I think it's reflected in the music.
How did you hook up with the musicians who play on the album, particularly Zohar Fresco and Ravid Kahalani? Did you know them before you went to Israel?
I met them through one of my best friends from college, [saxophonist] Daniel Zamir. We both got religious at the same time. He lives in Israel now and runs a music school. He brought in most of those guys.
I used to feel that had Bob Marley been born in Detroit or NY and never discovered Rastafari he still would've been crafting amazing songs with memorable hooks, and then it hit me that his spirituality was central to his productivity and success. Has Judaism been an engine in your creative output?
Yeah, big time, but the place I really learned that, in more than one way, was through Bob Marley. When I was a kid and I was looking for meaning in my life, music was the thing that gave me that sense of empowerment, identity and spirituality. The place I discovered it was in Marley's music. So, for me, music and spirituality was always going to be linked up. And then on top of that, since reggae was referencing the Old Testament that's where I learned how to use the Bible for my source of inspiration.

When you started getting religious and were listening to people like the late musician Shlomo Carlebach, did his music appeal to you on more of a lyrical and religious level than let's say a melodic level?
Actually, with Shlomo's music it was the melodies and the vibe and the heart -- the simplicity of it. It's actually a lot like reggae music to me. Music to me is not about the complexity, but the heart and feeling of it. Shlomo's music had that feel to it and when I discovered it I was in his synagogue on the Upper-West Side.
Was he alive still?
He had already died, but I got the vibe of his music from that place. At the time, there was this guy Sammy who was doing most of the davening (leading the services) and I feel that it really carried over the spirit of Shlomo and his music. The Rabbis and the people I was connecting with, that were close to him, were able to transmit the spirit of what he was all about.
Since Carlebach was greatly influenced by the late-'60s hippie and drug lifestyle on campuses and eventually moved away (like you) from Hasidism, did you look to his story for inspiration when you decided to further evolve and shave your beard?
There are some similarities, but Shlomo came from within a deeply orthodox world and then went through a time of revolution when the whole world was evolving, yet he brought this authenticity with him because of where he came from. With me, I come from going to Phish concerts, a different place. When I became religious it was full-force for me. And, through the lifestyle of being out on the road with non-Jewish musicians, in non-Jewish nightclubs and going all over the world -- getting out of the shtetl -- opened me up to having experiences that other religious men might not have to think or worry about.
There was a time when I wouldn't shake hands with women. If a bunch of 15-year-old boys would come over and I'd be all arms around them, taking pictures with them and then some girls would come, there would be an uncomfortable, "OK, I'll take a picture with you, but you can't touch me," and there would be these boundaries and lines. I realized that's what Shlomo had to deal with. He wanted to be loving toward everybody and not have those boundaries.
Yet the new album is called Spark Seeker, which sounds almost Hasidic in conception with regard to the concept of "the spark of God."
That's the idea, about finding the spark and getting to the core. But I'm not putting the boundary around it in terms of it being a Jewish spark necessarily. There is that but it's also about seeking the spark which is what I believe music has the potential for being and what I feel our generation of young people is looking for.
To read more posts like this go to Web2Carz.com